1980 Chevrolet Car Shop Manual - Licensed OEM Reproduction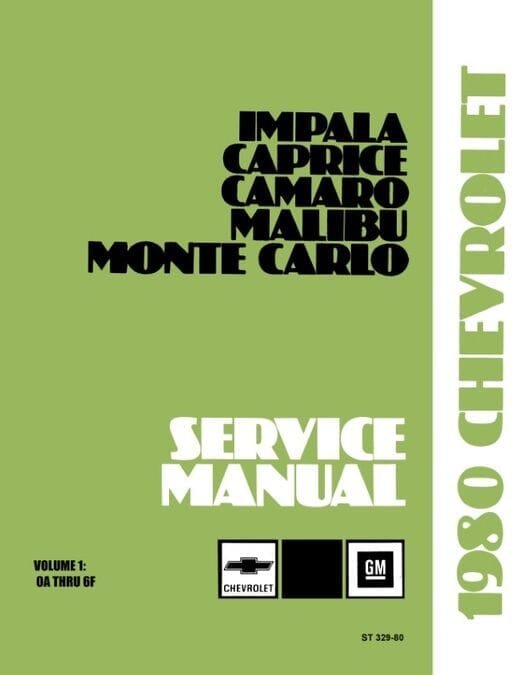 Why Buy From Us?
Free Shipping
Veteran Owned
Secure Shopping
Satisfaction Guaranteed
Item Description
This 1980 Chevrolet Car Shop Manual is a high-quality, PRINT reproduction of the shop manual which was written and first published by the experts at the original equipment manufacturer (OEM), Chevrolet Motor Division, for use by their dealership mechanics. Now, this excellent automotive resource can be yours!
MODELS COVERED:

1980 Chevrolet Camaro
1980 Chevrolet Camaro Berlinetta
1980 Chevrolet Camaro Rally Sport
1980 Chevrolet Camaro Z28
1980 Chevrolet Caprice Classic
1980 Chevrolet Caprice Classic Landau
1980 Chevrolet Caprice Classic Sport
1980 Chevrolet El Camino Truck
1980 Chevrolet El Camino Royal Knight Truck
1980 Chevrolet El Camino SS Truck
1980 Chevrolet Impala
1980 Chevrolet Impala Sport
1980 Chevrolet Malibu
1980 Chevrolet Malibu Classic
1980 Chevrolet Malibu Classic Estate
1980 Chevrolet Malibu Classic Landau
1980 Chevrolet Malibu Classic Sport
1980 Chevrolet Malibu Estate
1980 Chevrolet Malibu Sport
1980 Chevrolet Monte Carlo Landau
1980 Chevrolet Monte Carlo Sport
Containing 1,172 pages, this hefty service manual is the ultimate source for maintenance and repair information for your 1980 Chevy car. Don't worry. The information has been conveniently divided into two volumes. In addition to the superior, step-by-step text instructions, you'll be pleased to find a huge number and variety of visual aids to assist you with jobs of all sizes from start to finish. Please take a moment and scroll below to view the sample pages. There, you'll discover just how well the illustrations complement the text.
In the pages of this 1980 Chevrolet car shop manual, you'll find the procedures for diagnosing, maintaining, adjusting and performing minor service on your beloved '80 Chevy. Loaded with factory specifications and directions, you'll have what you need to complete your projects accurately and efficiently.
Did you know that some 1980 Chevrolet models were available with a turbocharged V-6? While that's a common setup today, in 1980 it was a rarity! Not only would you know about it, if you owned this guide, but you'd also learn all about how it works and how to work on it. It explains things such as the Electronic Spark Control (ESC), which is a modified High Energy Ignition (HEI) system. The ESC system is used to control engine detonation by automatically retarding ignition timing during periods of engine operation when detonation occurs. You'd learn about the four major components, and how all the pieces work individually and together. These thick books are loaded with the information you need. They are freshly printed and packaged, yet retain all of the material from the original source.
The second oil embargo in 1979 meant more challenges for Chevrolet. Adjustments and adaptations were made, but Chevy proudly rolled out a line-up with something for everyone. They still had the favorites…Camaro, Monte Carlo, El Camino, Caprice, Impala and Malibu. They also offered a variety of luxury and performance levels within those classic nameplates. The new decade would bring new styles of music, clothing and technology. Chevrolet was there to kick-off this exciting decade change with an array of great cars. By the end of the decade, the line-up would boast a whole new look (even for the model names which continued).
Back when these cars were new, perhaps they ran the kids to a place to feed quarters into the new Pac Man arcade game. Maybe they were used for a trip to buy the fascinating new Rubik's Cube. Perhaps there was time for a quick wash before running inside to catch Dallas in order to find out the answer to the world-wide burning question of who shot J.R.? This was even a year in which the Empire struck back. Regardless of how the lives of these cars started, if you're lucky enough to have one now, and you're ready to put some tools in your hand, make sure this repair manual is the FIRST one you pick up from the workbench.
This factory-written shop manual is perfect for service, repairs, restoration and rebuild projects. Clear illustrations and photos show exploded views, as well as component details, plus specifications on engine data, engine torque, carburetion and more.
Subject:
1980 Chevrolet Car Shop Manual - Includes Detailed Procedures and Instructions.
| OEM Part Number: ST 329-80
Specifications
Publisher: Chevrolet Motor Division
Pages: 1172 - Hundreds of b&w illustrations
Binding: Paperback - 8.5 x 11 inches
Years: 1980
Sample Page:
Below:1980 Chevrolet Car Shop Manual Sample Page - AC Temp Door Cable Adjustments
Sample Page:
Below:1980 Chevrolet Car Shop Manual Sample Page - Carburetor Float Bowl Disassembly
Questions & Answers about 1980 Chevrolet Car Shop Manual
Questions & Answers about 1980 Chevrolet Car Shop Manual
Ask a question about 1980 Chevrolet Car Shop Manual.
1980 Chevrolet Car Shop Manual - Licensed OEM Reproduction
Description

Specifications

Table of Contents

Questions & Answers

Customer Reviews