1977 Pontiac Shop Manual - Includes 11x26 Color Wiring Diagrams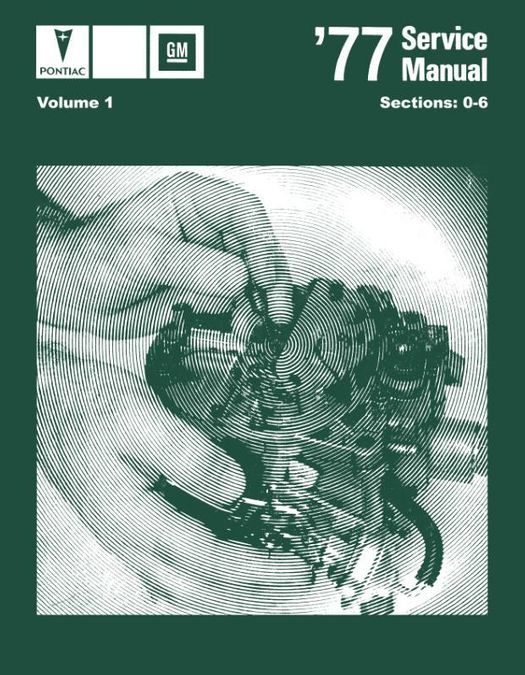 Why Buy From Us?
Free Shipping
Veteran Owned
Secure Shopping
Satisfaction Guaranteed
Item Description
This 1977 Pontiac Shop Manual is a high-quality, PRINT, reproduction of the shop manual which was written and first published by the experts at the original equipment manufacturer (OEM), Pontiac Motor Division, for use by their dealership mechanics. Now, this professional resource can be yours. It's the definitive guide for the maintenance and repair projects on your classic Poncho.
NOTE: We're proud to include fold-out 11" x 26" COLOR wiring diagrams in this expert guide. Not many (if any!) other reprinted manuals offer fold-out material, much less in color. About the only way our competitors offer "color" is when they try to convince you that black is color and white is color. Using their books is like watching "Wizard of Oz" on a black and white TV (if you can find one of those).
MODELS COVERED:

1977 Pontiac Bonneville
1977 Pontiac Bonneville Brougham
1977 Pontiac Catalina
1977 Pontiac Firebird
1977 Pontiac Firebird Esprit
1977 Pontiac Firebird Formula
1977 Pontiac Firebird Trans Am
1977 Pontiac Grand LeMans
1977 Pontiac Grand LeMans Safari
1977 Pontiac Grand Prix
1977 Pontiac Grand Prix LJ
1977 Pontiac Grand Prix SJ
1977 Pontiac Grand Safari
1977 Pontiac LeMans
1977 Pontiac LeMans Safari
1977 Pontiac LeMans Sport
1977 Pontiac Phoenix
1977 Pontiac Sunbird
1977 Pontiac Ventura
1977 Pontiac Ventura SJ
This hefty guide boasts 1,430 pages of detailed information. Don't worry. We've conveniently divided it into two manuals (while retaining all of the original source material). In addition to the well-written text, you'll discover loads of factory specifications. All of that great information has been thoughtfully paired with a huge number and variety of excellent visual aids. There are illustrations, tables, charts, black and white photographs, cut-away views, exploded views and wiring diagrams to provide you with unrivaled clarity for projects of all sizes. See for yourself. That is, please scroll down to view several sample pages which demonstrate just how well the outstanding visual tools complement the easy-to-follow, step-by-step text. You'll even see the famous new for '77 cast -aluminum wheel, which enthusiast nicknamed "snowflake". Among other items, you'll also see the factory citizens band (CB) radio, in case you need to service yours to avoid missing out on those Smokey bear reports such as the Kojak with a Kodak, bear in the air, or, perhaps, even a determined county Mountie from Texas.
Although Pontiac rolled out a wonderfully diverse line-up of vehicles in '77, no write-up would be complete without mentioning the movie "Smokey and the Bandit". In many ways it was the world's greatest hour and half long Trans Am commercial. Sales increases certainly confirmed it, with the handsome, black and gold car featuring that wild "screaming chicken" hood decal becoming a bona fide 70s superstar. If you're lucky enough to own one, or ANY of the other great '77 Pontiac models listed above, this guide is the one to use to get and keep it performing at its best.
NOTE: This is the SHOP manual. For those of you who need BODY information (for mending it after bending it), please see our: 1977 Fisher Body Service Manual, which can be found by clicking here…1977 Fisher Body Service Manual.
This factory-written shop manual is perfect for service, repairs, restoration, and rebuild projects. Clear illustrations and photos show exploded views, as well as component details, plus specifications, engine repair details, fuel systems and more.
Subject:
1977 Pontiac Shop Manual - Includes Detailed Procedures and Instructions.
| OEM Part Number: S-7704F
Specifications
Publisher: Pontiac Motor Division
Pages: 1430 - Hundreds of b&w illustrations
Binding: Paperback - 8.5 x 11 inches
Years: 1977
Sample Page:
Below:1977 Pontiac Shop ManualSample Page - Cast Aluminum Wheels
Sample Page:
Below:1977 Pontiac Shop ManualSample Page - Camshaft
Sample Page:
Below:1977 Pontiac Shop ManualSample Page - CB Units
Questions & Answers about 1977 Pontiac Shop Manual
Questions & Answers about 1977 Pontiac Shop Manual
Ask a question about 1977 Pontiac Shop Manual.
1977 Pontiac Shop Manual - Includes 11x26 Color Wiring Diagrams
Description

Specifications

Table of Contents

Questions & Answers

Customer Reviews