1974 Chevrolet Service Manual (Camaro, Chevelle, Monte Carlo, Nova, Corvette) - Printed in 2 Books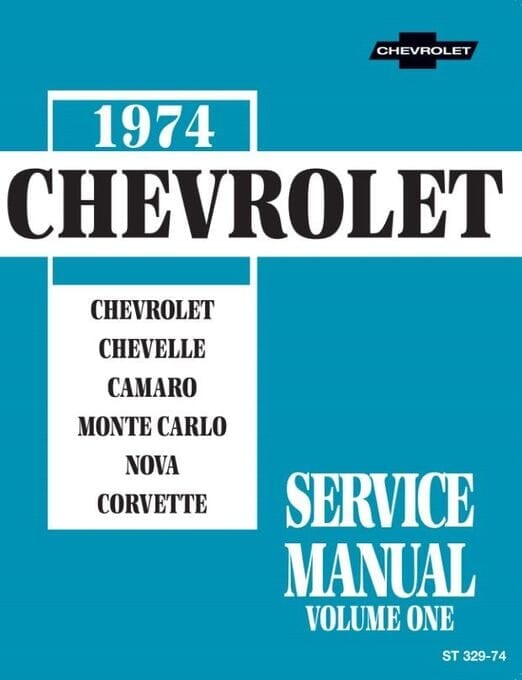 Why Buy From Us?
Free Shipping
Veteran Owned
Secure Shopping
Satisfaction Guaranteed
Item Description
Are you looking for information about how to restore a 1974 Monte Carlo? Hunting for a 1974 Corvette service manual? Maybe you just need to consult some 1974 Nova specifications. You could spend hours digging around online, searching for "online vehicle manual, 1974 Nova," in the hopes of perhaps finding a few diagrams, scraps of trustworthy information, and most surely hoping to avoid finding a computer virus, or you can breeze through that restoration or maintenance project like a pro with this comprehensive guide, which is a reprint of the factory-issued documentation.
This 1974 Chevrolet factory service manual reprint is a premium quality reproduction of the original manual issued by the manufacturer, so it's extremely detailed and accurate. In this '74 Chevy service manual, you'll find maintenance information for your Camaro, Monte Carlo, Chevelle, Nova and Corvette. It includes clear illustrations with exploded views, component details, engine specifications and many more visual aids. It's ideal for the DIY owner, but it's also tremendously useful to professional mechanics as a handy resource and quick "look-up guide" for specifications and to help maintenance jobs run more smoothly.
Checking in at a whopping 1,256 pages, this guide retains all of the original factory-written content, but it has been conveniently divided into two volumes. You'll find instructions for service to most major areas of these vehicles
This shop manual even includes a section covering body service for the Corvette.
NOTE: Body information for models OTHER than the 1974 Corvette can be found by clicking here...1974 Fisher Body Service Manual
NOTE: For procedures regarding disassembly and assembly of major components, please consult the 1974 Passenger Car and Light Duty Truck Chassis Overhaul Manual, which can be found by clicking here...1974 Chevy Car / Truck Overhaul Manual
MODELS COVERED:

1974 Chevrolet Bel Air
1974 Chevrolet Camaro
1974 Chevrolet Camaro LT
1974 Chevrolet Camaro Z28
1974 Chevrolet Caprice Classic
1974 Chevrolet Caprice Estate
1974 Chevrolet Corvette
1974 Chevrolet El Camino Truck
1974 Chevrolet El Camino Custom Truck
1974 Chevrolet El Camino SS Truck
1974 Chevrolet Impala
1974 Chevrolet Laguna
1974 Chevrolet Laguna Type S-3
1974 Chevrolet Malibu
1974 Chevrolet Malibu Classic
1974 Chevrolet Malibu Estate
1974 Chevrolet Monte Carlo
1974 Chevrolet Monte Carlo Landau
1974 Chevrolet Nova
1974 Chevrolet Nova Custom
The Motor Bookstore is where you can find all kinds of quality information for those vintage rides, like a Haynes aftermarket 1974 Chevy Nova repair manual, designed for beginner / novice DIY mechanics.
Since 1997, The Motor Bookstore has severed nearly 700,000 customers with the largest selection of vehicle service and repair manuals, how-to guides and reprints of original factory documentation. We offer the lowest prices, fast shipping and exceptional customer service.
Subject: 1974 Chevrolet - Chevrolet, Chevelle, Camaro, Monte Carlo, Nova, Corvette Service Manual. OEM Part Number: ST 329-74
Specifications
Publisher: Chevrolet Motor Division
Pages: 1256 - Hundreds of b&w illustrations
Binding: Paperback - 8.5 x 11 x 2 inches
Years: 1974
Table of Contents
Table of Contents
General information
Lubrication
Heater and air conditioning
Body
Frame
Front suspension
Rear suspension
Brakes
Engine
Engine cooling
Engine fuel
Emissions control systems
Clutch and manual transmission
Automatic transmission
Transmission
Fuel tank and exhaust system
Steering
Wheels and tires
Chassis sheet metal
Electrical — Body and chassis
Radiator, Grille
Bumpers
Accessories
Specifications
Sample Page:
Below: 1974 Chevrolet Passenger Car Shop Manual Sample Page - Engine
Questions & Answers about 1974 Chevrolet Service Manual: Chevelle, Camaro, Monte Carlo, Nova, Corvette
Questions & Answers about 1974 Chevrolet Service Manual: Chevelle, Camaro, Monte Carlo, Nova, Corvette
Ask a question about 1974 Chevrolet Service Manual: Chevelle, Camaro, Monte Carlo, Nova, Corvette.
Customer Reviews
REVIEWS
Roland
verified customer
December 20, 2019
doug
verified customer
August 27, 2019
1974 Chevrolet Service Manual (Camaro, Chevelle, Monte Carlo, Nova, Corvette) - Printed in 2 Books
Description

Specifications

Table of Contents

Questions & Answers

Customer Reviews