1971 Buick Chassis Service Manual (All Models) - Licensed OEM Reproduction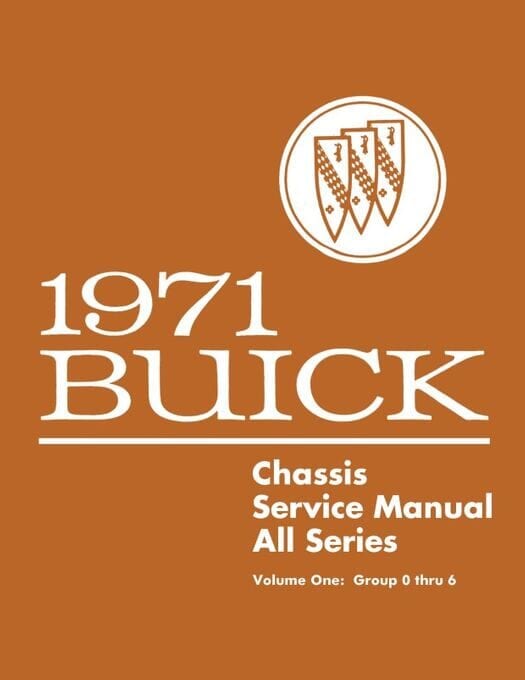 Why Buy From Us?
Free Shipping
Veteran Owned
Secure Shopping
Satisfaction Guaranteed
Item Description
This 1971 Buick Chassis Service Manual - All Series is a high quality, PRINT, reproduction of the shop manual written and first published by the original equipment manufacturer (OEM), Buick Motors Division, for use by their dealership mechanics.
Beautiful cars, such as the 1971 Buick Riviera look as good today as the day they rolled out of the factory. There's no reason why yours shouldn't run just as well, too. With this 1971 Buick Chassis Service Manual, you can tackle all of the jobs from simple adjustments to full on rebuilds. There are over 1,500 pages of great instructions and a huge variety and number of visual aids to accompany them. Due to its hefty size, this manual has been conveniently divided into two volumes. Fear not! All of the original content from the experts at the manufacturer has been retained. With step by step directions, black and white photographs, charts, tables, diagrams, illustrations, cut-away views, exploded views and much more, you'll have at your finger-tips the factory specifications and procedures to do the jobs accurately, completely and efficiently.
It's always fun to look back on a decade to see what was "in style". One great indicator as to the flavor of the times is to look at the automobiles. What pieces of technology stuck around and which ones just didn't make the cut? What colors were available, what interior materials and patterns were in fashion? Buick definitely made their contributions to the scene. Actually, the 70s turned out to be a crazy decade for automobiles. Unleaded gas, fuel shortages and high fuel prices, high insurance premiums for muscle cars, new pollution control standards and many other factors kept automakers on their toes. Through it all, Buick pushed through. In 1971 they continued to offer cars with big style and big performance. They also wanted to be sure everyone knew they were keeping up with the times. Many of their 1971 ads and their brochures proudly proclaimed, "Buick introduces a new set of values".
NOTE: This is a CHASSIS manual, for BODY information, please see our 1971 Fisher Body Service Manual, which can be found by clicking here… 1971 Fisher Body Service Manual.
Music is another great indicator of the times, and cars and music go hand in hand. In 1971 recording artist Don McLean released the legendary song American Pie. I'll bet if there was an American pie, you'd probably find more than a little Buick in that delightful dish. In fact, there were a great many classic songs which debuted in 1971. One can even Imagine the sounds of John Lennon pouring out of a classy Buick's speakers. Shoot! With the world-turning torque of a 455 cubic inch Buick V8, you might even put off checking out that Stairway to Heaven Led Zeppelin was so excited about and hit the open road. With this fantastic service guide, you'll be all set!
MODELS COVERED:

1971 Buick Centurion
1971 Buick Electra 225
1971 Buick Electra 225 Custom
1971 Buick Estate Wagon
1971 Buick GS 455
1971 Buick GS
1971 Buick LeSabre
1971 Buick LeSabre Custom
1971 Buick Riviera
1971 Buick Riviera Gran Sport
1971 Buick Skylark
1971 Buick Skylark Custom
1971 Buick Sportwagon
This factory written shop manual is perfect for service, repairs, restoration, and rebuild projects. Clear illustrations and photos show exploded views, as well as component details, plus specifications one engine, data, engine torque, carburetion and more.
Subject:
1971 Buick Chassis Service Manual - Includes Detailed Procedures and Instructions.
| OEM Part Number: 71BUICKSM
Specifications
Publisher: Buick Motors Division
Pages: 1516 - Hundreds of b&w illustrations
Binding: Paperback - 8.5 x 11 inches
Years: 1971
Table of Contents
TABLE OF CONTENTS
General Information, Maintenance, and Lubrication
Windshield Wipers, Heating, and Air Conditioning
Frame and Body Mountings
Front Suspension and Front End Alignment
Rear Suspension, Automatic Level Control, Propeller Shaft and Differential
Brakes
Engine Mechanical
Engine Fuel System, Fuel Pumps and Carburetors
Cruise Master
Max Trac
Controlled Combustion System
Engine Electrical - Generating, Starting and Ignition Systems
Engine Tune-up
Clutch
Manual Transmission
Shift Linkage
Turbo Hydra-matic 350 Trans.
Turbo Hydra-matic 400 Trans.
Fuel Tank and Exhaust Systems
Steering
Wheels and Tires
Chassis Sheet Metal
Chassis Electrical, Instrument Panel and Radio
Radiator and Grille
Bumpers
Accessories
Alphabetical Index
Sample Page:
Below:1971 Buick Chassis Service Manual (All Series) Sample Page 1 - Engine Section
Sample Page:
Below:1971 Buick Chassis Service Manual (All Series) Sample Page 2 - Steering Gear Overhaul
Questions & Answers about 1971 Buick Chassis Service Manual - All Series
Questions & Answers about 1971 Buick Chassis Service Manual - All Series
Ask a question about 1971 Buick Chassis Service Manual - All Series.
1971 Buick Chassis Service Manual (All Models) - Licensed OEM Reproduction
Description

Specifications

Table of Contents

Questions & Answers

Customer Reviews