1969 Oldsmobile Chassis Service Manual (F85, Vista Cruiser, Cutlass, 442, Delta 88, Toronado, Ninety Eight) - 2 Books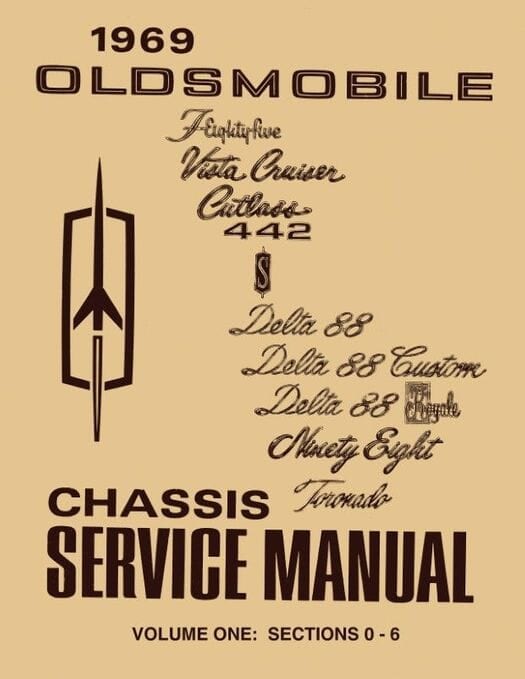 Why Buy From Us?
Free Shipping
Veteran Owned
Secure Shopping
Satisfaction Guaranteed
Item Description
1969 Oldsmobile Chassis Service Manual (2 Manual Set)
If you know someone looking for reference material for the restoration of the classic 1969 Oldsmobile then tell them to look no further! Here it is. This 1969 Oldsmobile shop manual has been reprinted from its original factory-written service manual and assembled once again for the convenience of experienced mechanics and classic car hobbyists all over the world!
This 1969 Oldsmobile shop manual is a mammoth guide. At almost 1,200 pages, it has been conveniently divided into two volumes, which cover the whole array of models presented by the manufacturer during that classic car era. Inside, you'll find that the well-written text instructions have been matched with a huge number of tables, illustrations, black and white photographs, charts, exploded views, cutaway views, wiring diagrams and other visual aids.
MODELS COVERED:
Series F-85 (both 33100 and 33200)
Cutlass (both 33500 and 33600)
Cutlass Supreme 34200
442 34400
Vista Cruiser -34800
Delta 88 35400
Delta 88 Custom 34600
Delta 88 Royale 36600
Ninety-Eight 38400 and 38600
Toronado 39400
This extensive guide includes all car body types originally manufactured for the holiday, coupe, luxury, sedan and town lines. Two-seat and three-seat as well as convertible or hard top, all vehicle components are found here in its pages in explicit detail with exact parameters and measurements.
A comprehensive large engine identification chart is provided for fast and easy reference in this handy tool. Jetaway and Hydromatic automatic transmissions, as well as manual, are broken down for understanding and maintenance. This includes the following transmissions:
3-Speed manual
3-Speed Heavy Duty manual
4-Speed manual
Jetaway automatic
Turbo 350 Hyra-Matic automatic
The engines covered in this manual include:
250 cubic inch 6-cylinder
350 cubic inch 8-cylinder
400 cubic inch 8-cylinder
455 cubic inch 8-cylinder
This book also provides a periodic maintenance guide for those who like to use their vehicle in addition to showing it. It even includes an original 1969 Oldsmobile Guardian Maintenance Chart.
There are 15 chapters containing detailed information for every nook and cranny of this series' engine and body. From the tiniest fastener to drive axles, climate control, accessories and Wonder Bar Radio, this 1969 Oldsmobile Shop Manual has it all. If an item isn't listed here in the book's description and was part of this classic car's original package, it will be listed in the eight page complete index of parts and specifications provided to cross reference the charts and advisement provided in the schematics of this guide.
A serious mechanic intent upon vintage restoration and authentic presentation of a beautifully restored and smoothly classic car will love this guide. It's a must have material for both its technical uses and its historical presentation in library and car maintenance!
Subject:
Repair, service and repair procedures for 1969 Oldsmobile autos
| OEM Part Number: 69OLDSSM
Specifications
Publisher: Oldsmobile Division
Pages: 1196 - Thousands of b&w photos and illustrations
Binding: Paperback - 8.5 x 11 x 3 inches (2 Manuals)
Years: 1969
Sample Pages:
Below: 1969 Ford Car OEM Shop Manual Volume Sample Page - Transmission Section
Questions & Answers about 1969 Oldsmobile Chassis Service Manual
Questions & Answers about 1969 Oldsmobile Chassis Service Manual
Ask a question about 1969 Oldsmobile Chassis Service Manual.
Customer Reviews
REVIEWS
Frank
verified customer
December 31, 2020
1969 Oldsmobile Chassis Service Manual (F85, Vista Cruiser, Cutlass, 442, Delta 88, Toronado, Ninety Eight) - 2 Books
Description

Specifications

Table of Contents

Questions & Answers

Customer Reviews