1967 GTO LED Lighted Clock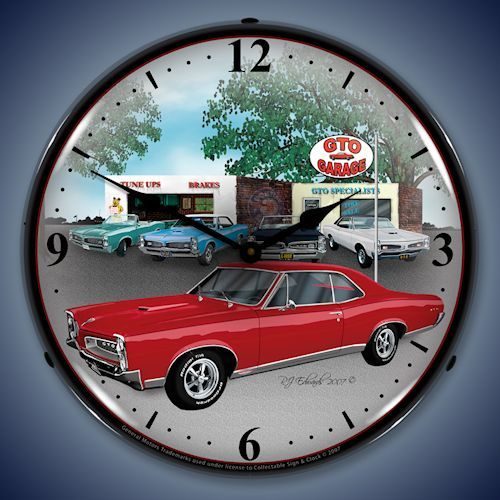 Why Buy From Us?
Free Shipping
Veteran Owned
Secure Shopping
Satisfaction Guaranteed
Item Description
This 1967 GTO LED Lighted Clock is a 14 inch LED backlit lighted clock manufactured in America by Collectable Sign & Clock. The clock face's beautiful artwork is nicely highlighted by the backlighting of the circular LED light source that can be turned off or on by a switch on a 110 AC cord. The high quality quartz clock is powered by a single AA battery. The outer lens of the clock is made from a high quality lexan material and is designed to last a very long time - its scratch resistant and will not yellow or fade over time... The artwork based image is placed on the clock face using a UV dried computer controlled printing process. The back of the clock is made of a super durable ABS plastic material. This clock is built to last.
This very cool 1967 GTO LED Lighted Clock will make a great addition and statement in your garage, office, game-room, man cave, basement or that special place where you love to hangout.
No Expedited Shipping option for these Products! Free shipping in US48.
Clocks will be shipped via UPS or FedEx directly to you by the manufacturer within 1-2 business days
Specifications
ISBN: UPC: 703290917071
Years: 1967

Clock Feature Specifications:

14 inch diameter
Quality printing and artwork
Bright circular LED light source
Quartz clock uses one AA battery
Scratch resistant clear lexan outer lens material - won't yellow
Durable ABS plastic material for back of clock
110 AC cord to turn on/off the backlit LED lights
One year warranty
Made in the USA
Questions & Answers about 1967 GTO LED Lighted Clock
Questions & Answers about 1967 GTO LED Lighted Clock
Ask a question about 1967 GTO LED Lighted Clock.
Customer Reviews
REVIEWS
Donnie martin
verified customer
December 21, 2018
You May Also Like

1967 GTO LED Lighted Clock
Description

Specifications

Questions & Answers

Customer Reviews