1961 Dodge Truck R Series Shop Manual Supplement - Licensed OEM Reproduction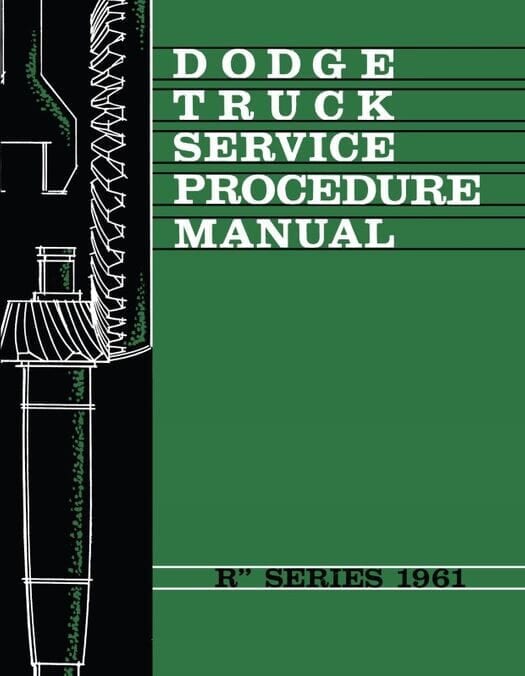 Why Buy From Us?
Free Shipping
Veteran Owned
Secure Shopping
Satisfaction Guaranteed
Item Description
This 1961 Dodge Truck R Series Shop Manual Supplement is a high quality, PRINT, reproduction of the shop manual which was written and first published by the original equipment manufacturer (OEM), Dodge Division, for use by their dealership mechanics.
NOTE: This is a SUPPLEMENT. It was written to be used together with the 1960 Dodge Truck P Series Shop Manual which can be found by clicking here…1960 Dodge Truck P Series Shop Manual . The 1960 manual contains over 870 pages of detailed instructions. The 1961 supplement contains over 220 pages which outline only the changes affecting the servicing of the new models. It will refer you back to the 1960 manual for unchanged items and provide updated procedures and specifications to cover the differences for 1961. You will need BOTH in order to have the complete instructions for service and repair of 1961 "R" Series Dodge trucks.
In 1961, Dodge rolled out trucks which were loaded with performance and style. They were comfortable, powerful and featured a rugged, handsome design made up of sweeping lines and a modern look. These trucks were capable of handling all sorts of jobs. Like any piece of complicated machinery, they will eventually require maintenance and repair. When that time comes, you'll want to have access to the factory accurate specifications and instructions in order to do the jobs right. That's just what you'll have at your finger-tips with this beautiful, freshly-printed and packaged service manual. It's filled with not only well-crafted text instructions, but hundreds of visual aids, such as black and white photographs, illustrations, diagrams, schematics, cut-away views, exploded views, tables and more. This guide covers all the main areas of these beloved vehicles.
MODELS COVERED:

1961 Dodge D100 Series Truck
1961 Dodge D200 Series Truck
1961 Dodge D300 Series Truck
1961 Dodge P100 Van
1961 Dodge P200 Truck
1961 Dodge P200 Van
1961 Dodge P300 Truck
1961 Dodge P300 Van
1961 Dodge W100 Series Truck
1961 Dodge W200 Series Truck
1961 Dodge W300 Series Truck
1961 Dodge Wm300 Power Wagon Truck
With all of the manufacturer's original meticulous details and service and repair instructions reproduced in this clean and new, top-notch 1961 Dodge Truck Shop Manual, you'll have just what you need to get and keep your classic Dodge truck running at its best.
This factory written shop manual is perfect for service, repairs, restoration, and rebuild projects. Clear illustrations and photos show exploded views, as well as component details, plus specifications one engine, data, engine torque, carburetion and more.
Subject:
1961 Dodge Truck R Series Shop Manual Supplement - Includes Detailed Procedures and Instructions.
| OEM Part Number: 81-371-0048
Specifications
Publisher: Dodge Division
Pages: 226 - Hundreds of b&w illustrations
Binding: Paperback - 8.5 x 11 inches
Years: 1961
Table of Contents
TABLE OF CONTENTS
Lubrication
Accessories
Axle - Front
Axle - Rear
Brakes - Parking
Brakes - Service
Clutch
Cooling System
Electrical
Engine
Engine Oiling System
Exhaust System
Frame
Fuel System
Propeller Shaft
Spring - Shock Absorbers
Steering Gear
Transmission
Wheels - Tires
Body and Sheet Metal
Specifications
Tools
Torques
Sample Page:
Below:1961 Dodge Truck R Series Shop Manual Supplement Sample Page - Transmission Drive Pinion Removal
Questions & Answers about 1961 Dodge Truck R Series Shop Manual Supplement
Questions & Answers about 1961 Dodge Truck R Series Shop Manual Supplement
Ask a question about 1961 Dodge Truck R Series Shop Manual Supplement.
1961 Dodge Truck R Series Shop Manual Supplement - Licensed OEM Reproduction
Description

Specifications

Table of Contents

Questions & Answers

Customer Reviews