1960 Dodge Truck P Series Shop Manual - Licensed OEM Reproduction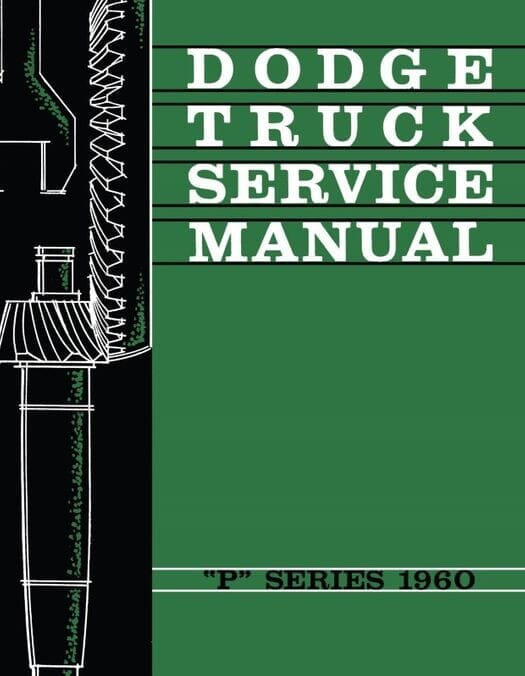 Why Buy From Us?
Free Shipping
Veteran Owned
Secure Shopping
Satisfaction Guaranteed
Item Description
This 1960 Dodge Truck P Series Shop Manual is a high-quality, PRINT, reproduction of the shop manual which was written and first published by the original equipment manufacturer (OEM), Dodge Division, for use by their dealership mechanics.
Dodge has long built their truckís reputation on making a quality product for an affordable price. The 1960 models were no exception. Their ads described them as such, ďItís a worker! Itís a winner! Itís a wonder they could price it so low!Ē Donít let the reasonable price fool you. These stylish trucks were solid and ready to get the jobs done.
MODELS COVERED:

1960 Dodge D100 Series Truck
1960 Dodge D200 Series Truck
1960 Dodge D300 Series Truck
1960 Dodge P300 Van
1960 Dodge Truck
1960 Dodge W100 Series Truck
1960 Dodge W200 Series Truck
1960 Dodge W300 Series Truck
1960 Dodge Wm300 Power Wagon Truck
When it comes time to get the jobs done ON your Dodge truck, this manual is the first tool youíll want in hand. With 872 pages packed with factory specifications and efficient procedures, it offers you the complete and accurate set of instructions from the experts at the manufacturer. Youíll be ready to tackle service and repair jobs from small tune-ups to massive tear-downs.
Youíll be pleased to find that the well-written text instructions have been handily paired with a vast number and variety of visual aids. There are tables, illustrations, exploded views, wiring schematics, cut-away views and more. It retains all of the material from the original source, but in a freshly-printed package. No greasy fingerprints, stained sections, or torn/missing pages. Of course, you can break it in as gently or rough as you like.
Take a look at the table of contents available on this page, by clicking the ď+Ē sign in that section and youíll see the huge amount of areas covered by this great service manual. The level of detail is impressive, as you can imagine, considering the source.
When you get this 1960 Dodge truck P series shop manual, and see how handy it is, it will have you saying the same things about the manual as they said about these classic Dodge haulers when they were new, ďItís a worker! Itís a winner! Itís a wonder they could price it so low!Ē
This factory written shop manual is perfect for service, repairs, restoration, and rebuild projects. Clear illustrations and photos show exploded views, as well as component details, plus specifications one engine, data, engine torque, carburetion and more.
Subject:
1960 Dodge Truck P Series Shop Manual - Includes Detailed Procedures and Instructions.
| OEM Part Number: 81-371-0030
Specifications
Publisher: Dodge Division
Pages: 872 - Hundreds of b&w illustrations
Binding: Paperback - 8.5 x 11 inches
Years: 1960
Table of Contents
Table of Contents
Lubrication
Accessories
Axle Front
Axle Rear
Brake - Parking
Brake - Service
Clutch
Cooling System
Electrical
Engine
Engine Oiling System
Exhaust System
Frame
Fuel System
Propeller Shaft - Universal Joints
Spring - Shock Absorbers
Steering Gear
Transmission
Wheels and Tires
Body and Sheet Metal
Specifications
Tools and Torques
Sample Page:
Below:1960 Dodge Truck P Series Shop Manual Sample Page - Front Axle Differential Removal
Questions & Answers about 1960 Dodge Truck P Series Shop Manual
Questions & Answers about 1960 Dodge Truck P Series Shop Manual
Ask a question about 1960 Dodge Truck P Series Shop Manual.
1960 Dodge Truck P Series Shop Manual - Licensed OEM Reproduction
Description

Specifications

Table of Contents

Questions & Answers

Customer Reviews