1940 Chevrolet Shop Manual - Licensed OEM Reproduction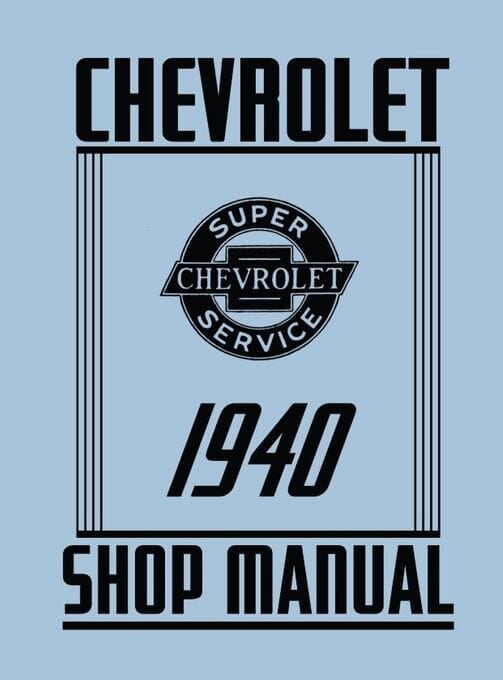 Why Buy From Us?
Free Shipping
Veteran Owned
Secure Shopping
Satisfaction Guaranteed
Item Description
This 1940 Chevrolet Shop Manual is a high quality, PRINT, reproduction of the shop manual which was written and first published by the original equipment manufacturer (OEM), Chevrolet Motor Division, for use by their dealership mechanics.
Chevrolet rolled out a beautiful line-up of cars and trucks in 1940. Fortunately, all of that great styling was also backed-up by solid mechanicals. When you're ready to begin the service and repair work that needs to be done to get and keep your beloved Chevy classic in its original condition, this service manual is the first tool you'll want to have in hand.
MODELS COVERED:

1940 Chevrolet KC Truck
1940 Chevrolet KD Truck
1940 Chevrolet KF Truck
1940 Chevrolet KP Truck
1940 Chevrolet Master 85
1940 Chevrolet Special Deluxe
1940 Chevrolet WA Truck
This factory written shop manual is perfect for service, repairs, restoration, and rebuild projects. Clear illustrations and photos show exploded views, as well as component details, plus specifications one engine, data, engine torque, carburetion and more.
It's loaded with almost 300 pages of factory specifications and detailed instructions. Throughout this professionally-written guide you'll find not only thorough text instructions, but a huge number and variety of visual aids as well. Charts, tables, illustrations, cut-away views, black and white photographs, wiring diagrams and more have been handily included in order to help walk you through projects from small adjustments up to full rebuilds.
After providing general information and lubrication instructions, you'll find this manual addresses such areas as: body, frame, shock absorbers, front suspension, front axle, front springs, rear axle, universal joints, rear springs, brakes, engine, fuel system, cooling system, clutch, transmission, vacuum gearshift, fuel tanks, exhaust system, steering gear, wheels and tires, chassis sheet metal and electrical system.
This is the definitive service and repair guide for the 1940 Chevrolet models listed below. It contains all of the original content originally provided by the experts at the manufacturer back when these models were new, but in a freshly-printed and packaged form. It's the best of both worlds. This 1940 Chevrolet Shop Manual will be right at home in your garage or your office…at least until you break it in with your very own greasy finger-prints to signify hard work and a job well done. Get your 1940 Chevy in cruising condition with the help of this great reference tool. Buy yours today!
NOTE: For additional information regarding the BODY, please see our: 1939 – 1940 Fisher Body Shop Manual, which can be found by clicking here…1939 - 1940 Fisher Body Shop Manual
Subject:
1940 Chevrolet Shop Manual - Includes Detailed Procedures and Instructions.
| 1940
Specifications
Publisher: Chevrolet Motor Division
Pages: 282 - Hundreds of b&w illustrations
Binding: Paperback - 8.5 x 11 inches
Years: 1940
Table of Contents
TABLE OF CONTENTS:
General Information, Lubrication
Body
Frame, Shock Absorbers
Front Suspension, Front Axle, Front Springs
Rear Axle, Universal Joints, Rear Springs
Brakes
Engine, Fuel System, Cooling System, Clutch
Transmission, Vacuum Gearshift
Fuel Tanks, Exhaust System
Steering Gear
Wheels and Tires
Chassis Sheet Metal
Electrical System
Sample Page:
Below:1940 Chevrolet Shop Manual Sample Page - Differential Section
Questions & Answers about 1940 Chevrolet Shop Manual
Questions & Answers about 1940 Chevrolet Shop Manual
Ask a question about 1940 Chevrolet Shop Manual.
Customer Reviews
REVIEWS
Michael Kelly
verified customer
June 28, 2021
1940 Chevrolet Shop Manual - Licensed OEM Reproduction
Description

Specifications

Table of Contents

Questions & Answers

Customer Reviews