Weber Carburetor Repair Manual: Includes Zenith Stromberg, SU Carburetors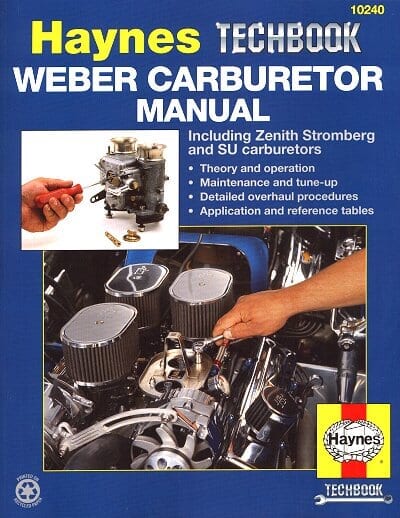 Why Buy From Us?
Free Shipping
Veteran Owned
Secure Shopping
Satisfaction Guaranteed
Item Description
This manual by Haynes, covers all popular Weber, Zenith Stromberg and SU carburetors.
In addition to service and repair information, it provides guidance for converting Weber carbs as well as installing a Weber dual carburetor kit on an air-cooled VW engine.

Book Excerpt: Weber Carburetor Repair Manual: Includes Zenith Stromberg, SU Carburetors
PART 1 - INTRODUCTION
CARBURETOR BODY AND COVERS

NOTE: The body and, on some types, the covers are the only parts of the carburetor which cannot be supplied as spares and therefore, where these items are damaged beyond repair, a new carburetor must be obtained.

Check internally and externally for cracks (refer to Fig 4.5). These are most likely to be found in the vicinity of the flange mounting holes and are due to overtightening or excessive vibration.

On aluminum alloy carburetors it may be possible for a welding specialist to carry out a suitable repair, provided that none of the internal jets and passages are affected.

However, great care must be taken to prevent distortion. Carburetors made from zinc alloy (Mazak) cannot be repaired in this way and will either require replacement parts or a new carburetor.

Check the flange faces for flatness using a straight-edge (refer to Fig. 4.6). If any undulation or distortion is evident, lap the flange on a sheet of fine emery cloth placed on a surface plate.

Where applicable, the carburetor covers may be checked and rectified using the same procedure.

Check all tapped (internally threaded) holes for the condition of the thread. It will be observed that the more frequently used threads are fitted with brass inserts and these do not normally deteriorate, but where the thread is tapped directly into the main body the threads may fracture.

To repair the latter type of thread, an insert (sometimes called a Helicoil or Cross insert) must be fitted. This is a job best entrusted to a suitable equipped machine shop.

An alternative method of repairing the thread is to drill out the threads completely and then tap an oversize thread, but this is only possible in some cases, as the attaching component must be non-standard and it may be necessary to drill adjacent components oversize.
SU CARBURETORS
FULLY AUTOMATIC STARTING DEVICE (FASD - TWIN CARBURETORS) - CHECKING AND ADJUSTMENT

CHECKING

Check that fuel is being delivered to the carburetor with the FASD attached, by temporarily disconnecting the feed pipe, and switching on the ignition for a few seconds.
If the cooling system has recently been drained and refilled, make sure that all air has been purged from the coolant. The presence of air around the wax capsule inside the FASD will reduce the movement of the shut-off valve during the warm-up period, resulting in an over-rich mixture.
To check that the FASD cuts out correctly, run the engine to normal operating temperature, and then connect an exhaust gas analyzer to the exhaust tailpipe. Record the CO percentage at idle speed.

Disconnect the FASD outlet hose at the inlet manifold, blank off the manifold aperture, and check that the CO reading remains as previously recorded, or drops very slightly.

The FASD is proved faulty if the CO reading drops significantly, or fluctuates. Stop the engine, re-connect the outlet hose, and disconnect the exhaust gas analyzer.
Easy-to-use shop manuals by Haynes, can save you money on maintenance and repair bills. Step-by-step procedures and detailed illustrations guide you through every job.
Subject: Transportation: Automotive: Fuel Delivery Systems: Carburetion: Weber, Zenith Stromberg, SU Carburetor Repair Manual. ISBN-10: 156392157X | ISBN-13: 9781563921575 | Haynes Manuals 10240
Specifications
Publisher: Haynes Manuals
Pages: 344 - Hundreds of b&w photos and illustrations
Binding: Paperback - 8.5 x 11 inches
ISBN: 978-1-56392-157-5
Table of Contents
TABLE of CONTENTS:
Basic carburetion
Carburetor fitting
Maintenance and servicing
Overhaul
Converting to Weber carburetors
Weber carburetor types:

DAF, DCD, DFA, DFV, DFD, DFE, DFM, DFT, DGV, DIF, IDA, IDF, IDS, IDT, DCNF, DCOE, DFAV, DFTA, DGAS, DGAV, IDAP, and IDTP
Zenith Stromberg carburetor types:

CD, CDS, CD-2S, CDSE, CD-2SE, CDST, and CDSET
SU carburetor types:

H, HD, HS, HIF (including electronic), and auxiliary starting devices
Original equipment jet setting list for Weber carburetors
Conversion equipment jet setting list for Weber carburetors
Applications for Zenith Stromberg carburetors
Metering needles charts for Zenith Stromberg carburetors
Applications list for SU carburetors
Needle charts for SU carburetors
Needle cross-reference chart for SU carburetors
Jet identification information for SU carburetors
Questions & Answers about Weber, Zenith Stromberg, SU Type Carburetor Repair Manual
Questions & Answers about Weber, Zenith Stromberg, SU Type Carburetor Repair Manual
Ask a question about Weber, Zenith Stromberg, SU Type Carburetor Repair Manual.
Customer Reviews
REVIEWS
Augustus Hudson
verified customer
May 23, 2018
Weber Carburetor Repair Manual: Includes Zenith Stromberg, SU Carburetors
Description

Specifications

Table of Contents

Questions & Answers

Customer Reviews