The Jeep Bible: 1941-1986 CJ History, Repair, Tune-Up, Build Your Own Jeep - 3rd Edition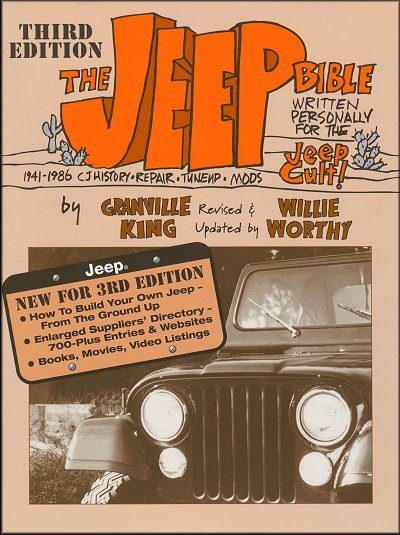 Why Buy From Us?
Free Shipping
Veteran Owned
Secure Shopping
Satisfaction Guaranteed
Item Description
- OUT OF PRINT -
All the stuff you want to know about MB, GPW, CJ-2A, CJ-3A, CJ-3B, CJ-5, CJ-6, CJ-7, Jeepster, Commando, and CJ-8.
From the front cover to the exhaustive Jeep Suppliers Directory, this is one unique Jeep book. A combination of history and repair guide that will help you understand what makes America's most ubiquitous motor vehicle tick, and how to fix it when it doesn't.
Includes a "hot list" of over 700 Jeep parts & service suppliers.
Book Excerpt
WIRING, SOME BIG TIPS
Jeeps last altogether too long. Love, respect and original toughness make this happen. We should last as long, so good!

And in their decades of use, guy's fling on many of the wonderous market stuff like driving lights, winches, and every kind of electrical gizmo known to mankind.

The rat's nest you see up under most Jeeps dashes is startling if she has maturity.

But what happens one day is you get this teensie-weensie electrical problem. You butch around it and go on and all seems well.

Then something big happens, not protected possibly by those wild Fusible Links, and you go Into The Harness. You trace this and trace that. You get no place worhty of mention.

When it becomes clear that the Entire Known World is agin ya, you decide the devil with Momma's new washing machine from Sears. Got plenty flat rocks around here anyhow. And you go to a good garage for troubleshooting.

They take one look and put you on a T&M (Time & Materials) basis and their cash register whirls like an insane one-armed bandito.

When they're done, if ever, you got much the same old, cruddy wiring and a horrendous bill. I know of such things; I once had a Jeep garage and I presented wiring bills many times sorta looking away from beloved customer' s eyeball. Though he demanded it.

Don't do this! When Jeep wiring goes sour (or any rig, for that matter) it CANNOT be really fixed. You shouldn't even try.

Because every time you flex a piece of the harness, insulation flakes off. Wires cross inside. Or get close. Do it this way when she's gone that far.
This fine book has been a top seller at The Motor Bookstore for many, many years. Some things just never go out of style. And The Jeep Bible: 1941-1986 - 3rd Edition is definitely a book that just doesn't go out of style. Pick up your copy today, while supplies last!
Subject:
1941, 1942, 1943, 1944, 1945, 1946, 1947, 1948, 1949, 1950, 1951, 1952, 1953, 1954, 1955, 1956, 1957, 1958, 1959, 1960, 1961, 1962, 1963, 1964, 1965, 1966, 1967, 1968, 1969, 1970, 1971, 1972, 1973, 1974, 1975, 1976, 1977, 1978, 1979, 1980, 1981, 1982, 1983, 1984, 1985, 1986 Jeep service, maintenance, and repair instructions.
ISBN-10: 0961847395 | ISBN-13: 9780961847395
Specifications
Publisher: The Quellen Company
Author: Granville King, Willie Worthy
Pages: N/A - Hundreds of b&w illustrations
Binding: Paperback - 8.5 x 11 inches
ISBN: 978-0-9618473-9-5
Years: 1941 - 1986
Table of Contents
TABLE of CONTENTS: CHAPTER ONE: INTRODUCTION
What's in this book? | The Jeep cult & legend | History: Jeep wins WWII? | Identification numbers | How to use this book | Working tools | Safety, lube & maintenance CHAPTER TWO: TUNE-UP
Spark advance & dwell | Timing all engines | High altitude operations | Idle settings | Carburetor tune-up | Valve adjustment | Filters | Read your plugs CHAPTER THREE: ENGINE TROUBLESHOOTING
Who worked this bucket last? | Not dead, but dying | Isolate! Isolate! | Will not start | Timing chain trauma | Hydrostatic lock | Compression testing | Excessive friction CHAPTER FOUR: LEAKS and NOISES
Thread leaks and PCV | Fuel pump and spark knock | Internal oil leaks | Sticking valves | Loose flywheel; pistons | Main and rod bearings CHAPTER FIVE: IGNITION and ELECTRICAL
Installation when disturbed | New pickup coil | Cruise command | Alternator and regulator | Battery and starter | Solenoid, two kinds | Greased main harness | Wiring tips CHAPTER SIX: EMISSION SYSTEM
Let the system live | Today's smog system | Forward delay valve | Knock sensor | Upstream/downstream solenoid | Pulse air system | Air injection pump | Air pump and air cleaner CHAPTER SEVEN: INSTRUMENTS
Emission warning light | Voltmeter indicator | Oil gauge; Temp gauge | Tach; Hydraulic warning light | Directional signals | Troubleshooting instruments CHAPTER EIGHT: ENGINE
L-head and F-head engines | V6, V8 304 and 232, 150, 151 and 258 | Component removal | The bottom end | Camshaft cautions | The realistic rebuild | Engine: remove & replace CHAPTER NINE: FRONT END / REAR END
Steering wheel and gear | Power steering and pump | Front axle and toe-in | Pinion seals | Hubs functions and lube | Rear axle, bearings and ID | Trak-Loc test | Drivelines CHAPTER TEN: COOLING
Coolant recovery system | Reverse fluch ripoff | Oil leaks | Water in oil | Thermostat and fans | Mysterious lower hose CHAPTER ELEVEN: BRAKES
Various type adjustments | Disassembly & reassembly | Disc and drum brakes | Power brake booster | Disc pads and piston trauma | Words of wisdom CHAPTER TWELVE: CARBURETOR
Need a rebuild? | Dies when you stop | Idle mixture adjustments | How to keep the mess straight | The enigma wrapped in a mystery CHAPTER THIRTEEN:SUSPENSION and TIRES
Front swing R&R | New hardware, get it! | Lift ideas | Air down your tires | Air chuffer & stealer CHAPTER FOURTEEN: MANUAL TRANSMISSION and XFR CASE
Transmission & case R&R | Reinstallation | Various transmissions | Various transfer cases | Service in vehicle | Transmission troubles CHAPTER FIFTEEN: TROUBLESHOOTING
Troubleshooting, fixing | Flushing; Leaks | Shift linkage adjustment | Throttle linkage adjustment | Backup lamp switch | Band adjustments CHAPTER SIXTEEN: CLUTCH
Free pedal play | Clutch chatter | Troubleshooting | Going inside | She won't back up! | The ol' telephone pole fix CHAPTER SEVENTEEN: BODY, EXHAUST and AIR
Frame, windshield | Hood, tailgate, tank | Python in exhaust | Things that go bump | Throw chains into manifold | Heater CHAPTER EIGHTEEN: MODIFICATIONS, GUIDELINES, etc.
Tires and wheels, brakes | Steering, engine swaps | Transmissions, Transfer cases, overdrives | Front ends, read ends, differentials | Rear axles, suspensions CHAPTER NINETEEN: THE 200,000-MILE JEEP
The mileage record | Time-phased chart | The year 2020 AD club | Synthetics | The quick-draw record | Realistic conclusions CHAPTER TWENTY: THE ULTIMATE JEEP
How to go about building the Jeep of your dreams: frames, engines, axles, transmissions, bodies CHAPTER TWENTY-ONE: SUPPLIERS of PARTS and ACCESSORIES
Where to go to get specialized Jeep repairs, and the parts and accessories you need to upgrade and modify your Jeep | Internet websites CHAPTER TWENTY-TWO: THE JEEP BOOK, MOVIE and VIDEO SHELF
The books, the magazines, the bookstores, the Internet... check all the stuff you want to have in your multimedia Jeep reference library.
Above: Danny Harris sent us this photo of his
1954 Willys M38A1
. The Jeep belonged originally to Danny's dad, who bought it at the city auction in 1975 for $850. They both worked on it repainting it from white to a GMC green, and added a black vinyl top so they could use it as a true off-road hunting vehicle in the piney woods of Angelina county in southeast Texas. The Jeep sat unused for a number of years, and Danny inherited it when his dad passed away in 2005. Diboll, TX.
Questions & Answers about The Jeep Bible: 1941-1986 - 3rd Edition
Questions & Answers about The Jeep Bible: 1941-1986 - 3rd Edition
How much is included about the '75 era Cherokee Chief . . . particularly history? Thanks, a possible gift for our son. Thanks, Steve

The Jeep Bible does not have any historical info on any Jeep. It is a humorous look at building up your Jeep and what problems may occur. Thank you.
Ask a question about The Jeep Bible: 1941-1986 - 3rd Edition.
Customer Reviews
REVIEWS

Fred Blogs
verified customer
January 22, 2017
The Jeep Bible: 1941-1986 CJ History, Repair, Tune-Up, Build Your Own Jeep - 3rd Edition
Description

Specifications

Table of Contents

Questions & Answers

Customer Reviews