Supercharging Performance Handbook: Centrifugal, Roots, Screw-Type Blowers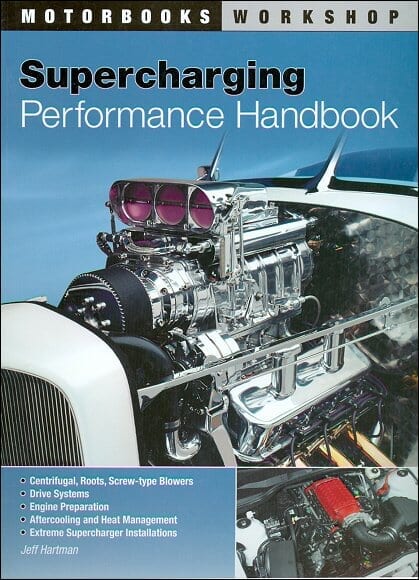 Why Buy From Us?
Free Shipping
Veteran Owned
Secure Shopping
Satisfaction Guaranteed
Item Description
- OUT OF PRINT -
When it comes to automotive superchargers, you better know what the heck you're doing. Unless your plan is to ruin your engine!
In this book, author Jeff Hartman, explains with words and color photos, everything you need to know about supercharging systems, whether centrifugal, Roots or twin-screw-type blowers.
From factory forced-induction systems to aftermarket blowers to custom-built superchargers, this book covers them all.
With the information in this book you will learn:
How different supercharging systems work
How to upgrade or convert to a blower system
Why heat management is crucial for any supercharged engine
Why supercharged engines need excellent fuel and ignition management
How supercharging developed
Where forced-induction technology is going
...and more!
Book Excerpt: Supercharging Performance Handbook: Centrifugal, Roots, Screw-Type Blowers
CHOOSING THE ENGINE
You name it, it?s been supercharged: cars, diesel trucks, boats, jet skis, motorcycles, go-carts, snowmobiles, aircraft, dragsters, speed-record cars, road-racers, industrial engines, farm tractors, heavy equipment, locomotives, large ships, hybrid automobiles, air-cooled spark-ignition engines, Wankel engines, and even lawnmowers.

Any type of brand of internal combustion engine of any age with a target output of at least 15 horsepower can be supercharged with existing technology.

The boost can begin at whatever rpm the designer wants, and maximum boost can increase until the engine destroys itself. No kidding.


ANY ENGINE CAN BE SUPERCHARGED. BUT SHOULD IT BE?

Some engines are MUCH more blower-ready than others right out of the box ? the most obvious example being an engine that was factory-turbocharged or supercharged.

The fact that you already own a specific engine or vehicle is not necessarily a good justification for plowing money and sweat into a supercharger conversion ? although this sort of upgrade can make all the sense in the world if you?re a car company with a lot invested in a certain platform and drivetrain and you know that a high-output option will sell cars ? or if you?re a tuner can leverage R&D over dozens, hundreds, or even thousands of engines and vehicles.

If you?re a hot rodder, the existence of a reputable kit chargeable to your Visa card can make the math look good compared to the cost of building a roll-your-own system (particularly if you factor in the sweat equity of designing it, installation, parts-chasing, mistake making, mistake fixing, and so forth).


BLOWER ENGINE MANAGEMENT

Bolting a supercharger to an engine, improvising a mechanical drive, and piping pressurized air from the compressor to the throttle body is certainly not trivial, but it is a straightforward mechanical task.

However, the basis of a great supercharger system is great engine management, which can be quite a bit more esoteric. Great engine management is more important to successful supercharging than almost any other factor, and this is true whether you are using modern electronic fuel injection and engine management, or traditional carburetion.

The goals of supercharged engine management are the same regardless of the fuel delivery system, but the goals and issues related to carbureted supercharging are unique enough that there is a special section dedicated to carburetion later in this chapter.

The marriage of electronic fuel injection with forced induction provided a quantum leap in the practicality of street vehicles with outrageous power in the range of 250 to 500 horsepower per liter.

Unfortunately, an engine-management system designed for a normal-charged factory engine will not work well if you install a superchager, and it is likely to require significant changes to spark timing and fuel delivery that may require changes to the internal calibration tables that drive digital engine management.

In some cases it may require modifications or additions to the electronic control logic and hardware, as well as the sensor and actuator systems that deliver spark, fuel, boost control, and other engine management functions.

The necessary solution might be as simple as retarding static timing and installing a variable-rate-of-gain fuel pressure regulator to increase fuel pressure during boost, or it might be as complex as installing an entire aftermarket engine-management system, larger fuel injectors, a more powerful fuel pump, and so on.
Subject: Transportation: Automotive: High-Performance: Forced-induction systems, superchargers and blowers. ISBN-10: 0760339384 | ISBN-13: 9780760339381 | Motorbooks 39381
Specifications
Publisher: Motorbooks
Author: Jeff Hartman
Pages: 224 - Hundreds of color photos and illustrations
Binding: Paperback - 8.5 x 11 inches
ISBN: 978-0-7603-3938-1
Table of Contents
TABLE of CONTENTS:
The Prehistory of Supercharging
Normal Versus Super Charging: Volumetric and Thermal Efficiency
Choosing the Engine
Supercharger Architecture
Supercharger Selection and System Modeling
Blower Engine Management
Heat Management: Combustion, Engine, Blower, Oil, Charge, Exhaust
Buying and Installing a Supercharger Kit
Designing and Building a Supercharger System
Overboosting
Extreme Supercharging
Questions & Answers about Supercharging Performance Handbook
Questions & Answers about Supercharging Performance Handbook
Ask a question about Supercharging Performance Handbook.
Customer Reviews
REVIEWS
ashley
verified customer
November 14, 2015
Supercharging Performance Handbook: Centrifugal, Roots, Screw-Type Blowers
Description

Specifications

Table of Contents

Questions & Answers

Customer Reviews