Outboard Engines 2nd Edition: Maintenance, Troubleshooting, and Repair, by Ed Sherman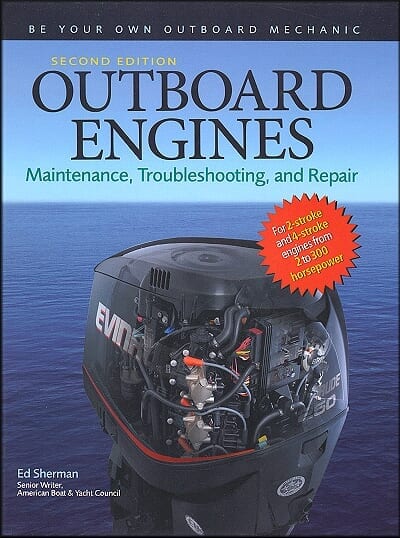 Why Buy From Us?
Free Shipping
Veteran Owned
Secure Shopping
Satisfaction Guaranteed
Item Description
When you?re out on the water, the last thing you need is the outboard motor to cut out. You?re left stranded in the middle of the lake with nothing but a few fishing poles and an oar. Proper maintenance and easy troubleshooting can keep you chugging along the water. Outboard Engines 2nd Edition: Maintenance, Troubleshooting and Repair is the perfect addition to your mechanical library.
There are many different types of outboard motors from the simple 2 horsepower for gentle movement along the river to 300 horsepower monsters that have you shooting through the water like a bullet. While they vary in complexity, the primary functions are the same and this book covers everything from proper maintenance to keep it running at peak performance to troubleshooting when something goes wrong.
It doesn?t matter if you?re dealing with a two stroke motor or a high tech fuel injected and computer controlled four stroke motor, Outboard Engines 2nd Edition covers it with great visuals and detailed instructions that will have you up and running in no time.
There?s no sense paying for someone else to maintain your motor when you can do everything yourself by perusing the pages of this reference manual. If there is something that is too difficult, then you?ll be able to spot it right away and not waste valuable time. Ed Sherman is no stranger to boating and is author of five books and has written for numerous nautical magazines. This is the authority for maintaining and troubleshooting outboard motors and needs to be a part of your collection.
Subject:
Outboard Engine Repair and Service How-to Book.
ISBN-10: 0071544623 | ISBN-13: 9780071544627 | McGraw Hill 44627
Specifications
Publisher: International Marine
Author: Edwin R. Sherman
Pages: 148 - Over 200 b&w photos and illustrations
Binding: Hardcover - 7.5 x 9.5 inches
ISBN: 978-0-07154-462-7
Table of Contents
Table of Contents THE BASICS: WHAT MAKES YOUR ENGINE TICK
Your Engines Four Basic Needs | Inside Your Engine?The Basic Components | Basic Two-Stroke and Four-Stroke Cycles: The Four-Stroke; The Two-Stroke | The Basics of Troubleshooting BREAKING IN A NEW ENGINE
General Break-in Guidelines: Additives; Oil Grades; Mix Ratio; Operating Procedure ROUTINE MAINTENANCE
Daily Checks and Maintenance | Monthly Checks and Maintenance | Seasonal Checks and Maintenance | Three-Month (or Seasonal) Service Checks: Grease Points; Propeller Inspection ; Gearcase-Oil Change; Cooling System; Impeller Replacement; Cylinder Compression; Fuel System; Automatic Oiler; Steering; Battery; Two Final Adjustments | Special Considerations for Four-Stroke Engines: Sump-Oil Change; Timing-Belt Wear; Valve Clearance Check | Maintenance in a Nutshell: Daily Checks; Monthly Checks; Seasonal Checks; Additional Four-Stroke Annual Service | Off-Season Storage and Spring Commissioning: Winter Storage; Spring Commissioning HOW TO FIND THE TROUBLE
Listen, Look, and Feel for Trouble | A Troubleshooting Plan of Attack: Ten Categories of Trouble | Symptoms and Probable Causes: Engine Will Not Start; Engine Runs Irregularly or Stalls; Rough Idle; Engine Speed Will Not Increase; Engine Overheats; Engine Speed Higher than Normal; Engine Speed Lower than Normal; Boat Speed Low; Steering Pulls to One Side; Excessive Blue Smoke ISOLATING IGNITION SYSTEM PROBLEMS
Ignition Components and What They Do | Ignition Tests | Testing for Spark | Testing the Plugs | Ignition Problems?Tests and Procedures: Ignition Problems Checklist | Testing Spark-Plug Wires | Testing High-Tension Coils | Testing Charge and Sensor Coils and Ignition Module: Testing the Charge Coil; Testing the Sensor Coil; Testing Coil Voltages; Charge-Coil Test; Sensor-Coil Test; Ignition-Module Test; Under-the-Flywheel Systems | Some Additional Checks: Testing Your Stop Switch; Testing a Mercury (Tilt) Stop Switch | Final Checks and Ignition Timing: Checking the Timing; CDI Unit Problems; Optical Timing Systems; Summing It Up THE CHARGING and STARTING SYSTEMS
Charging?The Key Components: How It All Works | Testing Your Battery: Battery Capacity Test; Battery Drain Test | Charging System Problems and Possible Causes: Verifying Charging-System Output; Testing Your AC Voltage Rectifier | Testing the Stator Windings: The Sequence to Follow | Troubleshooting Electric Starter Circuits: Voltage-Drop Test | Testing the Neutral Safety Switch: Neutral Switch Misadjustment | Testing an Ignition Switch: Other Starter-Related Problems | Manual Starters: Winding On a New Pull Cord; Replacing the Coil Spring THE FUEL and LUBRICATION SYSTEMS
Fuel-Delivery Systems | The Spin-On Fuel/Water Separator | Fuel System Safety Considerations | Fuel-System Basics and Common Problems: Fuel-Tank Strainer; Anti-Siphon Valve; Flushing the Tank; Portable-Tank Strainers; The Fuel/Water Separator; The Primer Bulb; Fuel Pump Strainer | Fuel Supply Problems: The Fuel Pump; Checking the Seal; Fuel Pump Removal and Disassembly | Fuel Delivery Step by Step | Classic Symptoms of Carburetor Problems: Mixing Air and Fuel | How a Carburetor Works: The Float Circuit; The Idle Circuit; The Intermediate Circuit; The High-Speed Circuit; The Choke Circuit | Removing Your Carburetor | Disassembling Your Carburetor | Choke and Primer Systems: Further Checks; Manual Primers; Electric Primers; Electric Chokes; Thermal Wax Valves; Changing Technology | Lubrication Systems: The Pre-Mix Method; OMCs VRO System; Mechanical Oil-Pump Systems; Oil Recirculation Systems; Four-Stroke Engine Lubrication SERVICING THE STEERING and TRIM SYSTEMS
Tiller Steering: Steering-Tension Adjustment; Trim Tab Adjustment | Cable-Controlled Steering: Measuring for a New Steering Cable | Hydraulic Steering: Routine Servicing; Symptoms of Problems; Bleeding a Hydraulic System; Trim and Tilt Systems; Electrical Troubleshooting THE COOLING SYSTEM, LOWER UNIT, and PROPELLER
Air Cooling: Air-and-Water Cooling | Water Cooling: Symptoms of Overheating; Causes of Overheating; Thermostat Removal and Testing; Flushing Your Cooling System; Servicing the Water Pump; Reinstalling the Lower Unit | Testing the Overheat Alarm | The Shifting System: Diagnosing Shifting Problems | Lower-Unit Maintenance | Choosing a Propeller: Propeller Terms DEALING WITH CORROSION
Sacrificial Zincs: The Galvanic Series | Touching Up Paint Chips and Corrosion | Dealing with Hardware Corrosion: Releasing Fasteners and Preventing Corrosion | Frozen Bolts | Saving a Drowned Engine BRAND-SPECIFIC INFORMATION
Johnson and Evinrude: Johnson, Evinrude, Maintenance Schedule | Mercury Marine: CARB Ratings, Ethanol Worries?, Routine Maintenance | Nissan Marine/Tohatsu | Honda: Maintenance | Suzuki: Maintenance | Yamaha: Unusual Maintenance Check
Questions & Answers about Outboard Engines: Maintenance, Troubleshooting, Repair 2-Stroke 4-Stroke Engines 2 to 300 HP
Questions & Answers about Outboard Engines: Maintenance, Troubleshooting, Repair 2-Stroke 4-Stroke Engines 2 to 300 HP
Ask a question about Outboard Engines: Maintenance, Troubleshooting, Repair 2-Stroke 4-Stroke Engines 2 to 300 HP.
Outboard Engines 2nd Edition: Maintenance, Troubleshooting, and Repair, by Ed Sherman
Description

Specifications

Table of Contents

Questions & Answers

Customer Reviews