KYMCO Grand Dink 125 / 150 Scooter Manual (First Generation Models) By Cyclepedia - PRINTED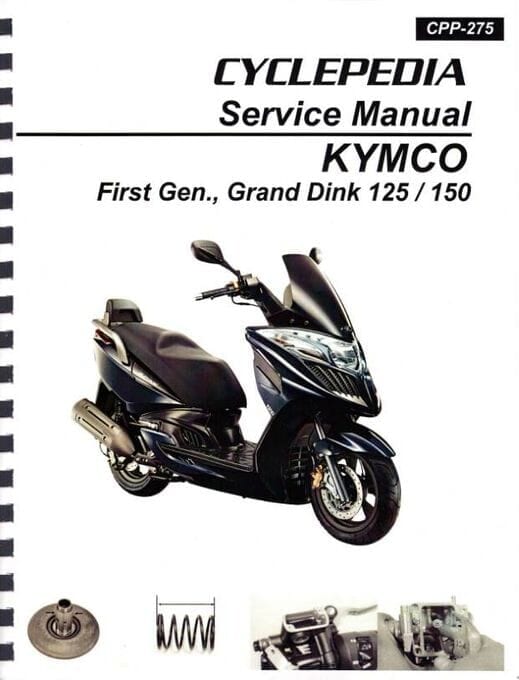 Why Buy From Us?
Free Shipping
Veteran Owned
Secure Shopping
Satisfaction Guaranteed
Item Description
This KYMCO Grand Dink 125 / 150 Scooter Manual is a high-quality service and repair manual published by Cyclepedia Press LLC. This excellent, printed shop manual delivers complete repair and maintenance information for your scooter. It contains well-written text instructions, complete specifications, wiring diagrams and many helpful photographs. You'll find expert instructions for everything from basic maintenance tasks all the way up to a major engine overhaul.
MODELS COVERED:
KYMCO Grand Dink 125 and 150 Scooters
What's covered in this guide?
Section 1 includes general information, such as precautions for operations described in this manual.
Section 2 contains such items as the removal and installation procedures for the frame covers (they're subject to higher removal and installation frequency during maintenance operations).
Section 3 describes inspection and adjustment procedures, safety rules and service information.
Section 4 explains the lubrication system.
Sections 5 through 13 provide instructions for disassembly, assembly and adjustment of various engine parts and systems.
Section 14 explains the removal and installation of the various front chassis components.
Section 15 describes working on the rear brakes and rear suspension.
Sections 16 through 19 provides the testing and measuring methods of electrical equipment.
You'll find most of the sections begin with an assembly or system illustration and troubleshooting information for the areas addressed in that particular section. The subsequent pages deliver detailed procedures for the items in the section.
The Motor Bookstore believes this KYMCO Grand Dink 125 / 150 Cyclepedia DIY Scooter manual is a great resource because of the following characteristics:

Printed Book Purchase -

Includes 1 Year Subscription to Color Online Manual Free - Contact us after purchase to setup the online account

.
Was written by a KYMCO trained mechanic.
Focuses on the Grand Dink 125 / 150 models only.
Logical and straight forward organization - doesn't jump around.
Comb Spiral Binding so the manual lays open nicely on your bench.
Black & White Fold-out Wiring Diagrams Included.
Specifications section with detailed specs that include torque specifications.
~ 200 pages of detailed rebuild / repair information.
Quality Paper - not cheap newspaper quality like so many other books.
This professionally written Cyclepedia service manual is perfect for service, repairs, maintenance, and rebuild projects for your KYMCO Grand Dink 125 / 150. Clear illustrations and photos show exploded views as well as component details to enhance the step-by-step service and repair procedures.
Subject:
KYMCO Grand Dink 125 / 150 Scooter Manual - Includes Detailed Service, Repair & Maintenance Instructions / Procedures.
| Cyclepedia CPP-275
Specifications
Publisher: Cyclepedia Press LLC
Pages: 200 Approximately - Hundreds of b&w photos and illustratons
Binding: Comb Binding - 11 x 8.5 inches
Questions & Answers about KYMCO Grand Dink 125 / 150 Scooter Manual
Questions & Answers about KYMCO Grand Dink 125 / 150 Scooter Manual
Ask a question about KYMCO Grand Dink 125 / 150 Scooter Manual.
KYMCO Grand Dink 125 / 150 Scooter Manual (First Generation Models) By Cyclepedia - PRINTED
Description

Specifications

Table of Contents

Questions & Answers

Customer Reviews