John Deere Tractor Repair Manual 670, 770, 870, 970, 1070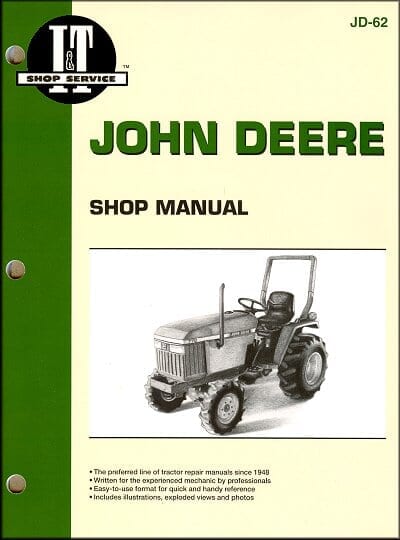 Why Buy From Us?
Free Shipping
Veteran Owned
Secure Shopping
Satisfaction Guaranteed
Item Description
The John Deere Tractor Repair Manual covers all aspects of John Deere tractor repair and maintenance. The comprehensive guide is written by I&T/Clymer and is geared towards experienced mechanics. The trusted manual has been the preferred choice for tractor and equipment technicians for over 40 years and includes a variety of pro tips and tricks to help diagnose tractor issues and improve the repair process. The repair manual also includes wiring diagrams for all compatible models of tractors.
Whether you're looking for a general John Deere 870 service manual or a transmission diagram for your 670 tractor, you've come to the right place. The informative guide encompasses a wide range of John Deere tractor models so you can work on several tractors with just one guide. This manual covers the following John Deere tractor models: 670, 770, 870, 970 and 1070.
John Deere  670, 770, 870, 970 or 1070 repair manuals ship quickly and are priced low for an incredible value.

Book Excerpt: John Deere Tractor Repair Manual 670, 770, 870, 970, 1070
TRANSMISSION SPLIT
All 870, 970 and 1070 Models
150. The main transmission is located in the rear of clutch housing and the range transmission is located in the front of rear axle center housing. To separate between clutch housing and transmission housing, first lower the lift arms, then drain hydraulic and transmission lubricating fluid.

Remove front driveshaft from models with front-wheel drive. On all models, disconnect battery ground, then remove hydraulic suction, pressure and return lines which would interfere with separation of housings.

Cover all openings in hydraulic system to prevent the entrance of dirt. Remove rockshaft stop knob, rear pto knob and mid pto knob (if so equipped), then remove cover that surrounds these controls.

Remove clutch housing cover and step plates, then unbolt brackets and fenders from step supports or other brackets which prevent separating.

Disconnect or remove brake linkage and return springs from right pedal to right brake and from cross shaft lever to left brake. Close fuel shut-off valve at fuel filter, disconnect fuel lines, then cover all fuel system openings.

Check around tractor at joint where clutch housing attaches to the rear axle center housing for any wiring, connected springs, hydraulic lines, fuel lines or attached brackets that would interfere with separation.

Remove or tie out of the way anything that might be damaged.
Subject: John Deere farm tractor service, maintenance, repair. ISBN-10: 0872885836 | ISBN-13: 9780872885837 | I&T JD62
Specifications
Publisher: I&T - Clymer Series / Haynes Manuals
Pages: 120 - B&W photos and illustrations
Binding: Paperback - 8 x 10.75 inches
ISBN: 978-0-87288-583-7
Table of Contents
TABLE of CONTENTS:
Detailed illustrations and exploded views
Troubleshooting sections covering most models
Brakes
Cooling system
Differential
Electrical system
Engine
Final drive
Axles
Hydraulics
Transmission
Condensed service data information
Detailed index
Plus...
Accurate information in a concise, easy-to-use format
Durable, coated paper stands up to messy shop jobs
Questions & Answers about John Deere Tractor Repair Manual 670, 770, 870, 970, 1070
Questions & Answers about John Deere Tractor Repair Manual 670, 770, 870, 970, 1070
Ask a question about John Deere Tractor Repair Manual 670, 770, 870, 970, 1070.
John Deere Tractor Repair Manual 670, 770, 870, 970, 1070
Description

Specifications

Table of Contents

Questions & Answers

Customer Reviews