How To Tune & Modify Automotive Engine Management Systems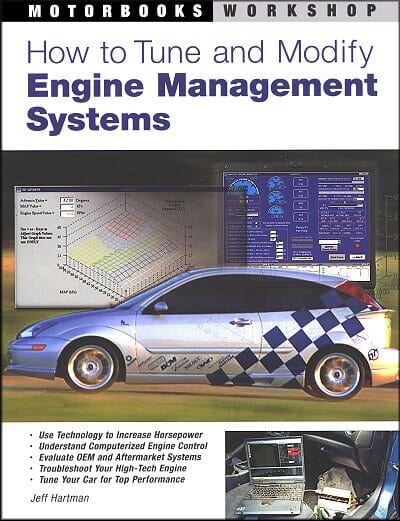 Why Buy From Us?
Free Shipping
Veteran Owned
Secure Shopping
Satisfaction Guaranteed
Item Description
Want to extract more horsepower from your modern car? Then you'd better understand fuel injection and engine management. Without it, anything you throw at an engine?turbocharger, supercharger, nitrous oxide, radical camshaft?will never reach its potential worse, it may cause expensive engine damage.
Luckily, you've found How To Tune and Modify Engine Management Systems. Inside, author Jeff Hartman draws on more than a decade of experience to explain everything from the basics of fuel injection to building complex cars. His text gives you the detail you need, but is also very readable and easy to understand.
Hartman's book provides comprehensive information about the various components of engine management systems, from sensors and actuators to the computer systems that make everything work. Hartman helps you decide whether to use your engine's factory system, add an auxiliary computer, or go with a standalone solution. Detailed chapters on tuning and troubleshooting give you the knowledge you need to sort out the bugs. In addition, a series of project car chapters chronicle real-world engine management build-ups, from mild to wild. It's everything you need to give your modern car more power!
About the Author:
Jeff Hartman is the author of Turbocharging Performance Handbook. He lives in Austin, Texas.
Specifications
Publisher: Motorbooks
Author: Jeff Hartman
Pages: 336 — 200 color photographs
Binding: Paperback — 8¼ x 10½ inches
ISBN: 978-0-7603-4345-6
Table of Contents
TABLE of CONTENTS:
Understanding fuel delivery
Understanding automotive computers and PROMs
Sensors
Actuators and actuator systems
Hot rodding EFI engines
Recalibrating factory ECUs
Interceptors and auxiliary computers
Standalone programmable engine management systems
EMS/EFI engine-swapping
Roll-your-own EFI
Installation and start-up issues
Designing, modifying, and building intake manifolds
EMS tuning 101
EMS troubleshooting
Emissions and onboard diagnostics
How to hot rod your carburetted small-block Chevy
Supercharged Jag-rolet
1970 Dodge Challenger B-block
Focus turbo
Real-world turbo CRX Si
Honda del Sol Si turbo
Turbo-EFI Jaguar XKE 4.2
Turbo-nitrous Lotus Europa 1.6-liter engine swap.
MR2 turbo
MR6: V-6 swap, Motec M48 EMS, compound forced-induction
Overboosted VW Golf 1.8T
Frank-M-Stein: turbo M3 Roadster. Plus, EMS/EFT suppliers
Questions & Answers about How To Tune & Modify Engine Management Systems
Questions & Answers about How To Tune & Modify Engine Management Systems
Ask a question about How To Tune & Modify Engine Management Systems.
How To Tune & Modify Automotive Engine Management Systems
Description

Specifications

Table of Contents

Questions & Answers

Customer Reviews