Fix It! How to Repair Automotive Scratches, Dings, Dents, Tears, Stains and Odors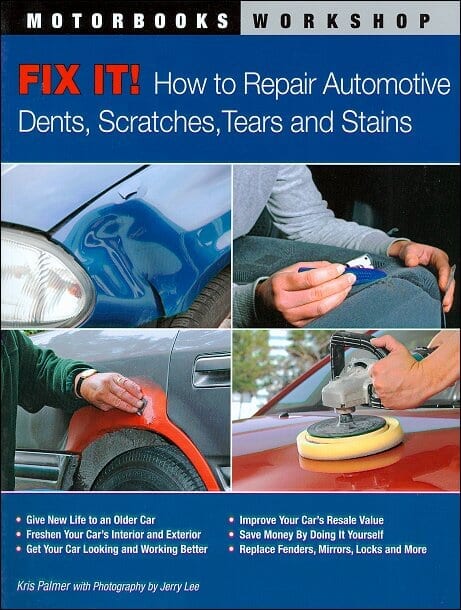 Why Buy From Us?
Free Shipping
Veteran Owned
Secure Shopping
Satisfaction Guaranteed
Item Description
This how-to manual is a complete guide for any car or truck owner who wants their ride to look, feel, and smell like it did the day they bought it.
Years of commuting to work and family vacations will take its toll on a car. Coffee spills, paint scratches and fades, hoods and fenders acquire dents and rust, and smells linger in the upholstery and ventilation.
Whether breathing new life into your reliable ride or getting it ready to sell, you can solve these problems with a few basic tools and products, and the right instruction on how to use them.
This manual provides step-by-step projects anyone at any skill level can accomplish to help keep their car looking its best. From buffing a scratch to popping a dent, doing it yourself has never been easier.

Book Excerpt: Fix It! How to Repair Automotive Scratches, Dings, Dents, Tears, Stains and Odors
INTRODUCTION
After a house, an automobile is among our most expensive purchases. College and graduate school rank up there, too, for those who pursue them, but the point is that new cars and trucks cost big money.

When the green paper is in short supply, we make our lives more sustainable and less stressful by holding onto our current vehicle instead of incurring a long-term car payment.

Fix It! will benefit any vehicle and may be especially welcome for owners seeking a few more years out of their current ride. The projects within make vehicles more comfortable, convenient, and attractive so that holding onto that dependable 10- or 15-year-old car or truck feels good - an exercise in logic and prudence.

And the better an older vehicle looks, the more appealing and valuable it seems and the less concern we have in continuing to rely on it, wherever we need to go.

In these pages, we explain 40 projects to fix up and dress up your vehicle. They are within the competence of any driver, with photos and captions to help you see and understand how to get the job done.

Section 1 will give your vehicle's exterior a basic cleanup, showing you what you can do and how easy it is to make your car look better.

In Section 2 we move inside to allow passengers to be just as impressed with your efforts as passers-by.

We get a bit more technical with the projects in Part 3 - though there is nothing here you cannot accomplish!

Part 4 gets your glass and mirrors in shape to improve your own perspective.

Finally, Part 5 offers several further projects for your comfort and convenience.
DYEING INTERIOR LEATHER
Skill Level: Easy

Tools/Supplies Required: Leather Dye, Rags

Time Required: 15 to 45 minutes

Parts Source: Auto Parts Store

Cost Estimate: $5 - $25

Our previous project showed how leather cr?me can bring scuffed leather back to its original look and color. Leather dye will also restore the color and is more resistant to being worn off.

In this project, we again treated the edge of a driver?s seat, which sees contact every time a car is used. We also treated a leather steering wheel, which experiences wear from driver?s hands and steering motions and from any rings drivers may wear.

The leather on the car we used for this project happened to be black, which can be easier to match or blend than other colors.

Before you commit and treat a highly visible area, try your dye in an inconspicuous spot, like the lower front driver?s seat, to make sure it?s a good match.

Some manufacturers and aftermarket suppliers offer dyes that are blended to match particular interior colors.
REPAIRING A SPEAKER GRILLE
Speaker grilles need to hold their shape - ever see a droopy one? They must also let sound pass through.

These two design requirements often produce a honeycomb or mesh face that cannot withstand much force.

Put this piece in the path of moving hands or feet and it might get broken.

There are many aftermarket stereo components, including speaker grilles. If you replace only one that is part of a matched pair, you'll want an identical one as the replacement.

A dealership may be able to get you one if they are still in production. Otherwise, a salvage yard may have what you need.
Subject: How to Repair Automotive Scratches, Dings, Dents, Tears, Stains and Odors. ISBN-10: 0760339899 | ISBN-13: 9780760339893 | Motorbooks 149875
Specifications
Publisher: Motorbooks
Author: Kris Palmer, photos by Jerry Lee
Pages: 160 - Hundreds of color photos
Binding: Paperback - 8.5 x 11 inches
ISBN: 978-0-7603-3989-3
Table of Contents
TABLE of CONTENTS:
Acknowledgments | About the Authors | Tools and Safety | Introduction | How to Use this Book
BODY CLEANUP: Cleaning the Engine Bay, Polishing Chrome, Washing, Waxing, Removing Stickers and Decals
REFRESHING THE INTERIOR: Re-Coloring Worn Leather, Dyeing Leather, Cleaning Leather, Cleaning Cloth, Cleaning Vinyl, Cleaning Floor Mats, Removing Odors
BASIC PAINT AND BODY REPAIR: Removing Paint Stains, Polishing Oxidized Paint, Touching Up Scratches, Removing Small Dents, Body Moldings, Mud Flaps
GLASS AND MIRRORS: Fixing Chips, Side Mirrors, Reattaching Rearview Mirrors, Window Trim
CONVENIENCE AND COSMETIC REPAIRS: Topper Strut, Window Cranks, Recharge Air Conditioning System, Replace Antenna, Repair a Sticking Power Window, Broken Trunk Lock
Questions & Answers about Fix It! How to Repair Automotive Scratches, Dings, Dents, etc.
Questions & Answers about Fix It! How to Repair Automotive Scratches, Dings, Dents, etc.
Ask a question about Fix It! How to Repair Automotive Scratches, Dings, Dents, etc..
Fix It! How to Repair Automotive Scratches, Dings, Dents, Tears, Stains and Odors
Description

Specifications

Table of Contents

Questions & Answers

Customer Reviews