2006 - 2021 Honda TRX90 Service Manual By Cyclepedia - PRINTED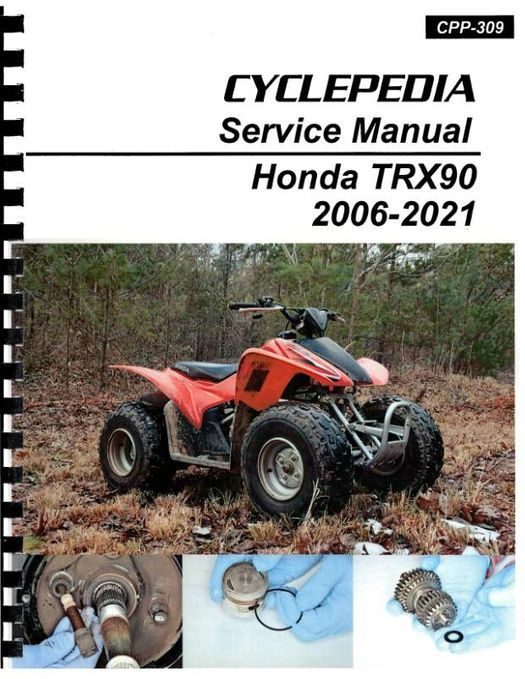 Why Buy From Us?
Free Shipping
Veteran Owned
Secure Shopping
Satisfaction Guaranteed
Item Description
This 2006 - 2021 Honda XR90 Service Manual is a high quality service and repair manual published by Cyclepedia Press LLC. Cyclepedia manuals are known for their level of detail, organization and high quality written DIY service and repair procedures. Each manual is packed with 100s of black and white photos, diagrams, and charts to enhance the written procedures and most importantly your understanding.
The Honda XR90 is a great ATV machine and it will last for years if you take care of the necessary service, repairs and maintenance per schedule or when needed. Why spend the outrageous hourly fees for a certified Honda mechanic when you can use this Honda XR90 service manual which was written by a certified Honda mechanic that also understands how to communicate with a DIY mechanic? You will save hundreds of dollars by repairing and servicing your TRX yourself, and you will likely take great pride in doing so.
NOTE: Click on the Table of Contents tab below to view table of content details.
MODELS COVERED:
Honda TRX90 ATVs - 2006, 2007, 2008, 2009, 2010, 2011, 2012, 2013, 2014, 2015, 2016, 2017, 2018, 2019, 2020, 2021.
NOTE: This Honda XR90 includes the main color wiring diagram.
The Motor Bookstore believes this Honda TRX90 Cyclepedia DIY ATV manual is a great resource because of the following characteristics:

Was written by a Honda trained mechanic.
Focuses on the TRX90 Rancher models only.
Printed Book Purchase -

Includes 1 Year Subscription to Color Online Manual Free - Contact us after purchase to setup the online account

.
Logical and straight forward organization - doesn't jump around.
Comb Spiral Binding so the manual lays open nicely on your bench.
Specifications section with detailed specs that include torque specifications.
350 pages of detailed rebuild / repair information.
Quality Paper - not cheap newspaper quality like so many other books.
This professionally written Cyclepedia service manual is perfect for service, repairs, maintenance, and rebuild projects for your Honda TRX90. Clear illustrations and photos show exploded views as well as component details to enhance the step-by-step service and repair procedures.
The Motor Bookstore has been servicing DIY mechanics since 1997. We provide exceptional service and source the best manuals we can find.
Subject:
Honda TRX90 Service Manual 2006, 2007, 2008, 2009, 2010, 2011, 2012, 2013, 2014, 2015, 2016, 2017, 2018, 2019, 2020, 2021 - Includes Detailed Service, Repair & Maintenance Instructions / Procedures.
| Cyclepedia CPP-309
Specifications
Publisher: Cyclepedia Press LLC
Pages: 350 - Hundreds of b&w photos and illustratons
Binding: Comb Binding - 11 x 8.5 inches
Years: 2006 - 2021
Table of Contents
Table of Contents
Quick Reference
Specifications
Torque Specs
VIN and Engine Number
Periodic Maintenance
Periodic Maintenance Chart
Air Filter Servicing
Brake Inspection
Clutch Adjustment
Compression Check
Drive Chain and Slider
Engine Idle Speed
Engine Oil
Fuel Lines
Lubrication and Seal Points
Secondary Air Supply System
Skid Plate Inspection
Spark Arrestor
Spark Plug
Steering Inspection
Suspension Inspection
Throttle Free Play
Tires
Valve Clearance
External Components
Bodywork
Chain Guards
Exhaust System
Footrests and Brackets
Fuel Tank
Skid Plates
Seat
Engine
Camshaft
Cylinder Head and Rocker Arms
Valves
Valve Lapping
Valve Guide Replacement
Piston and Cylinder
Right Crankcase Cover
Clutch Removal
Clutch Installation
Gearshift
Oil Pump
Left Side Engine Components
Engine Removal
Engine Installation
Crankcase Splitting
Crankcase Assembly
Crankcase Bearings and Seals
Crankshaft and Rod
Transmission
Transmission Shafts
Fuel System
Air Box
Emissions
Carburetor Removal
Carburetor Disassembly
Carburetor Assembly
Carburetor Installation
Fuel Filters
Intake Pipe
Float Level Inspection
Pilot Air Screw Adjustment
Throttle
Final Drive
Drive Chain
Engine Sprocket
Rear Sprocket
Rear Axle and Bearing Holder
Brakes
Front Brake Lever and Cables
Front Drum Brakes
Rear Brake Pedal and Cable
Rear/Parking Brake Lever and Cable
Rear Drum Brake
Front Suspension
Front Shock Absorbers
Suspension Arms
Rear Suspension
Rear Shock Absorber
Swing Arm
Steering
Handlebar
Tie-Rods
Steering Knuckles
Steering Shaft
Wheels
Wheel Service
Electrical Systems
Battery
Charging System
Ignition System
Starting System
Starter Motor
Fuse
Switches
Wiring Diagrams
Parts Diagrams
Troubleshooting
Professional Tech Support
Questions & Answers about Honda TRX90 Service Manual 2006-2021
Questions & Answers about Honda TRX90 Service Manual 2006-2021
Ask a question about Honda TRX90 Service Manual 2006-2021.
2006 - 2021 Honda TRX90 Service Manual By Cyclepedia - PRINTED
Description

Specifications

Table of Contents

Questions & Answers

Customer Reviews