Honda Odyssey FL250 Repair Manual 1977-1984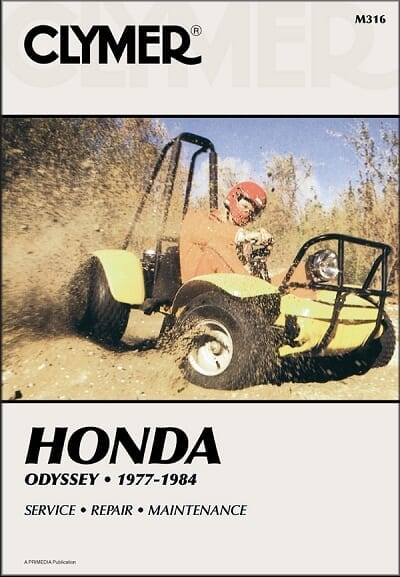 Why Buy From Us?
Free Shipping
Veteran Owned
Secure Shopping
Satisfaction Guaranteed
Item Description
- OUT OF PRINT -
This Clymer repair manual covers 1977-1984 Honda Odyssey FL250 All Terrain Vehicles.

Book Excerpt: 1977-1984 Honda Odyssey FL250 Repair Manual
GENERAL INFORMATION
SAFETY FIRST

Professional mechanics can work for years and never sustain serious injury. If you observe a few rules of common sense and safety, you can enjoy many hours servicing your own machine.

You could hurt yourself or damage the Odyssey if you ignore these rules.

Never use gasoline as a cleaning solvent.
Never smoke or use a torch in the vicinity of flammable liquids such as cleaning solvent in open containers.
If welding or brazing is required on the machine, remove the fuel tank to a safe distance, at least 50 feet away.

Welding on gas tanks requires special safety procedures and must be performed by someone skilled in the process.

Use the proper sized wrenches to avoid damage to nuts and injury to yourself.
When loosening a tight or stuck nut, be guided by what would happen if the wrench should slip. Protect yourself accordingly.
Keep your work area clean and uncluttered.
Wear safety goggles during all operations involving drilling, grinding, or us of a cold chisel.
Never use worn tools.
Keep a fire extinguisher handy and be sure it is rated for gasoline and electrical fires.
ENGINE
CRANKSHAFT

If the crankshaft or the connecting rod needs to be replaced, it must be replaced as a unit. This assures that the accuracy of the fit between them is correct.

If overheating, seizure, or wear is apparent, the crankshaft assembly must be replaced.

RECOIL STARTER: REMOVAL/INSTALLATION

The recoil starter can be removed with the engine in the frame.
Subject: 1977, 1978, 1979, 1980, 1981, 1982, 1983, 1984 Honda Odyssey FL250 service, maintenance, repair. ISBN-10: 0892873086 | ISBN-13: 9780892873081 | Clymer M316
Specifications
Publisher: Clymer Series / Haynes Manuals
Pages: 194 - Hundreds of b&w photos and illustrations
Binding: Paperback - 7 x 10 inches
ISBN: 978-0-89287-308-1
Years: 1977 - 1984
Table of Contents
TABLE of CONTENTS:
General Information
Troubleshooting
Lubrication, Maintenance and Tune-up
Engine
Power Train
Fuel and Exhaust Systems
Electrical System
Front Suspension and Steering
Body and Frame
Brakes
1980 and Later Service Information Supplement
Questions & Answers about Honda Odyssey FL250 ATV Repair Manual 1977-1984
Questions & Answers about Honda Odyssey FL250 ATV Repair Manual 1977-1984
Ask a question about Honda Odyssey FL250 ATV Repair Manual 1977-1984.
Honda Odyssey FL250 Repair Manual 1977-1984
Description

Specifications

Table of Contents

Questions & Answers

Customer Reviews