High-Performance Brake Systems: Design, Selection and Installation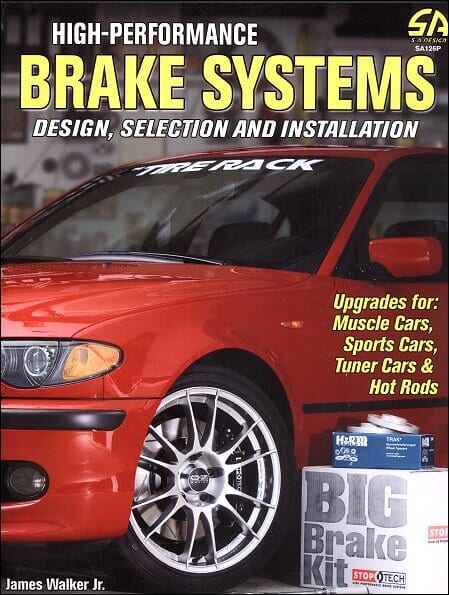 Why Buy From Us?
Free Shipping
Veteran Owned
Secure Shopping
Satisfaction Guaranteed
Item Description
In High-Performance Brake Systems: Design, Selection and Installation, author James Walker, Jr. uses more than 330 b&w photos to complement the easy-to-understand text on how you can upgrade your brake system the right way, the first time.
You'll learn how (and why) your brake system works, the role of each component, and how to upgrade your braking system for improved performance.
From rotors and calipers, to brake pads and tires, this book will help you choose and install the best brake system whether you drive a sports car, muscle car, race car or hot rod.
Plus, special sidebars, detail how each upgrade may affect your ABS system!
Book Excerpt
BRAKE PADS
BRAKE PAD FADE

High-performance driving, towing a trailer, or blatant abuse can drive the brake pad temperature high enough that the coefficient of friction can decrease dramatically, resulting in decreased overall brake system gain.

In other words, once a brake pad reaches its maximum operating temperature, brake pad fade may greatly reduce its ability to generate friction forces.

Brake pad fade is the result of the friction material breaking down both physically (a phenomenon known as gassing out) and chemically (commonly called glazing) while simultaneously producing a thin layer of burned brake pad material between the pad face and the rotor friction disc.

Not only does this reduce the level of friction between the pad and the rotor, but the resulting gasses can also form a lubricating layer that can reduce the coefficient of friction to practically zero.

As a result, unlike brake fluid fade, where the brake pedal falls toward the floor, the primary symptom of brake pad fade is a high, hard brake pedal that doesn?t produce significant deceleration, regardless of the amount of driver input force (if the gain is equal to zero, the input force doesn?t matter).

There may also be the unmistakable odor of fried brake pad friction material, as the gasses eventually find their way into the vehicle interior.

There are only two methods of avoiding brake pad fade. First, the temperature of the pads should be reduced to the lowest level possible through the selection of brake cooling ducts (more to come on both of these topics in Chapter 10).

The second measure is to install brake pads suited to the temperature range expected during use. Friction materials designed for use around town seldom provide adequate brake pad resistance under demanding conditions.
Whether you're a commuter, a casual enthusiast, a weekend warrior, or a pro racer, this is the perfect high-performance brake book to own.

Subject: Transportation: Automotive: High-Performance: Brake Systems: design, selection, how-to install. ISBN-10: 1613250541 | ISBN-13: 9781613250549 | CarTech SA126P
Specifications
Publisher: CarTech Books
Author: James Walker, Jr.
Pages: 144 - Over 330 b&w photos
Binding: Paperback - 8.5 x 11 inches
ISBN: 978-1-61325-054-9
Table of Contents
TABLE of CONTENTS:
Introduction
Energy Conversion
Tires Stop the Car
Brake System Design
Brake Balance
Pedals, Boosters and Master Cylinders
Brake Fluid
Brake Lines and Hoses
Brake Calipers
Brake Pads
Brake Rotors
Sports Car Brake Upgrade
Racecar Brake Upgrade
Muscle Car Brake Upgrade
Hot Rod Brake Upgrade
Questions & Answers about High-Performance Brake Systems: Design, Selection and Installation
Questions & Answers about High-Performance Brake Systems: Design, Selection and Installation
Ask a question about High-Performance Brake Systems: Design, Selection and Installation.
Customer Reviews
REVIEWS
michael H
verified customer
March 17, 2017
Not printed in color anymore?
This book is now a 'print on demand' book. They print one up when it is ordered. This wouldn't be a problem, but they only print it in black and white as opposed to in color. The author references several photos and diagrams throughout the book indicating areas of the photos by color. It's nearly, if not completely, impossible to know what areas he is referring to in a black & white photo. The information in the book is good and well written and easy to understand yet I don't feel the price was acceptable when the original was printed in color.
One important clarification. We keep this book in stock. It is true that the CarTech publisher prints these books on demand and in black and white instead of color like they once did; however, we buy from the publisher directly and keep copies in stock so you will not need to wait. It is print on demand when we buy from the publisher...

Gaetano fasano
verified customer
December 6, 2016
Presentation
How can we buy a edition with colored potos and not b&W ?
It should be most impressive and profesional
Regards
Sorry, the publisher (cartech books) no longer prints this book in color. In fact, this is what the publisher calls a print on demand book so we have to special order these farther in advance (and pay more) from the publisher to keep these in stock. We can no longer purchase color versions of this printed book to sell anymore.
High-Performance Brake Systems: Design, Selection and Installation
Description

Specifications

Table of Contents

Questions & Answers

Customer Reviews