Harley-Davidson Panhead Repair Manual 1948-1965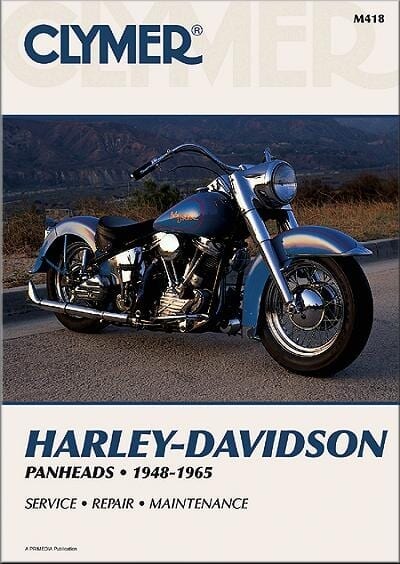 Why Buy From Us?
Free Shipping
Veteran Owned
Secure Shopping
Satisfaction Guaranteed
Item Description
This repair manual is for 1948-1965 Harley Panheads and was written for DIY mechanics who want to work on their own bikes. The manual covers a range of topics from basic maintenance to troubleshooting, adjustments and even complete engine and transmission tear downs and rebuilds. The simple how-to instructions guide home mechanics through each step of the repair process with photos, illustrations and exploded views to help along the way. The thoughtful pictures are designed to assist in locating and removing necessary components, giving DIY mechanics the confidence needed to complete the job. This Clymer manual is a top-100 bestseller here at The Motor Bookstore and is covered by our 30-day money-back guarantee, so you can shop with confidence. Manuals ship quickly and shipping is always free to the contiguous 48 states.
This 1948-1965 Harley-Davidson Panhead repair manual by Clymer covers:
Harley-Davidson E
Harley-Davidson EL
Harley-Davidson ELF
Harley-Davidson ELS
Harley-Davidson ES
Harley-Davidson F
Harley-Davidson FL
Harley-Davidson FLE
Harley-Davidson FLEF
Harley-Davidson FLF
Harley-Davidson FLH
Harley-Davidson FLHF
Harley-Davidson FLS
Harley-Davidson FLSP
Harley-Davidson FS
Book Excerpt: 1948-1965 Harley-Davidson Panhead Repair Manual
STEERING HEAD: BEARING RACE
Whenever the steering stem and bearings are removed from the steering head, cover the steering head with a cloth to protect the bearing races from accidental damage.

If a race is damaged, the bearing and race must be replaced as a set. Because the bearing races are pressed into place, do not remove them unless they are worn and require replacement.

Fork Stem Bearing, Outer Bearing Race and Steering Head Cup Replacement

Each individual bearing assembly consists of a tapered roller bearing, bearing race, dust shield (lower bearing) and steering head cup (A, Figure 68).

When replacing a bearing, all of these parts must be replaced as a set. The bearing races are first pressed into the steering head cups and then the cups are pressed in the frame steering head.

The lower bearing is installed over the fork stem (Figure 69). The upper bearing (Figure 77) is placed in the upper bearing race after the fork stem has been inserted through the frame steering head.
The Clymer repair manuals are known for their clear and concise descriptions of the DIY mechanical steps associated with any service, repair and rebuild job you may encounter on your bike. The procedural steps are further described with detailed photos and exploded views. Pick up the Clymer M418 repair manual for your 1948-1965 Harley Davidson Panhead today so you can save tomorrow.
Subject:
1948, 1949, 1950, 1951, 1952, 1953, 1954, 1955, 1956, 1957, 1958, 1959, 1960, 1961, 1962, 1963, 1964, 1965 Harley-Davidson E, EL, ELF, ELS, ES, F, FL, FLE, FLEF, FLF, FLH, FLHF, FLS, FLSP, FS service, maintenance, and repair procedures.
ISBN-10: 0892875658 | ISBN-13: 9780892875658 | Clymer M418
Also see: Harley-Davidson Panhead Restoration manuals.
Specifications
Publisher: Clymer Series / Haynes Manuals
Pages: 528 - Hundreds of b&w photos and illustrations
Binding: Paperback - 7 x 10 inches
ISBN: 978-0-89287-565-8
Years: 1948 - 1965
Table of Contents
TABLE of CONTENTS:
Quick Reference Data
General Information
Troubleshooting
Lubrication, Maintenance and Tune-up
Engine
Clutch and External Gearshift Linkage
Transmission and Internal Shift Mechanism
Fuel and Emission Systems
Exhaust System
Electrical System
Wheels, Tires and Drive Chain
Front Suspension and Steering
Rear Suspension
Brakes
Body and Frame
Wiring Diagrams
Above: Dave & Lucy Roderick of Arizona and their 1960 Harley-Davidson Panhead, which they built in the 1980s.
Questions & Answers about Harley-Davidson Panhead Repair Manual 1948-1965: EL, FL, FLH, FLS, more
Questions & Answers about Harley-Davidson Panhead Repair Manual 1948-1965: EL, FL, FLH, FLS, more
Ask a question about Harley-Davidson Panhead Repair Manual 1948-1965: EL, FL, FLH, FLS, more.
Harley-Davidson Panhead Repair Manual 1948-1965
Description

Specifications

Table of Contents

Questions & Answers

Customer Reviews