Harley-Davidson FLH, FLT Twin Cam 88 & 103 Repair Manual 1999-2005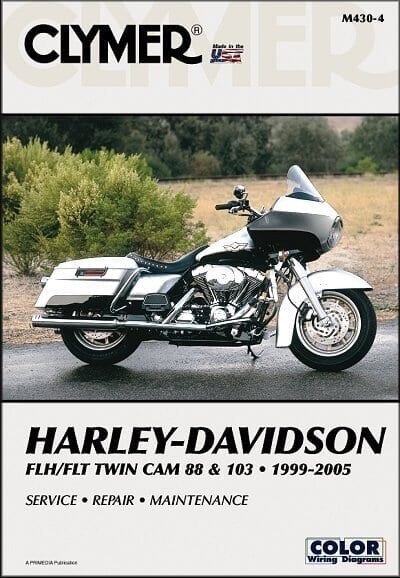 Why Buy From Us?
Free Shipping
Veteran Owned
Secure Shopping
Satisfaction Guaranteed
Item Description
Do you live to ride? If so, you won't want to sacrifice any time off the road when you bike needs a tune-up or a repair. To minimize time lost and money wasted, get the DIY skills you need from this 1999-2005 Harley FLH/FLT Twin Cam manual. This manual by Clymer covers a wide range of models, including:
Harley FLHT Electra Glide Standard 1999-2005
Harley FLHTI Electra Glide Standard 1999-2005
Harley FLHTC Electra Glide Classic 1999-2005
Harley FLHTCI Electra Glide Classic 1999-2005
Harley FLHTCUI Ultra Classic Electra Glide 1999-2005
Harley FLHTCSE2 Screamin' Eagle Electra Glide 2 2005
Harley FLHR Road King 1999-2005
Harley FLHRI Road King 1999-2005
Harley FLHRCI Road King Classic 1999-2005
Harley FLHRS Road King Custom 2004-2005
Harley FLHRSI Road King Custom 2004-2005
Harley FLTR Road Glide 1999-2005
Harley FLTRI Road Glide 1999-2005
Note: the "I" designation indicates fuel-injected models.
This one guide has everything you need to take your motorcycle repair skills to the next level. You'll get simple, easy-to-use instructions from cover to cover. Repair tutorials cover every inch of your bike from the fuel, exhaust and electrical systems to the suspension, steering and brakes. You'll also find handy resources like quick reference data, troubleshooting information and wiring diagrams. Don't be surprised to find yourself turning to this book again and again to keep your Harley running smoothly for years.
Book Excerpt: 1999-2005 Harley-Davidson FLH, FLT Twin Cam 88 and 103 Repair Manual
MOTORCYCLE ALIGNMENT
Proper suspension and engine alignment is necessary to ensure good motorcycle performance and drivability. The following procedures describe how to check the engine stabilizers and rear axle-to-swing pivot shaft alignment.
PRELIMINARY INSPECTION:
Check the following areas for problems caused by normal wear. Adjust, repair or replace components as required.
Check the top (Figure 59) and bottom (Figure 60) engine stabilizers for loose or damaged parts. Refer to Engine in Chapter Four to remove and install stabilizers. To adjust the stabilizers, refer to Alignment in this chapter.
Check the steering head bearing adjustment as described under Steering Play Adjustment in Chapter Ten.
Check the runout of each wheel as described in this chapter.
LUBRICATION, MAINTENANCE and TUNE-UP
This chapter covers lubrication, maintenance and tune-up procedures. If a procedure requires more than minor disassembly, reference to the appropriate chapter is listed.

Maintenance intervals, capacities, recommendations and specification are in Tables 1-9 at the end of this chapter.

To maximize the service life of the motorcycle, and gain maximum safety and performance, it is necessary to perform periodic inspections and maintenance.

Minor problems found during routine service can be corrected before they develop into major ones.

Consider the maintenance schedule a guide. Harder than normal use and exposure to mud, water or high humidity indicates the need for more frequent servicing to most maintenance items.
CUSTOMER REVIEW:
The shipment arrived here in Germany in a few days, everything was O.K and nothing was damaged. This book is a very good stuff: very detailed, highly illustrated with a lot of pictures, tables and figures. It is nearly the same content with a little bit "clearer" form of presentation like the original Harley "Owners Manual" and I think it is a nice add-on for me.
This is the second book I bought at motorbookstore and I'm a satisfied customer!
Lot of greetings from Heusenstamm, Germany (it's near Frankfurt).
~Matthias Weber
This manual contains detailed and easy-to-follow instructions, accompanied by sharp photos and illustrations, guide you through every procedure, from basic maintenance and troubleshooting, all the way to teardown and rebuild.
If you'd like to take care of your own Harley motorcycle, this repair and service manual by Clymer will be a smart addition to your library.
Packed from cover-to-cover with how-to information combined with tons of photos, illustrations, exploded views, charts and diagrams, this DIY guide will come in handy from basic jobs such as scheduled maintenance, all the way to more involved, advanced repairs.
A long-time bestseller here at The Motor Bookstore, the 1999-2005 Harley FLH, FLT Twin Cam 88, 103 repair manual is available at the best price anywhere. Guaranteed!
Wikipedia link: Harley-Davidson FL.
Subject: 1999, 2000, 2001, 2002, 2003, 2004, 2005 Harley-Davidson FLH, FLT Twin Cam 88 and 103 service, maintenance, repair. ISBN-10: 1599690160 ISBN-13: 9781599690162 | Clymer M430-4
Specifications
Publisher: Clymer Series / Haynes Manuals
Pages: 702 - Hundreds of b&w photos and illustrations
Binding: Paperback - 7 x 10 inches
ISBN: 978-1-59969-016-2
Years: 1999 - 2005
Table of Contents
TABLE of CONTENTS:
Quick Reference Data
General Information
Troubleshooting
Lubrication, Maintenance and Tune-up
Engine
Clutch and External Gearshift Linkage
Transmission and Internal Shift Mechanism
Fuel and Emission Systems
Exhaust System
Electrical System
Wheels, Tires and Drive Chain
Front Suspension and Steering
Rear Suspension
Brakes
Body and Frame
Wiring Diagrams
Above: David G. Turner's 2001 Harley Davidson Road King Classic. The bike was converted to a trike by Nutting Custom Trikes of Oklahoma. This picture was taken somewhere in Colorado during the trip back from Sturgis. Lowell, AR.
Questions & Answers about Harley-Davidson FLH, FLT Twin Cam 88 & 103 Repair Manual 1999-2005
Questions & Answers about Harley-Davidson FLH, FLT Twin Cam 88 & 103 Repair Manual 1999-2005
Ask a question about Harley-Davidson FLH, FLT Twin Cam 88 & 103 Repair Manual 1999-2005.
Harley-Davidson FLH, FLT Twin Cam 88 & 103 Repair Manual 1999-2005
Description

Specifications

Table of Contents

Questions & Answers

Customer Reviews