GMC and Chevy Truck Parts Interchange Guide 1973-1987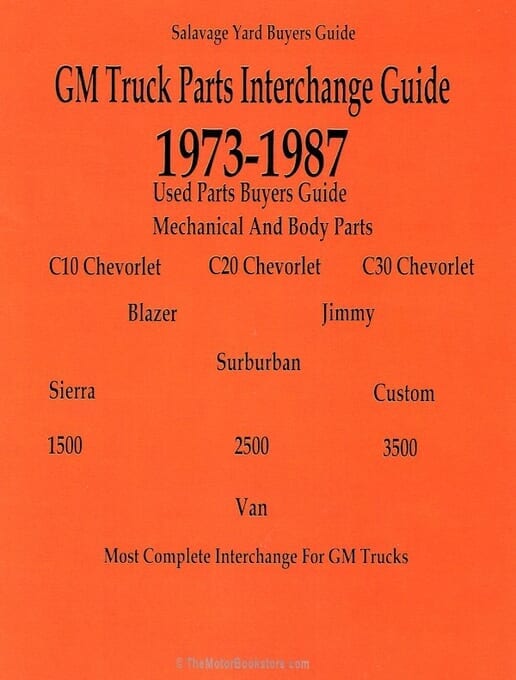 Why Buy From Us?
Free Shipping
Veteran Owned
Secure Shopping
Satisfaction Guaranteed
Item Description
This GMC and Chevy Truck Parts Interchange Guide 1973-1987 covers the following GM Truck models: C10, C20, C30, Blazer, Jimmy, Suburban, Sierra, Custom, 1500, 2500, 3500 and Van. It is the only guide of its kind and can save you big bucks when you're shopping for parts for these tremendously popular vehicles.
How is that possible?..you ask.
Well, many of the parts that came on your Chevrolet or GMC pickup truck were also used for other years. The problem occurs when the restorer is not aware that a part from a 1977 truck is identical to the ones used for 1973 through 1976 trucks, as an example.
So, an interchange part, basically is the same part, down to the OEM part number. And when it comes to trucks, you're not limited to pickups, obviously. Some identical parts were used in Blazers, Jimmys and Suburbans, too. As you can see, this part sourcing can get pretty confusing, really fast.
That's why you need to have a copy of Chevy and GMC Truck Parts Interchange Guide 1973-1987 every time you're out there scouting for parts With a little bit of page flipping, you can quickly confirm if the vehicle you have in front of you will be able to source the part you need for your classic truck.
NOTE: Please refer to the Specifications Tab for a sample page of this excellent parts interchange guide...
Here are a few examples as to how the info in this book is presented. Once you realize the potential, you'll want to order your own copy.
Book Excerpt: 1973-1987 Chevy and GMC Truck Parts Interchange Guide
INTERCHANGE NUMBER 7:
Part Number: 14034838
Cubic Displacement: 305-ci V-8
Usage: 1982-84 Chevrolet C-10, C20, K10, K20, Blazer; 1982-84 GMC 1500, 2500, Jimmy with 305-ci; 1982-84 Chevrolet G10 or GMC 1500 van with 305-ci V-8.
INTERCHANGE NUMBER 115:
Model: 4 bbl
ID Number(s): 17080298
Usage: 1980 Chevrolet/GMC Van with 350-ci (M-Code) 4-bbl V-8 without California emissions.
VIN
It is important that you know how to decode the Vehicle Identification Number, as many changes in part design will refer to this in the interchanges.

It is also a way to distinguish the various models in the line.

Since a pickup is licensed as a truck in most states, your Chevrolet will have a combination Vehicle Identification and Rating plate, instead of having a VIN plate that will be attached to the instrument panel, as with other GM cars.

This plate is located attached to the left hand door pillar. This changed in 1979, when a conventional type VIN plate was attached to the instrument panel on the driver's side.

This plate is readable only through the windshield.
The GM Truck Parts Interchange Guide 1973-1987 is a must have resource for the truck restorer or anyone interested in saving a few dollars to fix their truck!
The quality of this manual's binding has been enhanced. It hasn't been published for quite some time. The Motor Bookstore is proud to stock this manual again.

Subject:
A parts interchange guide for Chevy and GMC trucks, Blazers, Jimmys, Suburbans and more.
1973, 1974, 1975, 1976, 1977, 1978, 1979, 1980, 1981, 1982, 1983, 1984, 1985, 1986, 1987. ISBN 10: 0979476763 | ISBN 13: 9780979476761 PAH Publishing SPTA348
Specifications
Publisher: PAH Publishing
Author: Paul A. Herd
Pages: 304 - B&W photos and illustrations
Binding: Paperback - 8.5 x 11 inches
ISBN: 978-0-9794767-6-1
Years: 1973 - 1987
Below: GMC and Chevy Trucks Parts Interchange Guide 1973-1987 by Paul A. Herd Sample Page. Copyright PAH Publishing.
Questions & Answers about GMC and Chevy Truck Parts Interchange Guide 1973-1987
Questions & Answers about GMC and Chevy Truck Parts Interchange Guide 1973-1987
Does it have decoding info on motor blocks and vin's to tell what exactly it is and where it was made?

This manual does include information on decoding the VIN as well as the stampings on the block to determine the source (year, model, etc.). It is primarily a guide to determine which parts will interchange from year to year and model to model. Thanks.

Will 79 gmc c20 doors and finders work on 79 c10 chevy?

Yes this Interchange Guide will help you with finding the correct parts for your truck and does provide details regarding interchangeable parts between different models that can be used.
Ask a question about GMC and Chevy Truck Parts Interchange Guide 1973-1987.
GMC and Chevy Truck Parts Interchange Guide 1973-1987
Description

Specifications

Table of Contents

Questions & Answers

Customer Reviews