GM LS-Series Engine: The Complete Swap Manual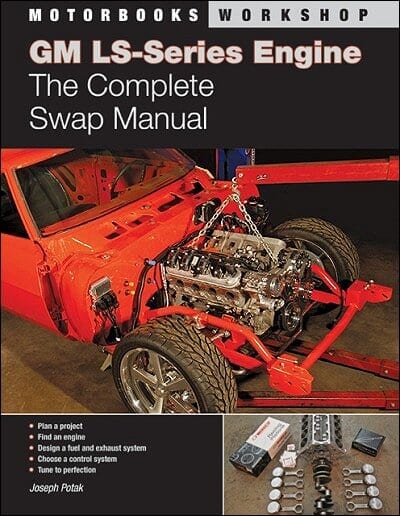 Why Buy From Us?
Free Shipping
Veteran Owned
Secure Shopping
Satisfaction Guaranteed
Item Description
Ask any motorhead about the benefits of stuffing an LS powerplant in their car or truck's engine bay, and the reasons will certainly include words such as reliability, fuel efficiency, light weight and — above all — power!
But how is all that power acheived?
The key to that is a sophisticated electronics package that scares all but the most adventurous engine swappers.
Fortunately, this book takes the reader through all the steps required to bring a project to completion.
From mounting the engine, configuring the electronic fuel injection system, getting the correct accessories, troubleshooting, designing an exhaust system and more.
This how-to book is the ultimate guide to installing an LS motor in your car!
Engines included in this book:
LS1 5.7L 1997-2004 (aluminum) 350 HP
LS6 5.7L 2001-2005 (aluminum) 405 HP
LS2 6.0L 2005-2009 (aluminum) 400 HP
LS3 6.2L 2007-on (aluminum) 430 HP
L99 6.2L 2010-on (aluminum) 400 HP
LS7 7.0L 2006-2010 (aluminum) 505 HP
LSA 6.2L 2009-on (aluminum) 556 HP
LS9 6.2L 2009-on (aluminum) 638 HP
LR4/LY2 4.8L 1999-on (iron, aluminum) 295 HP
LM7 and var. 5.3L 1999-on (iron, aluminum) 327 HP
LQ4 6.0L 2000-on (iron) 325 HP
LQ9 6.0L 2002-on (iron) 347 HP
L92 6.2L 2006-on (aluminum) 403 HP
Note: Horsepower will vary based on vehicle application.

Book Excerpt: GM LS-Series Engine: The Complete Swap Manual
INTRODUCTION TO LS-SERIES ENGINES AND PLANNING YOUR PROJECT
HISTORY

In 1997 the first Generation III engine hit the streets, powering the C5 Corvette with 345 horsepower and 350 foot-pounds of torque.

This basic engine carried over into the next year into the face-lifted 1998 F-body models (Camaro and Firebird) and soon thereafter gained a cult like following on such message boards as LS1.com, LS1 tech.com, CamaroZ28.com, and PlanetLSX.com, where enthusiasts quickly found the untapped power potential of the Gen III engine platform.

Though the fourth-generation F-body met its demise in 2002, it lived on and flourished under the hood of the Corvette through the 2004 model year. The LS1 also powered the short-lived Pontiac GTO in the first year of production 2004.

The introduction of the LS6 in the 2001 Z06 came with a 386-horsepower rating, courtesy of a thoroughly updated engine design that featured improved cylinder heads, crankcase breathing, and induction.

The following year, the 2002 LS6 was further enhanced with subtle improvements to the camshaft design that was complemented by lightweight intake and exhaust valves.

In 2005, a new version of the LS-series engine was introduced with the new sixth-generation Corvette. Known as the LS2, it shares many previous features such as cylinder heads, crankshaft stroke, and other similarities throughout.

LS2 engines are factory rated at 400 horsepower and are found not only in the 2005-2007 C6 Corvettes, but also the 2005-2006 Pontiac GTOs. The LS2 is considered a Generation IV small-block.
Subject: This DIY book shows you how to swap an LS from one car to another. ISBN-10: 0760336091 | ISBN-13: 9780760336090 | Motorbooks 147150
Specifications
Publisher: Motorbooks
Author: Joseph Potak
Pages: 192 - Over 400 color photos and illustrations
Binding: Paperback - 8.5 x 11 inches
ISBN: 978-0-7603-3609-0
Table of Contents
TABLE of CONTENTS:
Introduction to LS-Series Engine and Planning Your Project
LE Engine-Mounting Solutions
Engine EFI and Ignition Controls
Fuel System Design
Induction and Exhaust Systems
Engine Accessories and Cooling Systems
Transmission, Torque Converters and Clutches
Performance Upgrades and Power-Adders
Startup and Troubleshooting Guide
Questions & Answers about GM LS-Series Engine: The Complete Swap Manual
Questions & Answers about GM LS-Series Engine: The Complete Swap Manual
Ask a question about GM LS-Series Engine: The Complete Swap Manual.
GM LS-Series Engine: The Complete Swap Manual
Description

Specifications

Table of Contents

Questions & Answers

Customer Reviews