Automotive Sheet Metal Forming and Fabrication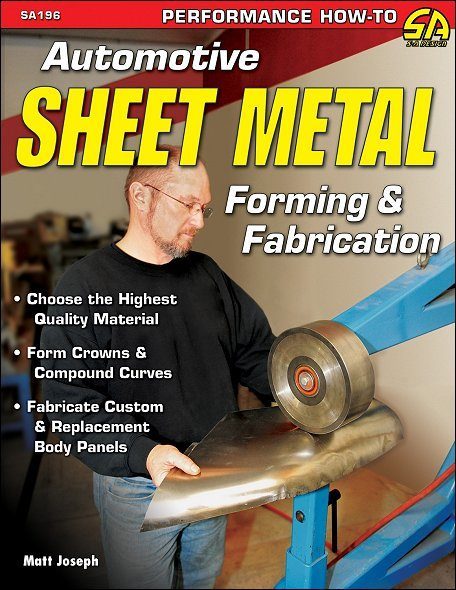 Why Buy From Us?
Free Shipping
Veteran Owned
Secure Shopping
Satisfaction Guaranteed
Item Description
If you want to build a hot rod, customize or modify a car or truck, a motorcycle, or restore any vehicle, knowing how to form sheet metal is a crucial skill.
The Motor Bookstore is proud to offer this book by Matt Joseph, a well-known and popular automotive author.
From making door skins, hoods, fenders, trunk lids, roofs and many other components, the first thing you will need is a clear understanding on the subject, and that's when Automotive Sheet Metal Forming & Fabrication comes in.
Packed with easy-to-understand text accompanied by sharp, detailed color photos, this is the reference you'll want by your side to show you the information you'll need to learn before you start forming your first piece of sheet metal.
Book Excerpt: Automotive Sheet Metal Forming and Fabrication
AUTO BODY METAL
We think of auto body metal in different ways. When we view it as finished parts and panels, formed into consistent contours with smooth shades and accurate creases and coated with shiny finishes, we regard it as something very hard and immoveable. We see it as a rigid, static material, one that yields only to great force by crumpling into chaotic disarray.

There is another way of considering steel and aluminum panel materials - malleable stuff that can be moved and persuaded, incrementally into consistent auto body panel shapes. In this view, these materials are almost endlessly formable by various mechanical processes. Some of those processes are wonderfully automated.

In manufacturing, a stamping or rolling press can take flat sheet stock and force it into door skins, fenders, hoods, and the like, in one (or a few) quick operation(s). What is not seen in that sequence is the great ingenuity and effort that go into designing and fabricating the dies for the stamping or transfer presses that shape the metal. Also unseen are the time and effort spent refining the results of those forming processes to near perfection.

There is also the craft of custom fabrication. This pertains to the forming of sheet metal with hammers, anvils, shot bags, wooden hammer forms, power hammers, English wheels, and numerous other devices used to work individual pieces of panel stock, one panel at a time. This work is an intricate combination of art and science, of applied force and fine judgment. It requires close observation, creativity, ingenuity, daring, restraint, and experience. It is the metal formers' craft.

Success in this craft depends largely on the characteristics of the metal panel stock. If you fight those characteristics, your results probably will look crude, lack durability, and require excessive time to accomplish.
The aim of this how-to book is to show you, the reader, how to perform most of the basic operations used in metal forming and fabrication. But author Matt Joseph also explains the reasons why he does certain things in a certain way.
And although some of the most exotic tools and equipment also get their share of attention, the focus of the book is on the reliable basics.
Subject: Automotive sheet metal forming and fabrication. ISBN-10: 1613251718 | ISBN-13: 9781613251713 | CarTech SA196P
Specifications
Publisher: Cartech Books
Author: Matt Joseph
Pages: 144 - With 385 b&w photos and illustrations
Binding: Paperback - 8.5 x 11 inches
ISBN: 978-1-61325-171-3
Table of Contents
TABLE of CONTENTS:
FIRST CONSIDERATIONS
A wide range of possible projects
Limits of material, skills and imagination
Subtle factors to consider
AUTO BODY METAL
Characteristics of sheet metal
Alloys: steel and aluminum
Work hardening and strengthening
Workability
Heating and annealing
Selecting metals and their alloys
Acquiring metal stock
THE ART of MAKING SHEET METAL WORK WITH YOU
Basic theories of metal forming
Bilaterism and other tricks
The importance of good foundations
PLANNING and IMPLEMENTING
Choosing constructions, materials and tools
Modeling, patterning and templating
Measuring, drawing and laying out work
Structural vs. nonstructural fabrications
MAJOR FORMING and FABRICATING PROCESSES
Cutting
Simple bending
Flanging
Creating the correct crown
Wheeling
Power hammer forming
Avoiding unnecessary damage
OTHER PROCESSES and SKILLS
Filing
Sanding
Edge deburring
Drilling, piercing and punching
Edge treatments and bead rolling
Louvers and exotic trim formations
Using tension
FINISHING PROCESSES and TOUCHES
Checking final dimensions, contours and attachments
Weld finishing
Metal finishing
Checking metal integrity
FILLING with LEAD and PLASTIC
Four types of filler
Proper filler application
Proper shaping and smoothing techniques
Proper surface preparation
TOOLS and EQUIPMENT
Hand and vise tools
Specialty tools
Clamping and fixturing tools
Making special-purpose hand tools
Small equipment
Multi-purpose devices
Power and hand tools
Blacksmith tools
THE ART of the ENGLISH WHEEL
Using an English Wheel
Effective versus harmful techniques
POWER-OPERATED MACHINES
Power hammers
Big machine basics
Special power hammer tooling
METHODS of ATTACHMENT
Non-welding jointure techniques
Welding
Tips for fabrication welds
SMALL DEMONSTRATION PROJECT: THE LITTLE BLACK BOX
Meet the Little Black Box
The basic plan
Preliminaries
Forming the top piece
Making the skirt
Assembling the two pieces
LARGE DEMONSTRATION PROJECT: FENDER FABRICATION
Planning and patterning
Fabricating the side section
Fabricating the top section
Joining the two pieces
Wire edging and fender panel
Making support and base brackets
APPENDIX
Radiated colors
Gauge specifications
Questions & Answers about Automotive Sheet Metal Forming and Fabrication
Questions & Answers about Automotive Sheet Metal Forming and Fabrication
Ask a question about Automotive Sheet Metal Forming and Fabrication.
Automotive Sheet Metal Forming and Fabrication
Description

Specifications

Table of Contents

Questions & Answers

Customer Reviews