1991 Chevrolet Camaro Service Manual (Chassis & Body) - Includes Update Supplement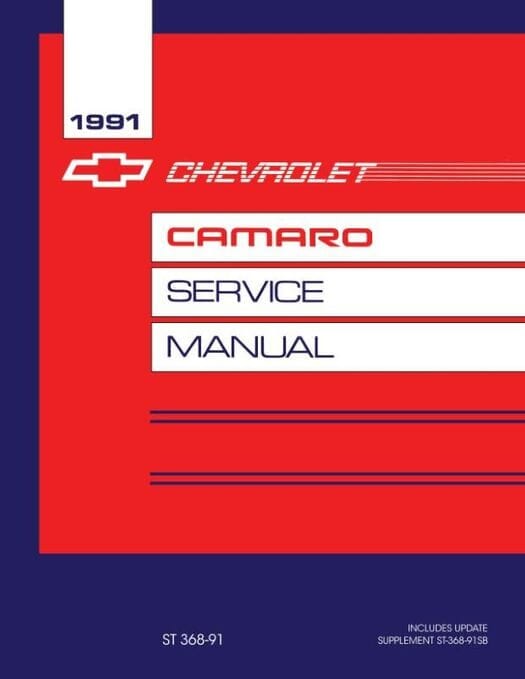 Why Buy From Us?
Free Shipping
Veteran Owned
Secure Shopping
Satisfaction Guaranteed
Item Description
This 1991 Chevy Camaro Service Manual is a high-quality, licensed PRINT reproduction of the shop manual written and first published by the experts at the original equipment manufacturer (OEM), Chevrolet Motor Division, for use by their dealership mechanics. This is the definitive source for all of the professional instructions/factory specifications regarding your classic F-body.
It contains the CHASSIS information for diagnosis, service procedures and adjustments, and the BODY service information. If someone bends it…you can mend it! As if that isn't a sweet enough deal, you'll find more sugar with the inclusion of the 1991 Dealer Service Manual Update Bulletin Supplement. It's like the "box set" for the '91 Camaros.
MODELS COVERED:

1991 Chevrolet Camaro RS
1991 Chevrolet Camaro Z28
BETTER than new? Maybe. The publisher, Detroit Iron, has upgraded the paper quality from the factory's choice of super-thin. The reprinted manual is considerably thicker, yet retains all of the content from the original. It's been conveniently divided into three volumes for ease of use.
Containing a mind-blowing 2,148 pages, this manual is more fully loaded than Herbie. It's not just the size, either. The content is what truly makes this great. Throughout this resource, you'll find outstanding, step-by-step instructions, and a huge number and variety of visual aids. That combination delivers unrivaled clarity for getting the jobs done right.
Please scroll down and take a look at three sample pages we've included to demonstrate just how effectively the illustrations, exploded view diagrams and cut-away views have been paired with the well-written text. You'll also notice, on the steps where applicable, the factory-correct torque specifications have been provided. The visual tools will enhance your understanding of the projects. They show you which parts and fasteners you need and how they are all supposed to fit together. You even get to see what some components look like inside. The good news is, this level of detail has been provided for all areas of these sporty machines.
In '91, Chevrolet kept the same body style, but gave Camaro models a "freshening up". The IROC Z was gone from the line-up, but buyers still had legendary choices in the RS and Z28. Whichever model you have, keep it at its best with this awesome reprinted guide.
This factory-written shop manual is perfect for service, repairs, restoration and rebuild projects. Clear illustrations and diagrams show exploded views, as well as component details, plus specifications, engine repair details, fuel systems and more.
Subject:
1991 Chevrolet Camaro Service Manual - Includes Detailed Procedures and Instructions.
| OEM Part Number: ST-368-91, ST-368-91SB
Specifications
Publisher: Detroit Iron Publishing
Author: Chevrolet Motor Division
Pages: 2148 - Hundreds of b&w illustrations
Binding: Paperback - 8.5 x 11 inches
Years: 1991
Sample Page:
Below:1991 Chevy Camaro Service Manual - Sample Page - Fuel Meter Body Assembly
Sample Page:
Below:1991 Chevy Camaro Service Manual - Sample Page - Fuel
Sample Page:
Below:1991 Chevy Camaro Service Manual - Sample Page - Cruise Control
Questions & Answers about 1991 Chevy Camaro Service Manual
Questions & Answers about 1991 Chevy Camaro Service Manual
Ask a question about 1991 Chevy Camaro Service Manual.
1991 Chevrolet Camaro Service Manual (Chassis & Body) - Includes Update Supplement
Description

Specifications

Table of Contents

Questions & Answers

Customer Reviews