1979 Chevrolet Corvette Shop Manual - Licensed OEM Reproduction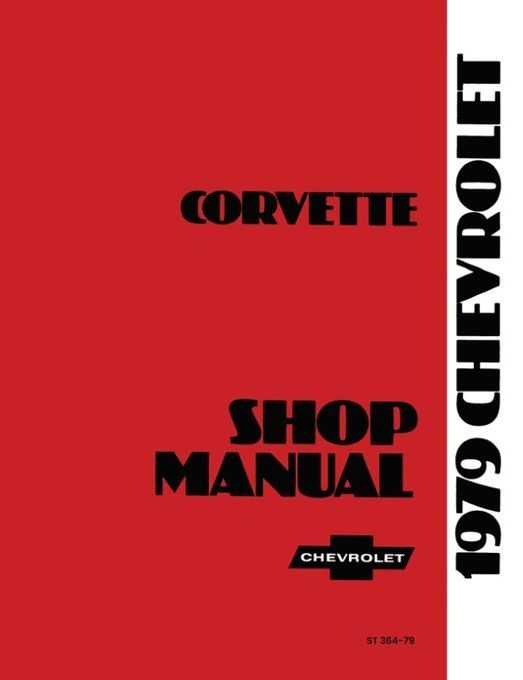 Why Buy From Us?
Free Shipping
Veteran Owned
Secure Shopping
Satisfaction Guaranteed
Item Description
This 1979 Corvette Shop Manual is a high-quality, PRINT, reproduction of the shop manual which was written and first published by the experts at the original equipment manufacturer (OEM), Chevrolet Motor Division, for use by their dealership mechanics.
MODELS COVERED:

When it comes time for you to pick up some tools and perform the repair and service tasks on your classic 1979 Chevrolet Corvette, this manual is definitely the one to have. In fact, it should be the FIRST tool you have in your hands. This comprehensive book contains 720 pages which have been loaded with factory-correct specifications and directions for diagnosis, maintenance adjustments, minor service operations, component replacement and the disassembly and assembly of major components. You'll find the best in service and overhaul instructions in the pages of this hefty guide.
Please take a look at the Table of Contents section on this page to see just how thoroughly these great vehicles have been covered. You'll find everything from decoding your VIN tag to following the recommended maintenance schedule. There are instructions to walk you through projects from minor tune-ups all the way up to major tear downs. While you're looking around, please also be sure to check-out the sample page. One look and you'll be pleased to discover how well the visual aids complement all of the step-by-step instructions. Diagrams, tables, illustrations, charts and other handy visual tools have been incorporated throughout this book in order to assist you all along the way with tasks from small to large.
It's certainly no secret that Corvettes were extremely popular in 1979. How can I be so sure? Well, they built more of them that year than ever before, and, as of this writing...since!. All of this, in spite of the crippling energy crisis.
The Corvette's beautiful fastback design, which had debuted the model year before, proved to be a big hit. The 'Vette's interior received some nice freshening-up in '79, especially the seats. "Style and comfort" is the best way to describe the alluring cockpit of this beloved, "shark-like" American sports car. Those gorgeous lines continued to gracefully evolve on this popular body style. What a way to close out a crazy decade.
When it comes to having the right information, don't waste your time and money searching for some old, used, greasy, hand-me-down shop manual. There's no need. Not when you can conveniently order this excellent, freshly printed and packaged version at a great price. It retains all of the top-notch content of the original, but this reproduction is clean and brand new. It's suitable for your coffee-table or your workbench. Keep your '79 fine. Order your shop manual today!
This factory-written shop manual is perfect for service, repairs, restoration and rebuild projects. Clear illustrations and photos show exploded views, as well as component details, plus specifications on engine data, engine torque, carburetion and more.
Subject:
1979 Corvette Shop Manual - Includes Detailed Procedures and Instructions.
| OEM Part Number: ST 364-79
Specifications
Publisher: Chevrolet Motor Division
Pages: 720 - Hundreds of b&w illustrations
Binding: Paperback - 8.5 x 11 inches
Years: 1979
Table of Contents
TABLE of CONTENTS:
General Information
Maintenance And Lubrication
Heater, Ventilation
Air Conditioning
Air Conditioning Compressor
Frame
Bumpers
Body
Front Alignment
Steering
Front Suspension
Rear Suspension
Wheels and Tires
Propeller Shaft & Universal Joints
Rear Axle
Brakes
Engine Mechanical
Engine Cooling
Fuel System
Engine Electrical
Engine Emission Controls
Engine Exhaust
Automatic Transmission
Manual Transmission
Clutch
Body and Chassis Electrical
Accessories
Sample Page:
Below:1979 Corvette Shop Manual Sample Page - Steering
Questions & Answers about 1979 Corvette Shop Manual
Questions & Answers about 1979 Corvette Shop Manual
Ask a question about 1979 Corvette Shop Manual.
1979 Chevrolet Corvette Shop Manual - Licensed OEM Reproduction
Description

Specifications

Table of Contents

Questions & Answers

Customer Reviews