1967 Chevrolet Chassis Service Manual (Chevrolet / Chevelle / Chevy II / Corvette / Camaro)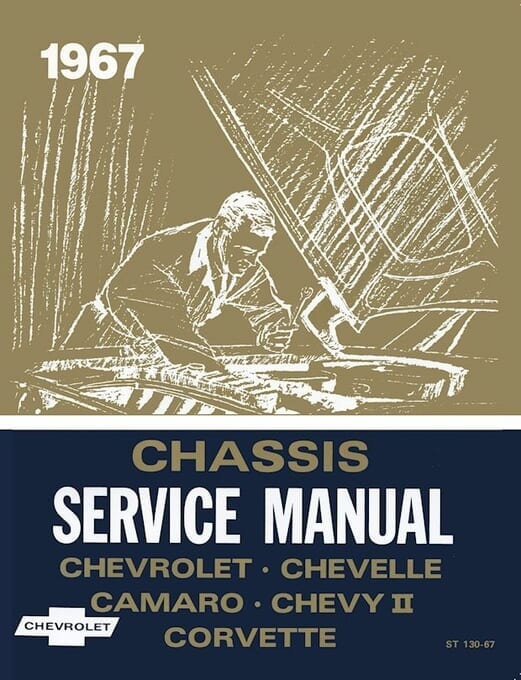 Why Buy From Us?
Free Shipping
Veteran Owned
Secure Shopping
Satisfaction Guaranteed
Item Description
For "do it yourself" owners of a '67 Chevrolet, Chevelle, Chevy II, Corvette or Camaro, this 1967 Chevrolet chassis service manual is required reading material. It covers 1967 Chevrolet vehicles and includes many detailed illustrations, along with step-by-step instructions, which makes it invaluable for a professional restorer, amateur enthusiast or vintage Chevy mechanic. This is a high-quality reprint of the original General Motors manual which was used by mechanics at Chevrolet dealerships, and it includes their original service and maintenance operations. You'll find information such as a complete electrical section with accompanying wiring schematics. For disassembling and reassembling the vehicle's major components, there is no better guide than this one. It contains the manufacturer's own original content.
1967 was a great year for Chevrolet. Many enthusiasts consider that year's Corvette to be the high-water mark of the model. It was the last year for the Sting Ray body style which began in 1963. With stylish refinements and mechanical advancements, these classics took on the world. Big-block power was available at the check of a box. Disc brakes helped haul down these beasts, and all manner of other goodies were right there for the asking.
Having a car in your lineup as legendary as the 1967 Corvette seems like enough, but Chevrolet was holding more aces that year. A lot more. 1967 was also the debut model year of the Camaro. Chevrolet brought out their competition for the wildly popular Ford Mustang. The Camaro was more than up for the task. This handsome model was available, out of the box, with quite a variety of engines...from six cylinders to both small and big block V8s (all of which are covered in great detail in this 657 page guide). The Camaro wasn't the only legend born to Chevrolet in 1967. One of the engine options available in the Camaro was the new 350 cubic inch V8. In subsequent years, this power plant would quickly makes it way beyond the Camaro and into a tremendous number of models. It ultimately become a mainstay in the General Motors lineup for decades. If you need the specifications and instructions to get (and keep) yours rumbling down the road, be sure to pick up this detailed service and repair guide.
Of course there was much more going on than the Corvette and Camaro. Chevrolet rolled-out great cars across the board in 1967. The Impala, Chevelle and El Camino were other fine choices. Each model offered something different, but all were stylish and had well-engineered mechanical systems. All complex machines require maintenance and eventually repair. Whichever vintage model you have, you'll love owning the correct information to preserve your classic piece of automotive history.
MODELS COVERED:

1967 Chevrolet Bel Air
1967 Chevrolet Biscayne
1967 Chevrolet Camaro
1967 Chevrolet Camaro RS
1967 Chevrolet Camaro SS
1967 Chevrolet Camaro Z28
1967 Chevrolet Caprice
1967 Chevrolet Chevelle 300
1967 Chevrolet Chevelle 300 Deluxe
1967 Chevrolet Chevelle
1967 Chevrolet Chevelle Concours
1967 Chevrolet Chevelle Deluxe
1967 Chevrolet Chevelle SS
1967 Chevrolet Chevy II
1967 Chevrolet Chevy II Nova
1967 Chevrolet Chevy II Nova SS
1967 Chevrolet Corvette
1967 Chevrolet El Camino Truck
1967 Chevrolet Impala
1967 Chevrolet Impala SS
This 1967 chassis service manual covers repairs ranging from the suspension, fuel system and brakes to more challenging projects like the engine, transmission and rear end. The book's chapters include a table of contents and special tools listing so that the less experienced mechanic knows exactly what's involved. It's the definitive source for service on these vehicles.
The Motor Bookstore is your premiere source for vehicle DIY repair manuals, service manuals, how-to guides and other publications for owners and professionals. We offer the lowest prices, fast shipping and unsurpassed customer service.
Subject: 1967 Chassis Service Manual Chevrolet Chevelle Camaro Chevy II Corvette. OEM Part Number: ST 130-67
Specifications
Publisher: Chevrolet Motor Division
Pages: 657 - Hundreds of b&w illustrations
Binding: Paperback - 8.5 x 11 inches
Years: 1967
Table of Contents
Table of Contents
General information
Lubrication
Heater and air conditioning
Body
Frame
Front suspension
Rear suspension
Brakes
Engine
Engine cooling
Engine fuel
Emissions control systems
Clutch and manual transmission
Automatic transmission
Transmission
Fuel tank and exhaust system
Steering
Wheels and tires
Chassis sheet metal
Electrical — Body and chassis
Radiator, Grille
Bumpers
Accessories
Specifications
Sample Page:
Below: 1967 Chevrolet Chassis Shop Manual Sample Page - Headlamp Motor
Questions & Answers about 1967 Chevrolet Chassis Service Manual
Questions & Answers about 1967 Chevrolet Chassis Service Manual
Ask a question about 1967 Chevrolet Chassis Service Manual.
Customer Reviews
REVIEWS
Rick
verified customer
October 4, 2020
Mike
verified customer
April 18, 2015
1967 Chevrolet Chassis Service Manual (Chevrolet / Chevelle / Chevy II / Corvette / Camaro)
Description

Specifications

Table of Contents

Questions & Answers

Customer Reviews