1964 Pontiac Body Repair Shop Manual - Full Line Cars (Bonneville, Grand Prix, Star Chief, Catalina, LeMans, GTO, Tempest, & Tempest Custom)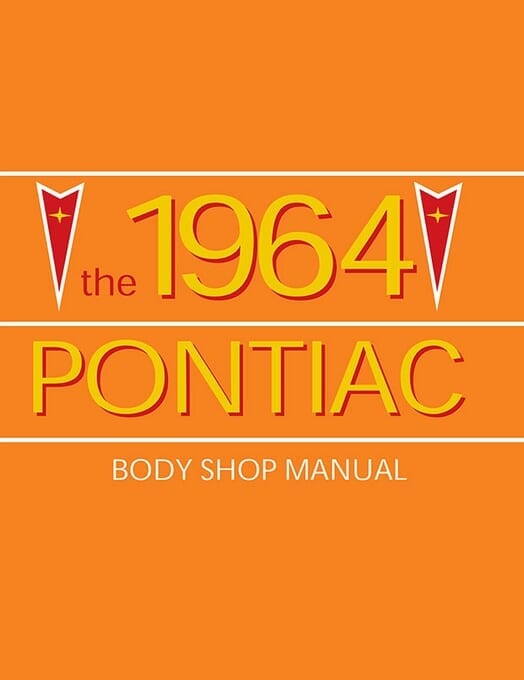 Why Buy From Us?
Free Shipping
Veteran Owned
Secure Shopping
Satisfaction Guaranteed
Item Description
If you need to repair or restore your 1964 Pontiac's body or sheet metal, the 1964 Pontiac Body Shop Manual is the licensed reproduction repair manual for the job. This high-quality reprint of the original 1964 Pontiac Body Shop Manual (OEM Part Number: S-6404-B) was written by the Pontiac Motor Division for their dealership body shop mechanics. You will not find a more thorough and comprehensive piece of literature for 1964 Pontiac body and sheet metal repairs...period.
The 64 Pontiac Body Shop Manual provides detailed and dedicated chapters for body repair, restoration and services, including: Front End, Doors, Quarter Panels, Seats, Exterior Moldings, Headlining, Electrical, Fabric Cleaning and Folding Tops. Please refer to the Table of Contents tab below (click on the + sign) to learn more about this book's contents and organization.
The specific makes and models covered in the 1964 Pontiac Full Line car body shop manual are:
1964 Pontiac Bonneville
1964 Pontiac Catalina
1964 Pontiac Grand Prix
1964 Pontiac GTO
1964 Pontiac LeMans
1964 Pontiac Safari
1964 Pontiac Star Chief
1964 Pontiac Tempest
1964 Pontiac Tempest Custom
The Motor Bookstore has been serving DIY novice and professional mechanics on the internet since 1997. We believe in excellent customer service and high quality products.
Subject: Body and Sheet Metal repair, service and restoration procedures for 1964 Pontiac Cars | OEM Part Number: S-6404-B
Specifications
Publisher: Pontiac Motor Division
Pages: 324 - Hundreds of b&w photos and illustrations / 60# Paper
Binding: Paperback - 8.5 x 11 inches
Years: 1964
Table of Contents
TABLE OF CONTENTS
Pontiac Chassis Sheet Metal
Pontiac Front End
Pontiac Doors
Pontiac Rear Quarter
Pontiac Rear End
Pontiac Exterior Moldings
Pontiac Headlining
Pontiac Seats
Pontiac Electrical
Tempest Chassis Sheet Metal
Tempest Front End
Tempest Doors
Tempest Rear Quarter
Tempest Rear End
Tempest Exterior Moldings
Tempest Headlining
Tempest Seats
Tempest Electrical
Lubrication
Fabric Cleaning
Pontiac And Tempest Folding Top
Bucket Seats
Roof Panel Fabric Cover
Index
Questions & Answers about 1964 Pontiac Body Shop Manual
Questions & Answers about 1964 Pontiac Body Shop Manual
Ask a question about 1964 Pontiac Body Shop Manual.
1964 Pontiac Body Repair Shop Manual - Full Line Cars (Bonneville, Grand Prix, Star Chief, Catalina, LeMans, GTO, Tempest, & Tempest Custom)
Description

Specifications

Table of Contents

Questions & Answers

Customer Reviews