1960 Mercury Comet Maintenance Manual - Licensed OEM Reproduction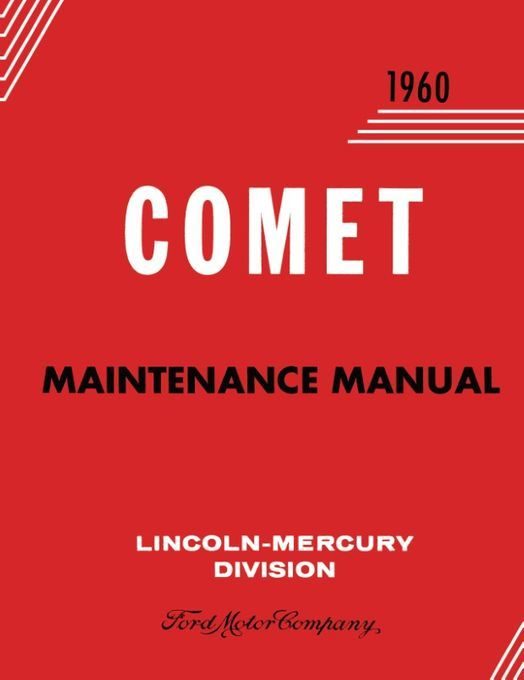 Why Buy From Us?
Free Shipping
Veteran Owned
Secure Shopping
Satisfaction Guaranteed
Item Description
This 1960 Mercury Comet Maintenance Manual is a high-quality, PRINT, reproduction of the shop manual which was written and first published by the experts at the original equipment manufacturer (OEM), Ford Motor Company, for use by their Lincoln-Mercury dealership mechanics back when these versatile models first hit the streets.
MODELS COVERED:

The Comet is a great car which boasts a history that is certainly a bit unusual. It was developed to be a part of the Edsel line, but when things changed and that division was eliminated, the Comet was instead released in 1960 as a separate model (no divisional badging) and was sold through Lincoln-Mercury dealers.
When you're ready to get to work on your vintage Comet, the first tool you'll want to have in your hands is this detailed, 288-page service manual. In addition to all of the fine, step-by-step text instructions, they have included a huge number and variety of visual aids. You'll find black and white photographs, illustrations, cut-away views, exploded views, graphs, tables, circuit diagrams and more to ensure that you are ready to take on jobs from small to large on all of the areas of these classic cars. It contains the factory specifications and service and repair instructions which are complete, accurate and efficient.
For ease of use, this 1960 Comet shop manual has been handily divided into sections. The areas covered in these sections include: wheels, hubs, drums, brakes, front suspension and steering, rear suspension, rear axle and drive line, exhaust, engine, transmission and clutch, cooling, fuel, electrical, fenders, hood, wipers, speedometer, bumper, accessories and options, body and maintenance.
This isn't some greasy, tattered and torn, hand-me-down book, either. It is a freshly-printed and packaged version. Have no fear. It retains all of the information from the original source.
With this treasure trove of data and instructions for your Comet, you'll be able to skip all of the "reindeer games" when it comes to repair and maintenance. It will give you the directions and help to provide you with the confidence to make your Comet soar again. Just imagine the feeling you'll have when your Comet is strong enough to wipe out your wanderlust…and perhaps wipe out any remaining dinosaurs along the way, too. At least by burning some fossil fuel.
NOTE: This is the maintenance manual, for body parts information, please see our 1960 – 1963 Lincoln Mercury Master Body Parts Catalog which can be found by clicking here…1960 - 1963 Lincoln Mercury Body Parts.
This factory written shop manual is perfect for service, repairs, restoration, and rebuild projects. Clear illustrations and photos show exploded views, as well as component details, plus specifications one engine, data, engine torque, carburetion and more.
Subject:
1960 Mercury Comet Maintenance Manual - Includes Detailed Procedures and Instructions.
| OEM Part Number: FORM MD-10249
Specifications
Publisher: Ford Motor Company
Pages: 288 - Hundreds of b&w illustrations
Binding: Paperback - 8.5 x 11 inches
Years: 1960
Sample Page:
Below:1960 Mercury Comet Maintenance Manual Sample Page - Front Suspension and Steering
Questions & Answers about 1960 Mercury Comet Maintenance Manual
Questions & Answers about 1960 Mercury Comet Maintenance Manual
Ask a question about 1960 Mercury Comet Maintenance Manual.
1960 Mercury Comet Maintenance Manual - Licensed OEM Reproduction
Description

Specifications

Table of Contents

Questions & Answers

Customer Reviews