1909-1927 Ford Model T & Model TT Service Manual (Detailed Instructions Service Ford) - Licensed Reproduction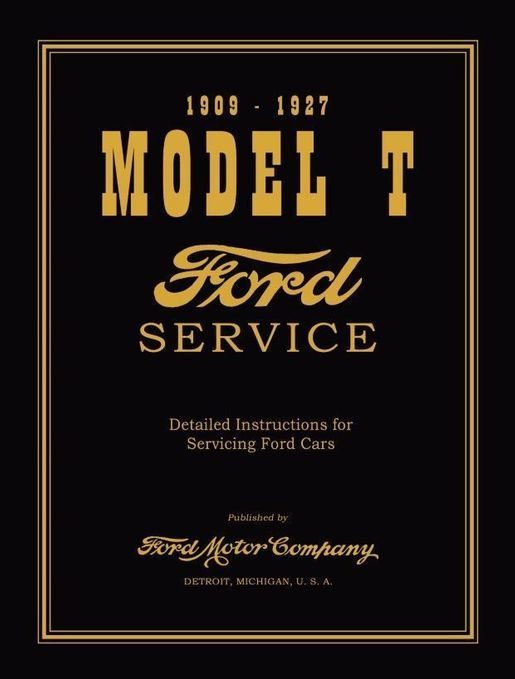 Why Buy From Us?
Free Shipping
Veteran Owned
Secure Shopping
Satisfaction Guaranteed
Item Description
This 1909-1927 Ford Model T & Model TT Service Manual is an extremely high-quality, licensed reproduction. It's commonly known as the Model T Bible by Model T owners and enthusiasts around the world. It's no wonder why. This handy, 320 page guide is loaded with all of the information you'll need to service your "Tin Lizzie". Just as the Model T changed the world by providing consistency, affordability and interchangeability, this manual was written specifically to, "standardize the method of repairing Ford cars, to insure continued and satisfactory performance of our product the world over." That partial quote comes directly from the Foreword of this Model T manual. It goes on to explain that the pages, "show in a clear and concise manner the 'authorized Ford way' of performing the various operations." The reason so many enthusiasts refer to this shop manual as the Model T Bible is because it is the definitive, source of service information for these landmark vehicles. It was written by the automaker, and they advise that the methods included in it were carefully developed in the Ford factory so that they could be sure to provide, "definite and detailed instructions to skilled as well as unskilled mechanics." That's just what they have done.
This comprehensive Ford Model T & Model TT Service manual surely belongs in the garage of every owner of these legendary classics. With it, assistance for jobs of all sizes will be right at your finger tips. When it comes time for service and repair, you'll want to have the complete and correct procedures (and specifications!) to get the jobs done right. All machines require maintenance, and that's certainly true for ones that are approaching (or have eclipsed) the century mark! Fortunately, this guide has you covered. It has been intensively and extensively cleaned and assembled by the publisher. This is NOT some old scan reproduction. You'll discover this newly printed and packaged guide features sharp, dark text against white backgrounds. You'll also love that the detailed text has been handily paired with a variety of visual aids. The images and illustrations in this service manual are crisp and clear.
Beyond this service manual, you'll be wanting...and needing, parts. Luckily, we've done some searching and found a helpful web page containing a thorough list of Model T parts suppliers. We're happy to help point you in the right direction. Please click here to view Mitch Taylor's Ford Model T Parts and Restoration Resources. Not only is there an abundance of suppliers (with addresses, phone numbers, fax numbers, email addresses, etc.) conveniently listed, but you'll also find descriptions of the parts and services offered...and even some testimonials.
After you have your manual and parts, you may be looking to join a Model T Ford Club, or perhaps you just want to look at a club's web page containing photos, tips, links, etc. We can offer you some help there, too. Please take a look at The Model T Ford Club International Inc. They've been around since 1952. Their web site can be accessed by clicking here...The Model T Ford Club International Inc..
FORD MODELS COVERED:

Ford Model T & Ford Model TT - 1909, 1910, 1911, 1912, 1913, 1914, 1915, 1916, 1917, 1918, 1919, 1920, 1921, 1922, 1923, 1924, 1925, 1926, 1927
This Model T engine service manual is perfect for the restorer, or anyone working on one of these vehicles. Clear illustrations show exploded views, as well as component details, plus specs on engine data, torque, carburetion and more. If you own a Model T, it means that you are no doubt an intensely committed auto enthusiast with a keen sense of history regarding American vehicles. These vehicles transcend mere automotive culture. They changed the world. From efficiencies in the manufacturing processes, to connecting rural America, these cars have an important place in history. It's no wonder they sold over 15 million of these great vehicles. This beautifully reprinted Model T repair manual will guide you through every possible aspect of maintenance and repairs, including assembly and disassembly of the car, valve grinding and carbon removal, taking up main bearings, installing new camshaft bearings, overhauling the rear axle, cleaning the oil line and much more. Order the manual at a low price from The Motor Bookstore and you will get free shipping anywhere in the continental U.S.
Subject:
1909-1927 Model T Ford Service. Detailed Instructions for Servicing Ford Cars. Ford Motor Company.
| OEM Part Number LT1.
Specifications
Publisher: Detroit Iron Publishing
Author: Ford Motor Company
Pages: 320 - Hundreds of b&w illustrations
Binding: Paperback - 8.5 x 11 inches
Years: 1909 - 1927
Table of Contents
Table of Contents
Foreword
Essentials of Good Service
Ideal Shop Layout for Average Size Dealer
Essential Shop Equipment
The Parts Department
An Attractive Parts Department
Service Follow-up System
Disassembling the Car
Assembling the Car
Complete Engine and Transmission Overhaul
Valve Grinding and Carbon Removal
Taking up Connecting Rod Bearings
Fitting Pistons and Rings
Taking up Main Bearings
Correcting Noisy Time Gears
Installing New Camshaft Bearings
Cleaning the Oil Line
Stopping Oil Leak at Front End of Crankshaft
Installing Transmission Bands (Old Design)
Installing Transmission Bands (New Design)
Replacing Transmission Clutch Spring
Overhauling Rear Axle
Stopping Oil Leak at Rear Wheel
Changing Rear Radius Rods
Changing Rear Spring
Front Axle Assembly Overhaul
Changing Front Spring
Rebushing Springs and Perches
Changing Front Radius Rods
Changing Front Axle
Replacing Front Hub Bearing Cup and Bearing
Steering Gear Overhaul
Repairing the Radiator
Carburetor Overhaul
Installing New Bendix Shaft or Spring
Generator Overhaul
Starting Motor Overhaul
Tracing Car Troubles - Engine Fails to Start
Misfiring (missing) Caused by Trouble in Ignition System, Valves, or Fuel System
Backfiring
Engine Knocks
Battery CareClutch Troubles
Tracing Trouble in the Generator
Tracing Trouble in the Starting Motor
Tracing Trouble in the Lighting System
Tracing Trouble in the Charging Circuit
Horn Fails To Sound
Battery Care
Servicing The Improved Car
TABLE OF CONTENTS - 1909 - 1927 Ford Model T, TT Service Manual
TABLE OF CONTENTS - 1909 - 1927 Ford Model T, TT Service Manual - CONTINUED
TABLE OF CONTENTS - 1909 - 1927 Ford Model T, TT Service Manual - CONTINUED
Sample Pages:
Below: 1909 - 1927 Ford Model T, TT Service Manual Sample Page - Engine
Below: 1909 - 1927 Ford Model T, TT Service Manual Sample Page - Engine
Questions & Answers about 1909-1927 Ford Model T, TT Service Manual
Questions & Answers about 1909-1927 Ford Model T, TT Service Manual
Ask a question about 1909-1927 Ford Model T, TT Service Manual.
1909-1927 Ford Model T & Model TT Service Manual (Detailed Instructions Service Ford) - Licensed Reproduction
Description

Specifications

Table of Contents

Questions & Answers

Customer Reviews