Rochester Carburetors: How-To Select, Install, Repair, Rebuild and Tune. Street or Strip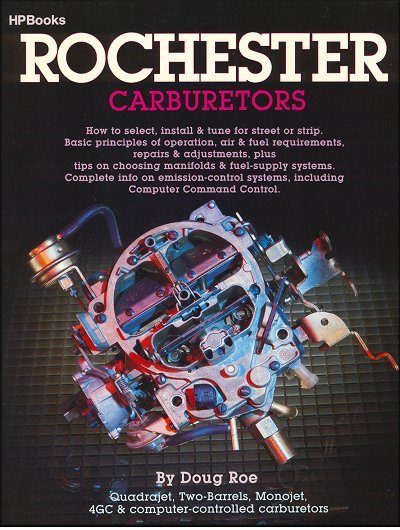 Why Buy From Us?
Free Shipping
Veteran Owned
Secure Shopping
Satisfaction Guaranteed
Item Description
How To Select Tune, Rebuild and Install ROCHESTER Carburetors!
In this book, Doug Roe shows you everything you need to know regarding Rochester carburetors. From initial selection of the right carb for your application, to installation and tune-up.
If your vehicle came with a Rochester, what the required steps are for properly rebuilding or repairing the carburetor, whether it is a conventional unit or an electronic Rochester.
From basic carburetion theory to service and performance techniques you can apply to conventional carburetors, plus modifications to current microcomputer-controlled units, this book covers it all!

Subject: Automotive Carburetion: Fuel Systems: How to install, repair, rebuild and tune Rochester carbs. ISBN-10: 0895863014 | ISBN-13: 9780895863010 | HPBooks HP014
Specifications
Publisher: HP Books
Author: Doug Roe
Pages: 176 - Hundreds of b&w photos and illustrations
Binding: Paperback - 8 x 10 inches
ISBN: 978-0-89586-301-0
Table of Contents
TABLE of CONTENTS: Introduction HOW YOUR CARBURETOR WORKS
Inlet system | Main system | Power system | Idle system | Choke system ENGINE AIR/FUEL REQUIREMENTS
Air-flow requirements | Air mass & density | Fuel requirements | Uniform distribution PAST & PRESENT ROCHESTERS
Monojet | 2G | 4G | Dualjet, Varajet QUADRAJET DESIGN
Float system | Idle system | Main metering system | Power system | Secondary system | Accelerator pump | Choke | Electronic carburetion SELECT & INSTALL YOUR CARBURETOR
Valve timing, temperature | Density, compression ratio | Intake manifold | Carburetor selection HIGH PERFORMANCE CARBURETION
Q-jet tuning for performance | Q-jet performance modifications | Performance tuning electronic Q-jets TUNING TIPS
Q-jet modifications | Q-jet secondary metering rods | Two-barrel modifications EMISSIONS CONTROL
Emissions-test procedures | Emissions-control equipment | Evaporative-emissions control | Emissions-control evolution Metric conversions | Index
Questions & Answers about Rochester Carburetors: Select, Install, Repair, Tune ? For Street or Strip
Questions & Answers about Rochester Carburetors: Select, Install, Repair, Tune ? For Street or Strip
Ask a question about Rochester Carburetors: Select, Install, Repair, Tune ? For Street or Strip.
Customer Reviews
REVIEWS
Andrew Glennie
verified customer
March 21, 2017
Rochester carbs
Good info and pictures to show the different parts of the carbs. The book does kind of cover the mono jet, the 2g, and 4 jet, but barely. Most of it is about the q jets, but there is some info on the computer control q jets and 2g. It does have about half a page on the dual jet, but over all it is a good book.
Rochester Carburetors: How-To Select, Install, Repair, Rebuild and Tune. Street or Strip
Description

Specifications

Table of Contents

Questions & Answers

Customer Reviews