Kymco Spade 150 (Air 150 Fi) Service Manual by Cyclepedia - PRINT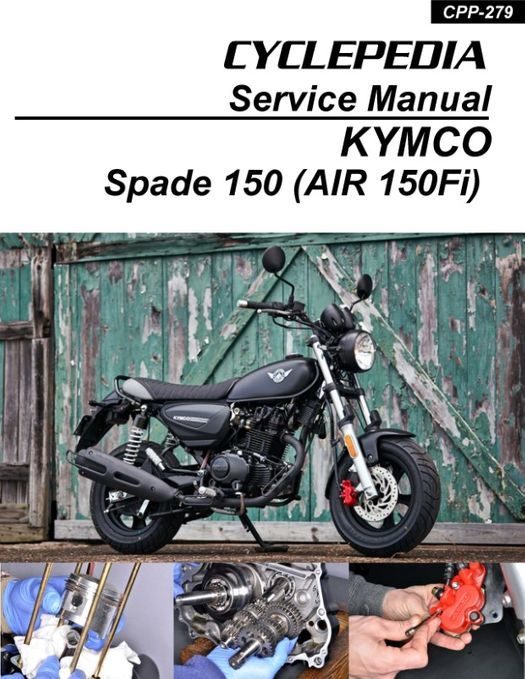 Why Buy From Us?
Free Shipping
Veteran Owned
Secure Shopping
Satisfaction Guaranteed
Item Description
This Kymco Spade 150 (Air 150Fi) Service Manual is a high quality service and repair manual published by Cyclepedia Press LLC. There's certainly plenty to like about the Kymco Spade 150. From its cool, retro styling to its powerful, yet fuel efficient, engine you get a lot of bike for your money. When it's time for service and maintenance tasks, the first tool you'll want in hand is this guide.
Cyclepedia is dedicated to providing you with manuals which are complete and accurate. They have professionally trained mechanics take apart the machines to be sure you are provided the best information. The print copies include a large number of sharp, black and white photographs to accompany the comprehensive text. You'll also love the comb style binding which allows you to lay the pages flat, regardless of which section of the book you are using. That way, your hands will be available to place on tools and parts. It's nice!
The Motor Bookstore believes this KYMCO Spade 150 (Air 150 FI) Cyclepedia DIY motorcycle manual is a great resource because of the following characteristics:
Printed Book Purchase -

Includes 1 Year Subscription to Color Online Manual Free - Contact us after purchase to setup the online account

.
Was written by a Kymco trained mechanic.
Focuses on the Spade 150 (Air 150 Fi) models only.
Logical and straight forward organization - doesn't jump around.
Comb Spiral Binding so the manual lays open nicely on your bench.
Color Wiring Diagrams Included.
Specifications section with detailed specs that include torque specifications.
346 pages of detailed rebuild / repair information.
Quality Paper - not cheap newspaper quality like so many other books.
This professionally written Cyclepedia service manual is perfect for service, repairs, maintenance, and rebuild projects for your favorite, classic-looking minibike. Clear illustrations and photos show exploded views as well as component details to enhance the step-by-step service and repair procedures.
Subject:
Kymco Spade 150 (Air 150Fi) Service Manual - Includes Detailed Service, Repair & Maintenance Instructions / Procedures.
| Cyclepedia CPP-279
Specifications
Publisher: Cyclepedia Press LLC
Pages: 346 - Hundreds of b&w photos and illustrations
Binding: Comb Binding - 11 x 8.5 inches
Table of Contents
TABLE OF CONTENTS
TABLE OF CONTENTS - CONTINUED
Questions & Answers about Kymco Spade 150 (Air 150Fi) Service Manual
Questions & Answers about Kymco Spade 150 (Air 150Fi) Service Manual
Ask a question about Kymco Spade 150 (Air 150Fi) Service Manual.
Customer Reviews
REVIEWS
DANIEL CHAMPAGNE
verified customer
August 23, 2021
Kymco Spade 150 (Air 150 Fi) Service Manual by Cyclepedia - PRINT
Description

Specifications

Table of Contents

Questions & Answers

Customer Reviews