Honda Fourtrax 200SX, ATC200X ATV Repair & Service Manual 1986-1988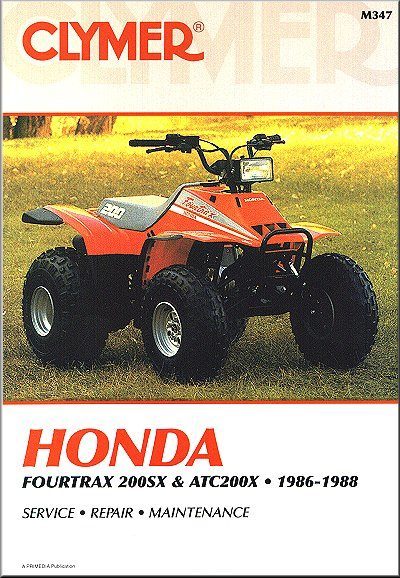 Why Buy From Us?
Free Shipping
Veteran Owned
Secure Shopping
Satisfaction Guaranteed
Item Description
- OUT OF PRINT -
This Clymer repair manual covers 1986-1988 Honda Fourtrax 200SX and 1986-1987 Honda ATC200X.

Book Excerpt: 1986-1988 Honda Fourtrax 200SX, ATC200X ATV Repair and Service Manual
CLUTCH AND TRANSMISSION (3-WHEELED MODELS)
TRANSMISSION PRELIMINARY INSPECTION

After the transmission shaft assemblies have been removed from the crankcase, clean and inspect the assemblies before disassembling them.

Place the assembled shaft into a large can or plastic bucket and thoroughly clean with a petroleum based solvent such as kerosene and a stiff brush. Dry with compressed air or let it sit on rags to drip dry.

Repeat for the other shaft assembly.

After they have been cleaned, visually inspect the components of the assemblies for excessive wear. Any burrs, pitting or roughness on the teeth of a gear will cause wear on the mating gear.

Minor roughness can be cleaned up with an oilstone but there's little point in attempting to remove deep scars.

NOTE: Defective gears should be replaced. It's a good idea to replace the mating gear on the other shaft even though it may not show as much wear or damage.
HANDLEBAR
REMOVAL

Remove the bolts securing the throttle assembly (A, Figure 23) and carefully lay the throttle assembly and cable over the fender or back over the frame.

Be careful that the cable does not get crimped or damaged.

CAUTION: Cover the frame with a heavy cloth or plastic tarp to protect it from accidental spilling of brake fluid. Wash any spilled brake fluid off painted or plated surfaces immediately, as it will destroy the finish. Use soapy water and rinse thoroughly.

Remove the bolts (B, Figure 23) securing the brake master cylinder and lay it over the frame. Keep the reservoir in the upright position to minimize loss of brake fluid and to keep air from entering into the brake system. It is not necessary to remove the hydraulic brake line.
Subject: 1986, 1987, 1988 Honda Fourtrax 200SX, Honda Fourtrax 200SX ATV service, maintenance, repair. ISBN-10: 0892874368 | ISBN-13: 9780892874361 | Clymer M347
Specifications
Publisher: Clymer Series / Haynes Manuals
Pages: 410 - Hundreds of b&w photos and illustrations
Binding: Paperback - 7 x 10 inches
ISBN: 978-0-89287-436-1
Years: 1986 - 1988
Table of Contents
TABLE of CONTENTS:
General Information
Troubleshooting
Lubrication, Maintenance and Tune-up
Engine
Clutch and External Gearshift Linkage
Transmission and Internal Shift Mechanism
Fuel and Emission Systems
Exhaust System
Electrical System
Wheels, Tires and Drive Chain
Front Suspension and Steering
Rear Suspension
Brakes
Body and Frame
Wiring Diagrams
Questions & Answers about Honda Fourtrax 200SX, ATC200X ATV Repair Manual 1986-1988
Questions & Answers about Honda Fourtrax 200SX, ATC200X ATV Repair Manual 1986-1988
Ask a question about Honda Fourtrax 200SX, ATC200X ATV Repair Manual 1986-1988.
Customer Reviews
REVIEWS
William Washburn
verified customer
April 2, 2020
Honda Fourtrax 200SX, ATC200X ATV Repair & Service Manual 1986-1988
Description

Specifications

Table of Contents

Questions & Answers

Customer Reviews