Holley Carburetor Repair Manual: 1-, 2-, 3-, 4-Barrel - Tuning, Repair, Overhaul, Modifications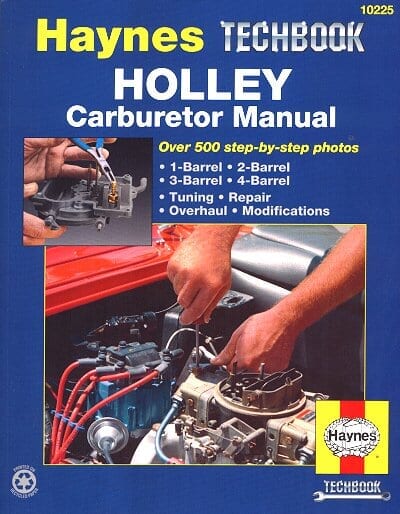 Why Buy From Us?
Free Shipping
Veteran Owned
Secure Shopping
Satisfaction Guaranteed
Item Description
If you want to troubleshoot, rebuild and properly tune your Holley carburetor, this do-it-yourself manual by Haynes shows you how.
Covering the entire process, from removing the carburetor to cleaning, inspection, replacing parts, complete overhaul and reassembly, then re-installing the unit back in your vehicle and performing tuning and adjustments, this is the complete guide to get the most out of your 1-, 2-, 3-, or 4-barrel Holley carburetor.
You also get performance and fuel economy modifications as well as professional tips and tricks.
Over 500 sharp, step-by-step photos, help take the mystery out of carburetors. A must-have book for the DIY home mechanic.
Holley carburetors covered include:
One-barrel models: 1904, 1908, 1920, 1940, 1945, 1946, 1949, 1960, 6145, 6146, 6149
Two-barrel models: 2100, 2110, 2210, 2211, 2245, 2280, 2300, 2305, 2360, 2380, 5200, 5210, 5220, 6280, 6360, 6500, 6510, 6520
Three-barrel models: 3150, 3160
Four-barrel models: 4010, 4011, 4150, 4160, 4165, 4175, 4180, 4190, 4360, 4500
Book Excerpt: Holley Carburetor Repair Manual: 1-, 2-, 3-, and 4-Barrel Carburetors
CARBURETOR IDENTIFICATION
Holley carburetors are identified by the stamped numbers usually located on the side or the air horn of each carburetor. There are two different numbers that identify a carburetor; a model number, and a list number (sometimes referred to as the part number).

It is very important to know that most often the list number will designate the exact model. Included in this chapter is a list of some of the most common Holley carburetor part numbers (see the tables at the end of this Chapter) along with the model numbers.

The model number describes the class, type and general features of the products with that group. For example, the 4160 describes one model of the four-barrel carburetor. The first digit of the number denotes the number of barrels (throttle bores).

The model 2210, 2300 and 2360 all begin with the number two and all are two barrels. The 3150 and 3160 are three - barrel carbs. The last three positions describe differences in the construction of the carburetor, compared to others in the same family.

However, this doesn't hold true in every case. Not all two-barrel models start with the number two - model 5200 is a two-barrel. Carburetors for use with computer control systems usually begin with the number six.

Also, on later model carburetor, some of the numbers listed with the part number are strictly for the date of production.

The list number is assigned to a component as it is put into circulation (this includes fuel pumps, ignition parts and other Holley products). Some list numbers include letter prefixes.

The sales number is for identifying popular replacement parts for a particular carburetor, fuel pump, etc. Sales numbers include a prefix number, a dash number and suffix number are used primarily for ordering and stocking products.

You won't find this number on the carburetor (or other Holley product) - it'll be on the box or the price sheet. Because of this, you really don't need to be concerned with sales numbers.
OVERHAUL AND ADJUSTMENTS
OVERHAUL TOOLS AND PREPARATION

Regardless of which of the many one, two or four barrel carburetors you are going to overhaul, the initial preparation is the same for all of the following carburetor overhaul Chapters.

Take your time; think about what's involved. Nobody wants to or should have to do any more than is necessary. Are you going to be simply replacing a base gasket to correct a vacuum leak or is the carburetor in desperate need of a complete overhaul?

Shortcuts or quick fixes are nice, but only when the problem is corrected. It's always amazing how there's enough time to fix-it-right the second time around. Organization, cleanliness, good lighting and some advanced planning are all very important parts of getting the overhaul done quickly and correctly the first time.

Many of the parts being dealt with during an overhaul are extremely small and can be easily lost or misplaced, especially if you're using compressed air to clean out passages or dry off parts, so extra care must be taken to keep track of all of the many individual parts you will have separated during your disassembly for a carburetor overhaul.
Subject: Transportation: Automotive: Carburetion: Holley DIY carburetor repair and overhaul. ISBN-10: 1563920697 | ISBN-13: 9781563920691 | Haynes 10225
Specifications
Publisher: Haynes Manuals
Pages: 256 - Hundreds of b&w photos and illustrations
Binding: Paperback - 8.25 x 10.75 inches
ISBN: 978-1-56392-069-1
Table of Contents
TABLE of CONTENTS:
Introduction
Tools and Equipment
Carburetor Fundamentals
Carburetor Identification
Troubleshooting
Carburetor Removal and Installation
Overhaul and Adjustments
Overhaul Tools and Preparation
Four-Barrel Models
Three-Barrel Models
Two-Barrel Models
One-Barrel Models
Selection and Modification
Reference and Specifications
Glossary
Index
Questions & Answers about Holley Carburetor Manual
Questions & Answers about Holley Carburetor Manual
Ask a question about Holley Carburetor Manual.
Holley Carburetor Repair Manual: 1-, 2-, 3-, 4-Barrel - Tuning, Repair, Overhaul, Modifications
Description

Specifications

Table of Contents

Questions & Answers

Customer Reviews