Ultimate Auto Detailing Projects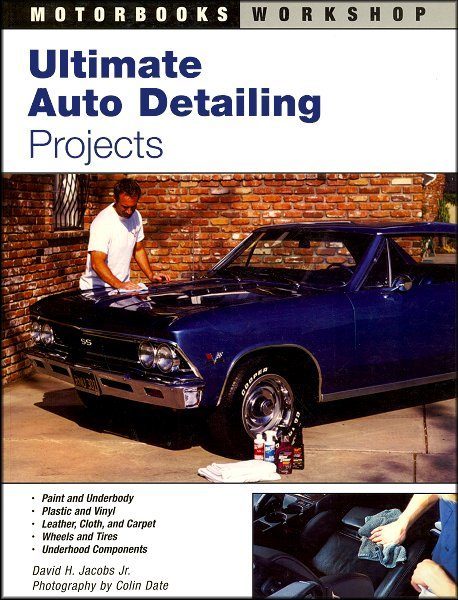 Why Buy From Us?
Free Shipping
Veteran Owned
Secure Shopping
Satisfaction Guaranteed
Item Description
When you love your car or truck, you want it to look the absolute best. You want to turn heads no matter where you go or what else it may be competing against. Making your car or truck look that spectacular means more than just a simple wash, it means a complete auto detail from top to bottom.
Ultimate Auto Detailing Projects is the best guide for getting every inch of your car spotless and looking great. It teaches you about cleaning paint and underbelly; plastic and vinyl; leather, cloth and carpet; wheels and tires and even components under the hood. When you?re at a car show, your hood is going to be open, and you want that engine so bright it practically blinds the judges.
It has full color photos and images with step-by-step instruction for you to follow. There are so many different projects to choose from, and they are broken down so anyone can understand. There are even tables that tell you how long it will take, what you need and how much it will cost. You?ll be the envy of everyone when you drive your fully detailed car around town and into the local car show.
You?ll blow away the competition because you took the time to get every nook and cranny clean. This book covers everything from the basic wash and wax to cleaning the engine bay and pristine tire care.
Ultimate Auto Detailing Projects is a must have for any car show enthusiast or anyone that truly loves their car and how it looks.
Subject:
Auto Detailing How-to Book
ISBN-10: 0760314489 | ISBN-13: 9780760314487 | Motorbooks 14489
Specifications
Publisher: Motorbooks
Author: David H. Jacobs Jr.
Pages: 160 - Over 300 color photos
Binding: Paperback - 8.25 x 10.75 inches
ISBN: 978-0-7603-1448-7
Table of Contents
TABLE of CONTENTS: Section 1 Getting Ready. Section 2 Preliminary Washing: basic vehicle wash; doorjambs, hood and trunk edges; removing tree sap, bug splatter, and the like; grille, brightwork, and running boards; tires and wheels; vinyl tops and convertibles; removing stickers and decals; underbody. Section 3 Interior Detailing: vacuuming; cleaning the interior and dash; doorjambs and panels; vinyl and rubber dressing; vinyl seats; cloth seats; leather seats; shampooing carpets; interior extras. Section 4Under the Hood: initial cleaning; initial cleaning without water; detailed cleaning; engine block painting; painting other engine parts; removing paint overspray; polish and shine; extras. Section 5 Exterior Shine: removing severe oxidation; clay bar; buffing with a machine; hand polish; hand wax; removing polish and wax residue; paint blemishes and ships. Section 6 Underbody Detailing: steam cleaning; through rinsing and cleaning; fenderwell painting and undercoating; frame members and tailpipes. Section 7 Glass, Trim, and Moldings: removing stickers and decals from glass; glass cleaning; glass polishing; removing buildup from window edges; trim cleaning; chrome, rubber, and vinyl; moldings; windshield repair; plastic window care; all the little extras. Section 8 Tires and Wheels: whitewalls and raised white lettering; dressing and tire black; chemical wheel cleaners; wire wheels; mags and other special wheels; painting wheels. Section 9 Finishing Touches: trunk rejuvenation; parts replacement; just nice or new car smell; bra care and car covers; concours d'elegance considerations; final inspection; paintless dent removal.
Questions & Answers about Ultimate Auto Detailing Projects
Questions & Answers about Ultimate Auto Detailing Projects
Ask a question about Ultimate Auto Detailing Projects.
Ultimate Auto Detailing Projects
Description

Specifications

Table of Contents

Questions & Answers

Customer Reviews