Jeep Grand Cherokee Repair Manual 2005-2014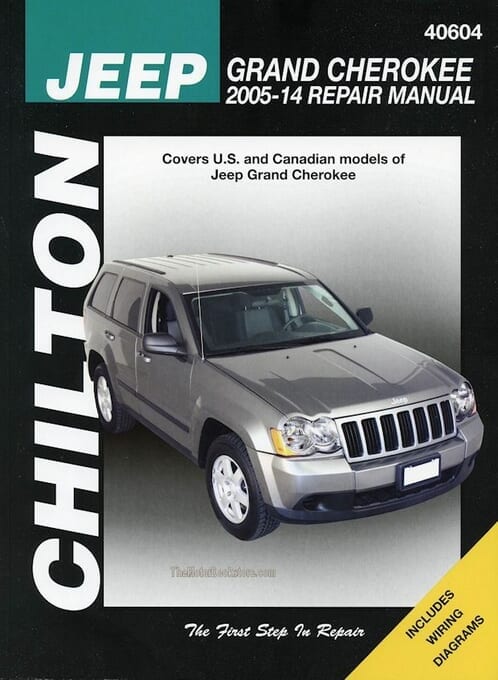 Why Buy From Us?
Free Shipping
Veteran Owned
Secure Shopping
Satisfaction Guaranteed
Item Description
The Chilton 40604 - Jeep Grand Cherokee Repair Manual 2005-2014 covers U.S. and Canadian models indicated.
NOTE: Does not include information specific to diesel engine models.
A Chilton total car care provides thorough DIY procedures and steps to empower novice mechanics. With the help of this Jeep Cherokee service manual, you will be able to administer maintenance, service and repair jobs yourself. The stepwise photographs alongside the detailed steps will give you the confidence you need to succeed and save money at the same time.
Book Excerpt: 2005-2014 Jeep Grand Cherokee Repair Manual
GENERAL INFORMATION: ENGINE COOLING SYSTEM
All vehicles covered by this manual employ a pressurized engine cooling system with thermostatically controlled coolant circulation (see illustration).

An impeller-type water pump mounted on the front of the block pumps coolant through the engine. The coolant flows around each cylinder and toward the rear of the engine.

Cast-in coolant passages direct coolant around the intake and exhaust ports, near the spark plug areas and in close proximity to the exhaust valve guides.

Because of the design of the accessories, pulleys and drivebelts, some engines are equipped with reverse rotating water pumps, cooling fans and viscous fan clutches.

Always check with a parts department and install only componenets marked REVERSE on these components.

A wax-pellet type thermostat is located in a housing near the front of the engine. During warm up, the closed thermostat prevents coolant from circulating through the radiator.

As the engine nears normal operating temperature, the thermostat opens and allows hot coolant to travel through the radiator, where it's cooled before returning to the engine.

These systems incorporate a pressure cap on top of the radiator that raises the boiling point of the coolant. If the system pressure exceeds the cap pressure-relief value, the excess pressure in the system forces the spring-loaded valve inside the cap off its seat.

This allows either excess pressure or overheated coolant to escape through an overflow tube into a separate coolant reservoir.
Subject: 2005, 2006, 2007, 2008, 2009, 2010, 2011, 2012, 2013, 2014 Jeep Grand Cherokee service, maintenance, repair. ISBN-10: 1620922525 | ISBN-13: 9781620922521 | Chilton 40604
Specifications
Publisher: Chilton Manuals
Pages: 384 - Hundreds of b&w photos and illustrations
Binding: Paperback - 8.5 x 11 inches
ISBN: 978-1-62092-252-1
Years: 2005 - 2014
Table of Contents
TABLE of CONTENTS:
Introduction: About this manual | Introduction | Vehicle identification numbers | Maintenance techniques, tools and working facilities | Buying parts | Jacking and towing | Booster battery (jump) starting | Conversion factors | Automotive chemicals and lubricants | Safety first! | Troubleshooting

Tune-up and routine maintenance
3.7L V6 engine
4.7L V8 engine
5.7L V8 Hemi engine
6.1L V8 Hemi engine
6.4L V8 Hemi engine
General engine overhaul procedures
Cooling, heating and air-conditioning systems
Fuel and exhaust systems
Engine electrical systems
Emissions and engine control systems
Automatic transmission
Transfer case
Driveline
Brakes
Suspension and steering systems
Body
Chassis electrical system
Wiring diagrams
Questions & Answers about Jeep Grand Cherokee Repair Manual 2005-2014
Questions & Answers about Jeep Grand Cherokee Repair Manual 2005-2014
Ask a question about Jeep Grand Cherokee Repair Manual 2005-2014.
Customer Reviews
REVIEWS
Rick
verified customer
June 8, 2016
Wade
verified customer
July 22, 2014
great purchase
Of course Chilton doesn''t compare to factory manuals. But they are great for a starting reference for any project you need to tackle on your vehicle. Plus all torque specs listed. Can't go wrong with these books for the price and information they contain. I get one for every vehicle I own.
Jeep Grand Cherokee Repair Manual 2005-2014
Description

Specifications

Table of Contents

Questions & Answers

Customer Reviews