Haynes Fuel Injection Manual 1986-1999 - Domestic and Imported Models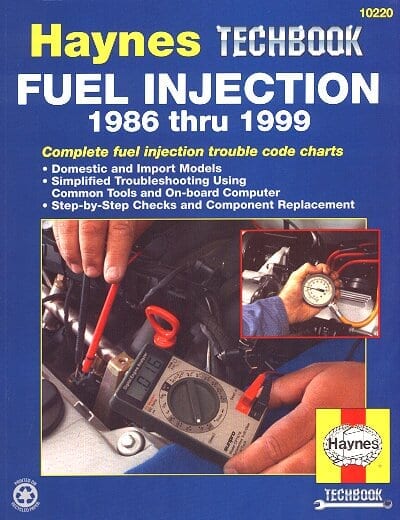 Why Buy From Us?
Free Shipping
Veteran Owned
Secure Shopping
Satisfaction Guaranteed
Item Description
This DIY manual by Haynes, shows you how to troubleshoot your vehicle's fuel injection system using common tools and on-board diagnostics computer.
In addition, the manual also covers step-by-step checks and component replacement.
Topics covered by this manual include:
Electronic fuel injection systems (foreign and domestic)
All system types including CIS, CIS-E, and Motronic systems
Fuel pressure testing
Throttle body repair and overhaul
Computer codes
The latest fuel injection tools
Book Excerpt: Haynes Fuel Injection Manual 1986-1999 Domestic and Imported Models
COMPUTER TROUBLE CODES
GENERAL INFORMATION

When diagnosing problems on engines controlled by computer systems, remember that many drivability symptoms and/or problems may not necessarily be caused by the computer.

The computer is only responding to the input (or change of input information) of the many sensors controlled by the fundamental systems previously discussed in this Book.

Unless all of the basic engine systems are properly functioning, the electronic controls have inaccurate information to manage the engine fuel and emissions systems properly.

Condemning a computer, input sensor or output actuator, before verifying that the fundamental systems are operating correctly usually leads to an incorrect diagnosis. Besides wasting your time, you'll find that the electronic components of engine management systems are generally expensive and usually not returnable, even if a mistake has been made in diagnosis.

Before proceeding to the electronic control system tests make the following general checks:

The engine is in good overall mechanical condition, as indicated by compression and vacuum tests.
The battery is clean and free of connection corrosion, in good condition and fully charged.
The starting and charging systems operate properly.
All fuses and fusible links are intact.
All electrical connectors are free of corrosion and connected securely.
All vacuum lines are in good condition, correctly routed, and attached securely.
The air and fuel supply systems are free of restrictions and working properly.
The PCV, EGR, and EVAP and other emissions systems are working properly and maintained as required.
The coolant level and condition is good, and the thermostat is in place and is of the correct operating temperature.
The engine oil level and condition are good.
The ignition system is in good condition with no signs of cross-firing, mis-firing, carbon tracks, corrosion, or wear.
The base timing and idle speed are set to specifications found on the VECI label.
The computer is going into closed loop operation.

Note: If in doubt about the condition of any of these items, refer to the appropriate Sections of Chapter 8 and recheck the component(s) or systems in question.

On-board computer systems not only control the engine fuel, ignition and emission functions in an attempt to achieve optimum efficiency, but on most systems they also have a built-in diagnostic feature.

When the computer detects a fault, it stores a trouble code in its memory. The code can usually be retrieved from the computer's memory by following a certain procedure. A trouble code doesn't necessarily indicate the exact cause of a problem, but it will direct you to a particular component, circuit or system, which may simplify diagnosis.
Subject: Transportation: Automotive: Fuel Systems: Fuel Injection: 1986-1999 domestic and imported vehicle fuel injection system repair manual. 1986, 1987, 1988, 1989, 1990, 1991, 1992, 1993, 1994, 1995, 1996, 1997, 1998, 1999. ISBN-10: 1563923866 | ISBN-13: 9781563923869 | Haynes 10220
Specifications
Publisher: Haynes Manuals
Pages: 378 - Over 100 b&w photos and illustrations
Binding: Paperback - 8.5 x 11 inches
ISBN: 978-1-56392-386-9
Table of Contents
TABLE of CONTENTS:
CHAPTER 1: INTRODUCTION
Why fuel injection
What is fuel injection
Electronic fuel injection systems
Continuous injection systems (CIS)
CHAPTER 2: FUEL INJECTION TOOLS
Vacuum gauges and hand-operated vacuum pumps
Fuel pressure gauge
Special tools for disconnecting special connections
Injector harness testers
Stethoscope
Idle speed adjustment tools
Fuel tank spanner wrench
Diagnosing and correcting circuit faults
Scanners, software and trouble-code tools
CHAPTER 3 PART A: BASIC TROUBLESHOOTING
General information
Safety precautions
Vehicle identification
Problem identification
Basic system checks
Fuel pump pressure check
Troubleshooting with a vacuum gauge
Starting and charging circuits
Ignition system
EGR (Exhaust Gas Recirculation) system
Positive Crankcase Ventilation (PCV) system
Evaporative Emissions Control (EVAP) system
Computer function
System-based troubleshooting
CHAPTER 3 PART B: COMPUTER TROUBLE CODES
General information
Acura
Audi
BMW
Chrysler, Dodge and Plymouth domestic and light trucks
Eagle Summit and Talon 1988-on, Premier 1991-1992, and Vision 1993-1997
Ford, Lincoln and Mercury
Ford imports - Aspire 1.3L, Escort/Tracer 1.8L, Probe 2.5L V6, and Villager 3.0L V6
General Motors - domestic cars and trucks (except Geo, Nova and Sprint)
General Motors imports - Geo, Metro, Prizm, Storm and Tracker, and Chevrolet Sprint, Nova and Spectrum
Honda
Hyundai
Infiniti
Isuzu
Jaguar XJS and XJ6 1988-on
Jeep 1991-on
Lexus
Mazda
Mercedes
Mitsubishi
Nissan, Datsun cars and trucks
Porsche
Saab
Saturn
Subaru
Toyota
Volkswagen
Volvo, all models 1989-on
OBD II Powertrain diagnostic trouble codes
CHAPTER 4: FUEL SYSTEM PRESSURE RELIEF
General information
Fuel pressure relief procedure
CHAPTER 5: FUEL FILTERS, LINES and FITTINGS
General information
Fuel filter replacement
Fuel hoses and lines - check and replacement
CHAPTER 6: COMPONENT CHECK and REPLACEMENT
Introduction
Checking the fuel lines and fittings
Checking the fuel pump system
Fuel pump electrical circuit
Fuel pressure testing - Mechanical fuel injection | Electronic fuel injection
Fuel pump removel and installation
Fuel injectors
Fuel rails
Throttle body
GM Throttle Body Injection (TBI) Unit overhaul - Part A: Model 220 Throttle Body Injection (TBI) | Part B: Model 300 Throttle Body Injection (TBI) | Part C: Model 700 Throttle Body Injection (TBI)
Ford Central Fuel Injection (CFI) Unit overhaul
Chrysler Throttle Body Injection (TBI) Unit overhaul
Honda Throttle Body Injection (TBI) Unit overhaul
Nissan Throttle Body Injection (TBI) Unit overhaul
GM Central Point Injection (CPI) system
Engine management sensors and output actuators
Glossary
Index
Questions & Answers about Fuel Injection Manual 1986-1999
Questions & Answers about Fuel Injection Manual 1986-1999
Ask a question about Fuel Injection Manual 1986-1999.
Haynes Fuel Injection Manual 1986-1999 - Domestic and Imported Models
Description

Specifications

Table of Contents

Questions & Answers

Customer Reviews