Ford F-150, F-250, Expedition, Lincoln Navigator Repair Manual 1997-2017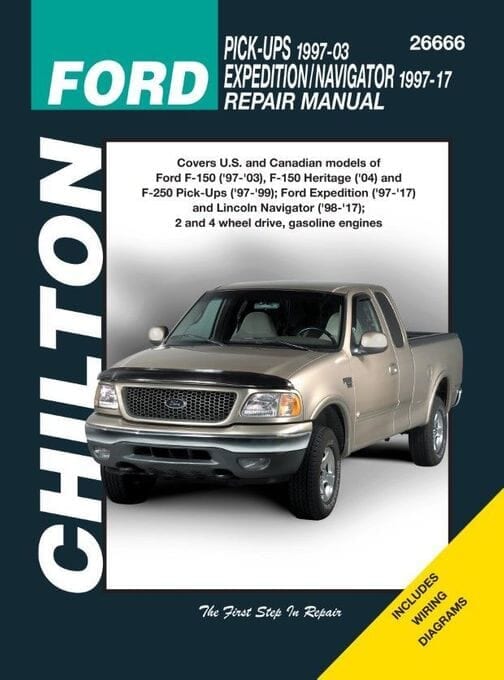 Why Buy From Us?
Free Shipping
Veteran Owned
Secure Shopping
Satisfaction Guaranteed
Item Description
This DIY repair manual from Chilton covers US and Canadian models of Ford Pickups, Expedition and Lincoln Navigator, 1997-2017, 2WD and 4WD with gasoline engines. It's a must-have how-to guide for the do-it-yourself mechanic. All important systems are covered and the manual includes wiring diagrams! From simple service and repair to complex, this book is loaded with step-by-step instructions and visual aids to help you knock out the projects for these popular vehicles.
Models covered:
Ford F-150, 1997-2003
Ford F-150 Heritage, 2004
Ford F-250, 1997-1999
Ford Expedition, 1997-2017
Lincoln Navigator, 1998-2017
Powerplants covered:
4.2L V6 engine
4.6L SOHC V8 engine
5.4L SOHC V8 engine
Transmissions covered:
5-speed manual transmission (M50D)
4-speed automatic transmission (4R70W, E40D, 4R100)
5-speed automatic transmission (2005 and later Expedition, Navigator)
Transfer case - Borg-Warner 44-06 (manual and electric shift)
Note: This manual does NOT include information specific to diesel, F-250HD, Super Duty, F-350 or Lightning or other supercharged models.

Book Excerpt: 1997-2017 Ford F-150, F-250, Expedition, Lincoln Navigator Repair Manual
COOLING, HEATING and AIR CONDITIONING SYSTEMS
GENERAL INFORMATION
The cooling system consists of a radiator and coolant reserve system, a radiator pressure cap, a thermostat, a cooling fan, and a pulley/belt-driven water pump.

The radiator cooling fan is mounted on the front of the water pump. The fan incorporates a fluid-drive fan clutch, which saves horsepower and reduces noise. When the engine is cold, the fluid in the clutch offers little resistance and allows the fan to freewheel. As the engine heats up and reaches a predetermined temperature, the fluid in the clutch thickens and drives the fan.

The recovery tank is called a "degas" bottle, and it functions somewhat differently than traditional recovery (or overflow) tanks. Designed to separate any trapped air in the coolant, it is pressurized by the radiator and has a pressure cap on top (the radiator on these models has no cap at all).

When the engine's thermostat is closed, no coolant flows in the degas bottle, but when the engine is fully warmed up, coolant flows from the top of the radiator through a small hose that enters the top of the degas bottle. There, air separates and coolant falls to the approximately one quart coolant reserve in the bottle, which is fed to the cooling system through a larger hose connected to the lower radiator hose.

Unlike traditional coolant recovery tanks, the cap on the degas bottle should never be opened when the engine is warm, since there is a danger of injury from steam or scalding coolant (see the Warning in Section 5).
Subject: 1997, 1998, 1999, 2000, 2001, 2002, 2003, 2004, 2005, 2006, 2007, 2008, 2009, 2010, 2011, 2012, 2013, 2014, 2015, 2016, 2017 Ford Pickups, Expedition, Lincoln Navigator service, maintenance, repair. ISBN-10: 1620923106| ISBN-13: 9781620923108| Chilton 26666
Specifications
Publisher: Chilton Manuals
Pages: 480 - Hundreds of b&w photos and illustrations
Binding: Paperback - 8.25 x 11 inches
ISBN: 978-1-62092-310-8
Years: 1997 - 2017
Table of Contents
TABLE of CONTENTS:
Introduction: About this manual | Introduction | Vehicle identification numbers | Maintenance techniques, tools and working facilities | Buying parts | Jacking and towing | Booster battery (jump) starting | Conversion factors | Automotive chemicals and lubricants | Safety first! | Troubleshooting
Tune-up and routine maintenance
4.2L V6 Engine
4.6L and 5.4L V8 engines
General engine overhaul procedures
Cooling, heating and air-conditioning systems
Fuel and exhaust systems
Engine electrical systems
Emissions and engine control systems
Manual Transmission
Automatic transmission
Transfer case
Clutch and driveline
Brakes
Suspension and steering systems
Body
Chassis electrical system
Wiring diagrams
Glossary
Master Index
Questions & Answers about Ford F-150, F-250, Expedition, Lincoln Navigator Repair Manual 1997-2017
Questions & Answers about Ford F-150, F-250, Expedition, Lincoln Navigator Repair Manual 1997-2017
Ask a question about Ford F-150, F-250, Expedition, Lincoln Navigator Repair Manual 1997-2017.
Ford F-150, F-250, Expedition, Lincoln Navigator Repair Manual 1997-2017
Description

Specifications

Table of Contents

Questions & Answers

Customer Reviews