1968 Dodge Truck 100-800 Shop Manual Supplement - Licensed OEM Reproduction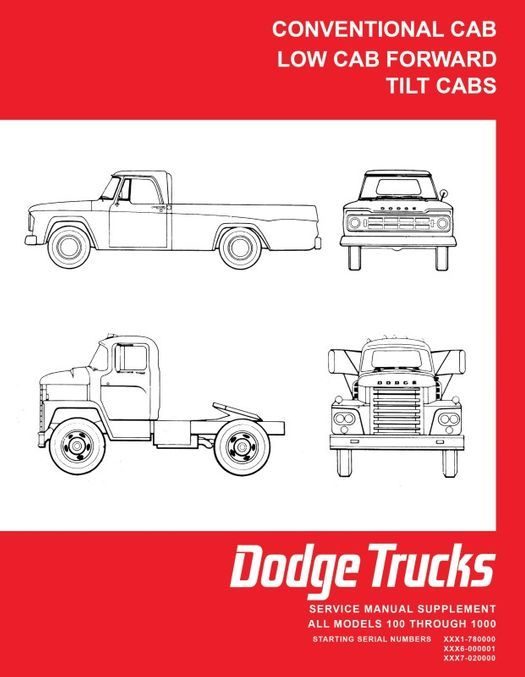 Why Buy From Us?
Free Shipping
Veteran Owned
Secure Shopping
Satisfaction Guaranteed
Item Description
This 1968 Dodge Truck 100-800 Shop Manual Supplement is a high quality, PRINT, reproduction of the shop manual which was written and first published by the original equipment manufacturer (OEM), Dodge Division, for use by their dealership mechanics.
For 1968, Dodge rolled-out a handsome truck line featuring a fresh, stylishly-updated grille. Their trucks were becoming more comfortable and efficient, but maintained their strength. When it comes time to address the maintenance and repair projects for your classic hauler, this guide is the one you'll want to have at hand. Not only does it include well-written text instructions, provided by the experts at the original manufacturer, but those thorough directions have been accompanied by a vast number and variety of visual aids. You'll be assisted by black and white photographs, tables, charts, illustrations, exploded views, cutaway views, wiring schematics and more.
MODELS COVERED:

1968 Dodge D100 Pickup Truck
1968 Dodge D200 Pickup Truck
1968 Dodge D300 Pickup Truck
1968 Dodge P100 Truck
1968 Dodge P100 Van
1968 Dodge P200 Truck
1968 Dodge P200 Post Office Truck
1968 Dodge P200 Van
1968 Dodge P200 Post Office Van
1968 Dodge P300 Truck
1968 Dodge P300 Van
1968 Dodge P375
1968 Dodge W100 Pickup Truck
1968 Dodge W200 Pickup Truck
1968 Dodge W300 Pickup Truck
1968 Dodge Wm300 Pickup Power Wagon Truck
NOTE: This manual is a SUPPLEMENT. It was designed to be used TOGETHER with the: 1967 Dodge Truck 100-800 Shop Manual, which can be found by clicking here…1967 Dodge Truck 100-800 Shop Manual. The 1968 supplement was written to cover new components for 1968. It will be necessary to reference the 1967 manual for procedures that did NOT change. Although this is a supplement, please don't think it is short on information. Far from it! In fact, the supplement contains almost 300 pages of new information to work along with the 740 pages of the previous manual.
If you're looking to have the correct instructions, torque specifications, disassembly/assembly sequences, etc., this is the guide you need. It covers: lubrication, accessories, front axle, rear axle, parking brakes, service brakes, clutch, cooling system, electrical, engine, engine oiling system, exhaust—intake manifold, frame, fuel system, propeller shaft—universal joints, springs—shock absorbers, steering gear, transmission, wheels—tires, body and sheet metal. It concludes with sections regarding specifications and tightening references. With this 1968 Dodge Truck 100-800 Service Manual Supplement (and the 1967 service manual), you will have the knowledge needed to take on maintenance and repair jobs from small to large on your beloved Dodge truck.
This factory written shop manual is perfect for service, repairs, restoration, and rebuild projects. Clear illustrations and photos show exploded views, as well as component details, plus specifications one engine, data, engine torque, carburetion and more.
Subject:
1968 Dodge Truck 100-800 Shop Manual Supplement - Includes Detailed Procedures and Instructions.
| OEM Part Number: 81-370-8350, 81-370-8351
Specifications
Publisher: Dodge Division
Pages: 292 - Hundreds of b&w illustrations
Binding: Paperback - 8.5 x 11 inches
Years: 1968
Table of Contents
TABLE OF CONTENTS
Lubrication
Accessories
Front Axle
Rear Axle
Parking Brakes
Service Brakes
Clutch
Cooling System
Electrical
Engine
Engine Oiling System
Exhaust - Intake Manifold
Frame
Fuel System
Propeller Shaft - Universal Joints
Springs - Shock Absorbers
Steering Gear
Transmission
Wheels - Tires
Body and Sheet Metal
Specifications
Tightening Reference
Sample Page:
Below:1968 Dodge Truck 100-800 Shop Manual Supplement Sample Page - Engine Section
Questions & Answers about 1968 Dodge Truck 100-800 Shop Manual Supplement
Questions & Answers about 1968 Dodge Truck 100-800 Shop Manual Supplement
Ask a question about 1968 Dodge Truck 100-800 Shop Manual Supplement.
1968 Dodge Truck 100-800 Shop Manual Supplement - Licensed OEM Reproduction
Description

Specifications

Table of Contents

Questions & Answers

Customer Reviews